Francis Chan: Here's What the Church Will Do If It's 'Serious' About Pleasing God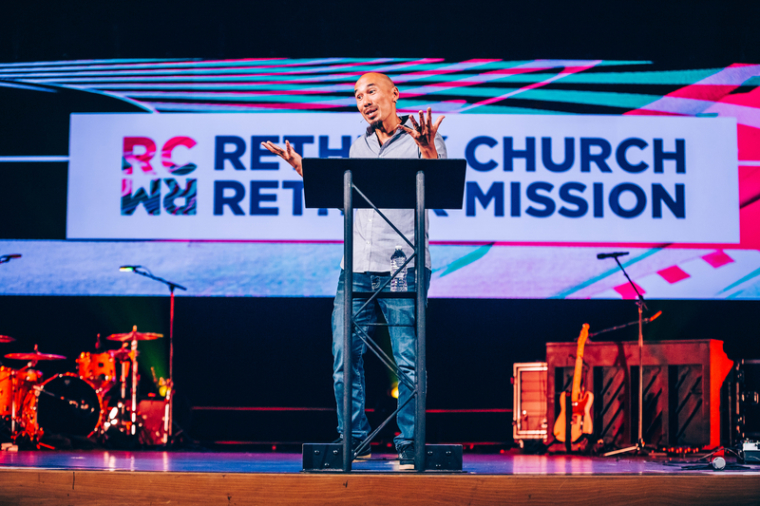 To truly bring a lost world to Christ, churches must focus less on famous speakers, impressive worship music, and other external elements, and focus more on loving one another and displaying unity, Francis Chan has said.
Chan, author of Crazy Love and founder of We Are Church, began his message at the "Rethink Church/Rethink Mission" event at McLean Bible Church in Vienna, Virginia, by asking attendees, "Is God pleased with this gathering?"
"It's very easy, even as a pastor, to come up here and preach a message and think, 'Oh, I hope they like it,' rather than going, 'God, I'm speaking for you now. God, I hope that You like the way I portrayed who You are and how Your glory goes beyond everything,'" he said.
God is pleased, the pastor said, when His children listen to His Words and believe them "to the point of action."
"He wants them to say, 'I could actually make a disciple? I could actually start a gathering? I could actually multiply churches? I could actually move overseas in the power of Almighty God and impact lives? I could reach an unreached people?'" Chan contended.
It's easy to tell when people are obsessed with their spouse, children, college football, golf, or even their pet, the pastor continued. Yet, far too often, people aren't in love with Jesus in the same way, and will only attend church because of a popular speaker, an impressive light show, or a good band.
"God's enough," Chan said. "Isn't there any part of you that longs for that? God wants us to be people that our affections are for Him."
"Are we developing lovers of Jesus, devoted worshipers?" he challenged attendees. "Or are we creating a consumer generation that will show up if it meets their liking because it's about us; am I enjoying it? Will I like it? Rather than, 'God, will You be pleased with this?'"
Chan went on to cite John 13:34, where Jesus says, "A new command I give you: Love one another. As I have loved you, so you must love one another."
"If we were a Church seriously wanting to please Him, God says, 'Here's my command: I want you to love one another just as I've loved you,'" the pastor said. "How many of us have even conceived of doing that?"
While it's not natural to want to love one another in such a way, the pastor said, the Church "isn't about me, it's not about what I want. It's about what will please You."
Chan said that the Bible doesn't say miracles, science, or political correctness will bring people to Christ; it simply says to "love one another."
"Do you believe you could be perfectly one? Is that your goal when you gather with other believers? Because God wants that to be your goal; that was Jesus' dying prayer," he said. "You know what's gonna make the world believe? It's if you become perfectly one."
Chan added that, according to Scripture, the unity and fearlessness of the Church would cause an "unbelieving world to believe in their destruction."
"No one believes in the destruction anymore; no one believes in a day of judgement," he said. "Well, God says, 'If you guys were unified, they would.'"
Many churches are theologically accurate, give money to the poor, or have incredible music, Chan said — but very few, if any, are known for the way its members love one another.
"At some point, we've gotta stop with all of our strategies," he emphasized. "We all know churches in America are way too consumer driven ... but who's gonna change that?"
"You wanna please Him tonight? Then believe, believe that the Holy Spirit wants to manifest through you for the common good, for the Church," he said. "We've gotta take these words literally."
Chan said he's discouraged by how many people show up to church simply to "take, take, take and complain when they don't get enough" instead of seeking to learn how to use their spiritual gifts to bless others and become equipped for ministry work.
"If that's not happening, why do we think, every time we gather, 'Oh, God's so pleased?'" he asked. "It feels like we're just trying to collect people rather than send them out ... what percentage of people gathered in church on a Sunday do you think actually share the Gospel that week, or that year? Isn't it just a little bit embarrassing that we can't look another being in the eye and tell them the best news in the world and the most important thing in our lives?"
"These are the things that have to change," he added.
Churches in America are so "stoppable," Chan charged, because they give up the moment circumstance get difficult instead of willingly suffering for Christ.
"Will you suffer to obey these things?" he asked, gesturing toward his Bible. "Will you actually sacrifice? Because it's a lot easier to come somewhere and be fed than to love [others] as much as Christ loved you, as much as the Father loves the Son, and to break bread with [others] thinking, 'Christ was tortured for me; would I do that for [others]?'"
The pastor encouraged attendees to become missionaries — wherever they are — and embrace suffering for the glory of Christ "because the Church is that beautiful and that important."
"My prayer is that we could have a prayer time, and the Holy Spirit actually moves in you," he concluded.
In addition to Chan, the one-day event featured David Platt, pastor at McLean Bible Church in Washington, D.C. and is the founder and president of Radical, and Andrew Scott, author of Scatter and president of OM USA.
The Rethink Church | Rethink Mission Conference is a one-day event with the stated aim of "casting a clear vision for every Christian to leverage their life for the church and mission," according to the website.
For more resources or to access each of the sessions for free, visit crazylove.scatterglobal.com.