Frank Griswold, former head of Episcopal Church, dies at age 85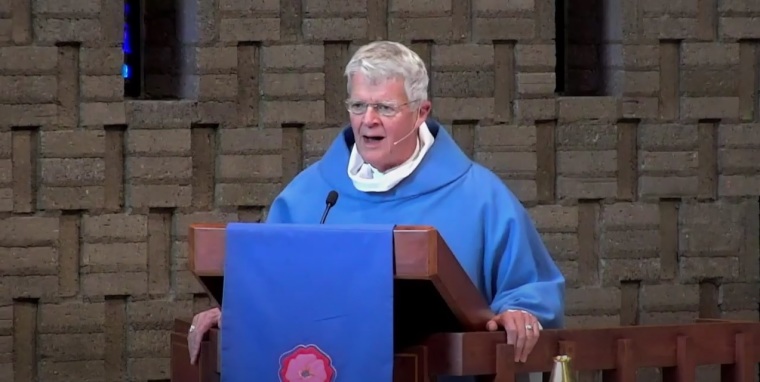 The Rt. Rev. Frank T. Griswold III, who served as presiding bishop of The Episcopal Church and was known for his ecumenical work with Protestants and Catholics, died at age 85.  
Griswold died on Sunday in Philadelphia, Pennsylvania, according to a statement by The Episcopal Church. He is survived by his wife of nearly 60 years, Phoebe Wetzel Griswold, two daughters and three grandchildren.
Current Presiding Bishop Michael Curry said Griswold was "a remarkable and faithful servant of God" and asked for prayers for "Bishop Griswold, and the souls of all the departed."
The Rev. Matthew Gunter, bishop of the Episcopal Diocese of Fond du Lac, Wisconsin, took to Twitter on Sunday to give his condolences, noting his personal history with the former presiding bishop.
"He was Bishop of Chicago when I arrived there fresh out of seminary. He ordained me a priest. He then became the 25th Presiding Bishop of the Episcopal Church. He was a faithful, [prayerful] man. I am pleased to have served under his leadership," tweeted Gunter.
Born in Bryn Mawr, Pennsylvania, in 1937, Griswold was ordained as an Episcopal priest in 1963 and was elected to serve as bishop of the Episcopal Diocese of Chicago in 1987.
At the 72nd Episcopal Church General Convention in Philadelphia in July 1997, Griswold was elected the 25th presiding bishop of The Episcopal Church, replacing Presiding Bishop Edmund Browning.
Officially taking office on Jan. 10, 1998, he served as presiding bishop until Nov. 1, 2006, when he was succeeded by the Rt. Rev. Katherine Jefferts-Schori, the first female head of the denomination.
Griswold is credited with helping establish the full communion relationship between The Episcopal Church and the Evangelical Lutheran Church in America, which was formalized in 2001, according to Episcopal News Service.
Additionally, Griswold served as co-chair of the Anglican-Roman Catholic International Commission from 1999 to 2004 and co-chair of the Anglican-Roman Catholic Theological Consultation in the United States from 1992 to 1997.
In 2003, Griswold voted in favor of the Rev. Gene Robinson becoming the first openly gay bishop in the denomination, with the controversial figure overseeing the Episcopal Diocese of New Hampshire.
At the time, Griswold said that he saw "no impediment to assenting to the overwhelming choice of the people of New Hampshire" and would oversee Robinson's consecration.
Nevertheless, Griswold also acknowledged that some in the denomination will see it as something that "reflects a departure from biblical teachings and traditional church practice."
Robinson's election would eventually lead to large numbers of congregations and a couple of dioceses deciding to leave the denomination, sparking several years of litigation over church properties and trademarks.
After ending his term as presiding bishop, Griswold was a professor at various seminaries and universities in Cuba, Japan and South Korea. He also served in the United States at the Church Divinity School of the Pacific, Seabury-Western Theological Seminary and Virginia Theological Seminary.
Griswold authored multiple books, including Going Home, Praying our Days: A guide and companion, Tracking Down the Holy Ghost: reflections on love and longing and co-authored Seeds and Faith and Harvest of Hope with the Rev. Mark McIntosh.