Franklin Graham decries 'anti-God agendas,' socialism in New Year's Facebook post: 'They'll get worse'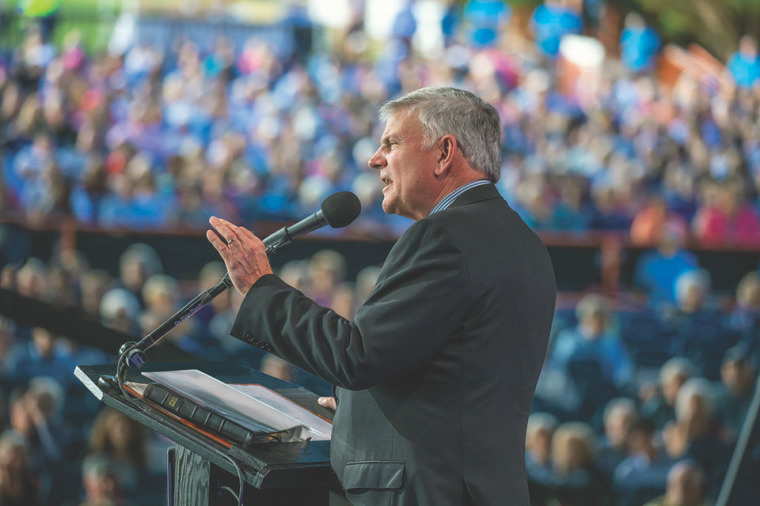 As the world rings in a new year, a prominent voice in the faith community warned that the world is "imploding" and the state of affairs will "get worse" before it gets better. 
On Saturday, one day before the start of 2023, the Rev. Franklin Graham wrote that "as we begin 2023, the world we live in seems to be imploding." Graham, who leads the Billy Graham Evangelistic Association and the charity organization Samaritan's Purse, highlighted some of the pivotal events from 2022 and present global affairs in a Facebook post. 
"A brutal war is bringing suffering and death in Ukraine with every day that passes," he said. "Senseless violence is rampant across the United States. Anti-God agendas that once hid in the darkness are now proudly out in the open, demanding acceptance."
After Graham condemned how "developed nations are being overtaken by socialism, removing God from anything and everything in the public square," he stressed that "if you think things are bad, just wait, they'll get worse."
"As followers of Jesus, what do we do?" Graham asked, rhetorically. 
"We tell a dying world that Jesus is the way, the truth and the life — no one comes through the father except through Him (see John 14:6)," he responded. "We urge lost souls to repent of their sins and believe in the Name of the Lord Jesus Christ before it's too late."
In a follow-up post on New Year's Day, Graham urged his followers to remain vigilant. He shared a passage from the Gospel of Matthew, where Jesus discussed the second coming of the Son of Man. In Matthew 24:44 Jesus tells His followers to "be ready, for the Son of God is coming at an hour you do not expect."
Throughout 2022, Graham frequently made headlines for weighing in on current events and political issues that were at odds with Christian doctrine and religious liberty. For example, the Christian leader derided the so-called Respect for Marriage Act, billed by supporters as a necessary step to codify the right to same-sex marriage into federal law, as "dangerous legislation that would be used against individuals, churches and organizations who honor traditional marriage."
While the legislation included a religious liberty amendment, critics contended that it did not go far enough to protect the conscience rights of faith-based business owners operating in secular industries such as bakers and florists. Both the U.S. Senate and House passed the Respect for Marriage Act with unanimous Democratic support and a significant level of support from congressional Republicans before President Joe Biden signed it into law. 
Graham also took issue with singer Amy Grant's decision to host a same-sex wedding for her niece at her farm. While Grant characterized her embrace of a same-sex wedding as an example of obedience to God's call to "love God and love each other," Graham stressed that "For me, loving others also means caring about their souls and where they will spend eternity."
However, Graham contended that "God defines what is sin, not us; and His Word is clear that homosexuality is sin." 
While Graham mentioned a few of the challenges of 2022, one of the highlights for him came in the form of a legal victory after a judge ruled that a Scottish event venue must pay over $100,000 in damages after canceling an event hosted by the evangelist due to his views on homosexuality and Islam.