Franklin Graham Calls Mike Pence 'Class Act' for Response to 'Hamilton' Actor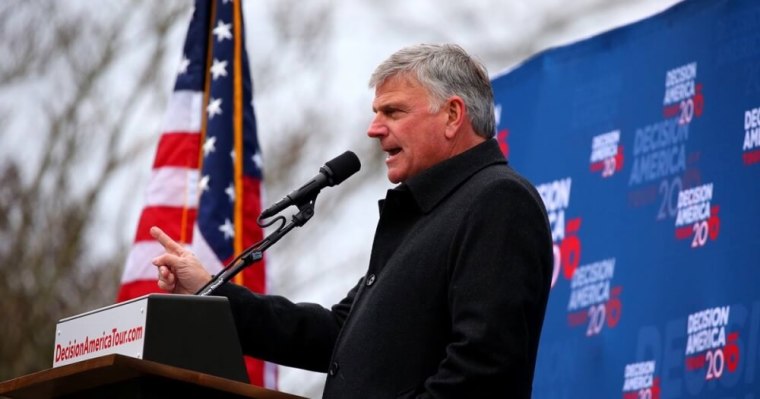 The Rev. Franklin Graham has called Vice President-elect Mike Pence a "class act" for his response to being lectured by an actor on stage when he and his family attended a performance of the hit Broadway musical "Hamilton" last Friday.
Some in the audience booed Pence and cast member Brandon Dixon took to the stage to read a statement objecting to President-elect Donald Trump and his administration.  
In response to Pence's comments saying that he wasn't offended by Dixon's actions and respected the audience's reaction, Graham posted a statement to his Facebook page on Tuesday calling Pence a "class act."
"Vice President-elect Mike Pence is such a class act. The Hamilton cast's message to him that is getting so much media play didn't upset him at all," Graham wrote.  "He said that's 'what freedom sounds like.' I hope America realizes we're getting a great vice president in this man, a man who will work for the good of the country."
Graham's comment about Pence has as of Wednesday garnered over 122,000 likes and more than 39,000 shares.
Dixon, the actor who played Aaron Burr in the production of "Hamilton," read a statement on stage thanking Pence for attending and asking him to hear the objections they have with the policies they think the Trump administration will implement.
"We, sir — we are the diverse America who are alarmed and anxious that your new administration will not protect us, our planet, our children, our parents, or defend us and uphold our inalienable rights," Dixon yelled out to Pence in front of the audience. "We truly hope that this show has inspired you to uphold our American values and to work on behalf of all of us."
During an interview with "Fox News Sunday" host Chris Wallace, Pence said he wasn't offended by the remarks, and had told his daughter "that is what freedom sounds like."
"I know this is a very anxious time for some people. I just want to reassure people of what President-elect Donald Trump said on election night — he absolutely meant it from the bottom of his heart," Pence said. "I just want to reassure every American that in the days ahead I am very confident that they are going to see President-elect Trump be a president for all of the people and we embrace that principle."
This is not the first time that Graham has expressed his support for Pence. Last year when then Indiana governor signed the state's controversial Religious Freedom Restoration Act into law, Graham said Pence was "taking a lot of heat for doing the right thing."
"He is being attacked by the LGBT community, liberal politicians, and liberal media who don't want Christians' freedoms to be protected," Graham said in 2015.
"Thank God for politicians like Governor Pence who are not afraid to take a stand regardless of the political consequences. We need more men like him in public office across this country and in Washington who are willing to stand for right over wrong."