Franklin Graham Hails Defeat of Oregon Official Who Fined Christian Bakers $135K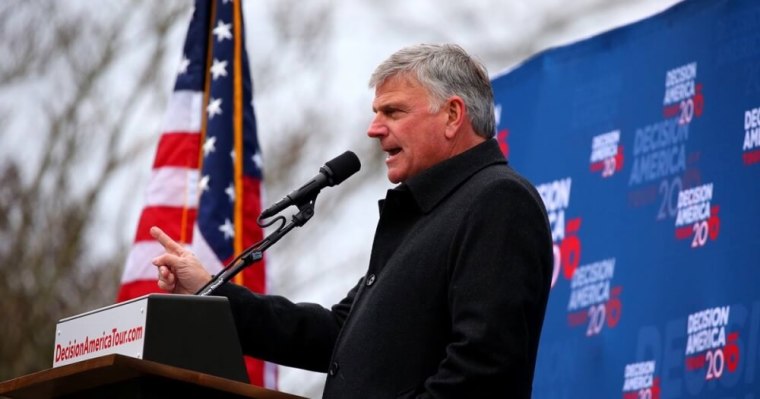 Evangelist Franklin Graham is hailing the political defeat of an Oregon official who fined Christian bakers $135,000 last year after they declined to participate in a same-sex wedding ceremony in 2013 by baking the couple's cake. 
Writing on his Facebook page on Wednesday, Graham asked: "Remember Melissa and Aaron Klein? The bakers who refused to create a wedding cake for a same-sex wedding because it went against their religious beliefs? The Oregon Commissioner of Labor Brad Avakian fined them $135,000 for 'emotional damages,' they ended up losing their business, and their lives were turned upside down. Well, Avakian was running for Oregon Secretary of State in the November election — and he lost."
On Election Day, Avakian was defeated by socially conservative Republican Dennis Richardson, a Mormon, marking it the first time in 14 years that a Republican has been elected to a statewide office in Oregon.
The Christian Post reported on Wednesday that Richardson had promised voters that he would use his office to execute the duties of secretary of state such, as monitoring elections and auditing public spending. By contrast, Avakian said he would use the office to advocate for causes like climate change and abortion rights.
In light of Avakian's loss, Graham reiterated a theme that has animated him throughout this election season, which is the dangers of elevating secular leftist ideology into public office.
"[Avakian] was promising 'progressive values,' which means a godless, secular, atheistic agenda — but thankfully voters said no," Graham said. "This is another example of how the power of the vote can make a real difference! Christians should never miss an opportunity to vote."
When the $135,000 fine was levied against the Kleins, Samaritan's Purse, a nonprofit organization for which Graham is the president, raised funds to help the family with their living expenses after they lost their business. The couple was forced to close their Portland-area bakery in 2013, but continued to sell baked goods from their home. Earlier this year they announced they had permanently closed.
Avakian's critics were not limited to Christian conservatives who found his fining of small business owners like the Kleins to be egregious.
Forbes magazine reported on Oct. 24 that an independent review by Openthebook.com showed Avakian was mixing public and campaign funds, had given state employees bonuses who had donated to his campaign, and had placed his campaign website and email address on the official state calendar.
Openthebooks.com President Adam Andrzejewski wrote that his organization's review of Avakian's governance revealed a "repeated pattern of questionable ethics and public trust violations, with allegations leading to potential violations of established Oregon law.
"Rather than focusing on waste, fraud and taxpayer abuse within state agencies, instead, Avakian's 2016 campaign platform would vastly expand the authority of the secretary of state's office to audit private sector employers. This platform — and Avakian's ethical double standards — should upset progressives, independents and conservatives," he said.