Franklin Graham: 'Moral Onslaught' on America Is Just Beginning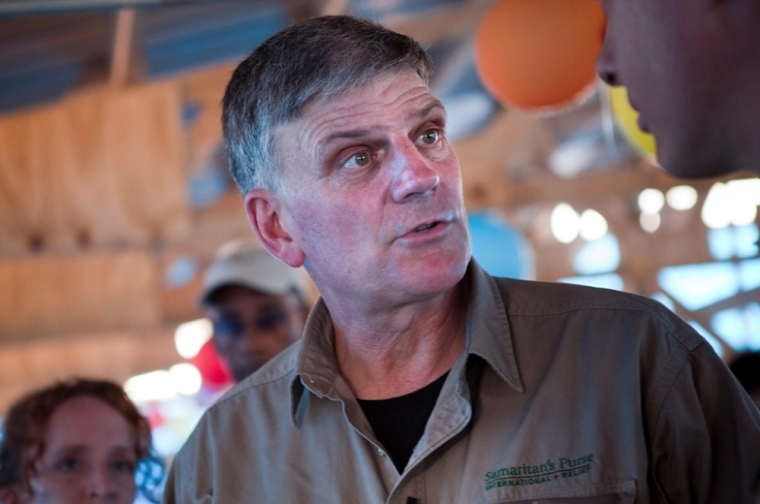 The Rev. Franklin Graham is urging the millions of evangelical Christians who skipped out on voting in 2012 to participate in the 2016 presidential elections because of the "moral onslaught" on America following the legalization of gay marriage.
Graham, an evangelical preacher who heads the Billy Graham Evangelistic Association, said in an interview with WSB Radio that the gay marriage and transgender movement is a "major failure" in the U.S., and said that it will be very important for evangelical Christians to vote in the presidential elections.
"We're trying to get the Christian, the evangelical community to vote in this upcoming election. Last election, there were close to 20 to 30 million evangelical Christians that stayed home. I want people to know that their vote counts," he said of his "Decision America Tour," which is set to visit all 50 states in 2016 with a message to get evangelicals out to vote.
Graham explained that the course the country has taken over the last eight years makes the coming elections quite different from those in the past few decades.
"Same-sex marriage. We see that on the table. I see this as a major failure of our nation. Abortion, no question. But now that we're accepting same-sex marriage — the transgender issue is being forced in many communities by the left," the evangelical leader said. "It's just the beginning of a moral onslaught on this nation."
He said that the transgender issue in America has reached 'ridiculous' levels.
"First of all, this is ridiculous, for a person to be able to wake up in the morning and say, 'You know, I feel like I'm a woman today.' For a man to say, 'I'm going to go into a woman's bathroom,'" he argued.
"There are certain things that — we need privacy in this world. The left wants to take all privacy away from individuals. How many transgender people do you think there are in the world? A few hundred or a few thousand? We're going to change all of society, millions and millions of American people, to accommodate where just a handful of people who want to go to the bathroom? This is ridiculous," Graham continued.
Back in May 2015, a month before the Supreme Court's decision to legalize same-sex marriage across the nation, Graham warned that it could pave the way for the "persecution of believers" in America.
"The impending decision will rank as the most historic and far-reaching judgment of the 21st century. If our nation's highest court decrees same-sex marriage as the law of the land, the consequences will be great. It sets the stage for persecution of believers committed to living by the truth of God's Holy Word," the CEO of the BGEA said at the time.