Franklin Graham: Same-Sex Marriage Cost Canada Its Freedoms; Expect the Same in the US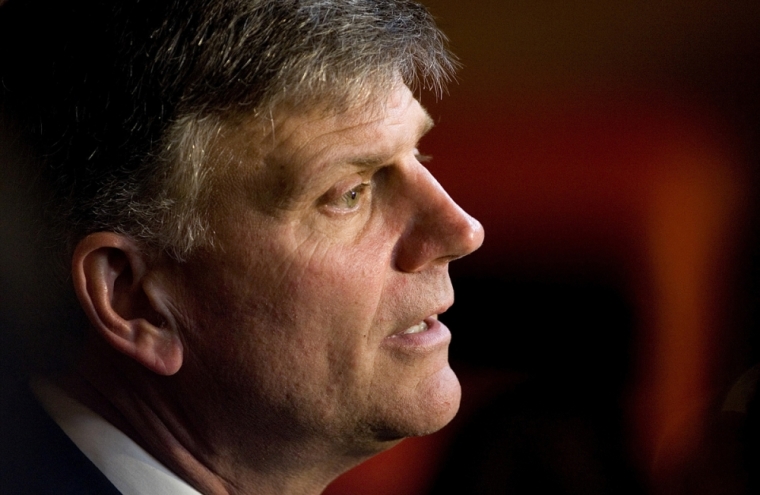 Freedom of speech, press, and religion "have suffered greatly" in Canada since it began federally mandating same-sex marriage in 2005, the Rev. Franklin Graham warns even as the U.S. Supreme Court is considering its legalization.
"[In Canada] If you say or write anything questioning same-sex marriage, you could face discipline, termination of employment, or prosecution by the government!" Graham, who leads the Billy Graham Evangelistic Association, wrote on his Facebook page on Friday.
"We need to realize that if our Supreme Court makes same-sex marriage the law in the United States, we will be in the same boat," he added, asking, "Will the next step be to ban us from speaking God's truth from His Word about this issue?"
In his post, Graham included a link to an "eye-opening" article written by an adult child of gay parents.
In the article, titled, "A Warning from Canada: Same-Sex Marriage Erodes Fundamental Rights," the author, Dawn Stefanowicz, identifies herself as "one of six adult children of gay parents who recently filed amicus briefs with the US Supreme Court, asking the Court to respect the authority of citizens to keep the original definition of marriage: a union between one man and one woman to the exclusion of all others, so that children may know and may be raised by their biological parents."
"It doesn't take a rocket scientist to know that men and women are anatomically, biologically, physiologically, psychologically, hormonally, and neurologically different from each other," writes Stefanowicz, who lives in Canada. "These unique differences provide lifelong benefits to children that cannot be duplicated by same-gender 'legal' parents acting out different gender roles or attempting to substitute for the missing male or female role model in the home."
Citing incidents of violations of basic freedoms, the author, a member of the Testimonial Committee of the International Children's Rights Institute, adds: "In Canada, it is considered discriminatory to say that marriage is between a man and a woman or that every child should know and be raised by his or her biological married parents. It is not just politically incorrect in Canada to say so; you can be saddled with tens of thousands of dollars in legal fees, fined, and forced to take sensitivity training."
Earlier this week, Graham said Ireland was once a "staunchly religious country" but has now become a "light shining in the wrong direction."
Ireland recently became the world's first country to legalize gay marriage through a referendum.
"According to a gay Irish Cabinet minister, '[the vote to legalize same-sex marriage in Ireland] makes us a beacon, a light to the rest of the world, of liberty and equality,'" Graham said in a social media post. "They must not realize that this is a light shining in the wrong direction!"
Graham focused on Christian teaching instead of popular opinion, adding: "Jesus Christ said, 'I am the light of the world. Whoever follows Me will not walk in darkness, but will have the light of life (John 8:12).'"