Franklin Graham To Attract Thousands of Worshippers for Pittsburgh Festival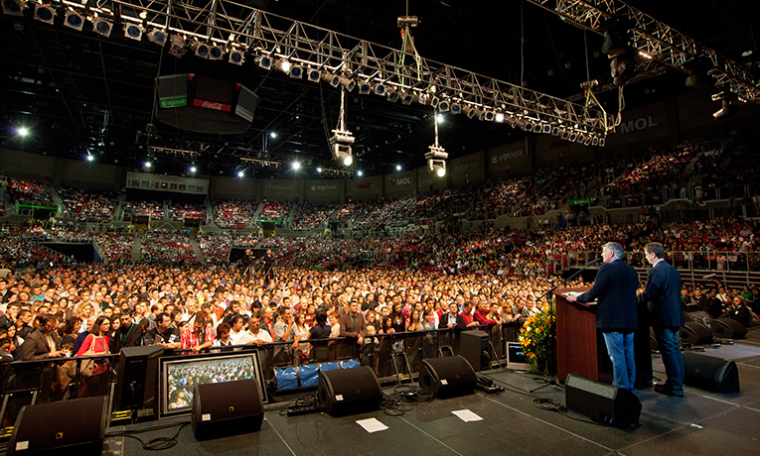 Franklin Graham will bring together thousands of people in Pittsburgh this weekend for a three-day evangelistic festival that will gather over 500 churches from 50 denominations to partake in a worship experience that will feature a lineup of well-known Christian artists and Graham's message of hope.
The event is part of Graham's annual seven-city festival tour and it will be the first time Pittsburg reportedly hosts a Christian gathering of its magnitude since Graham's father Billy Graham hosted a crusade in the city in 1993.
"We have a great opportunity to reach this city with the gospel of Jesus Christ … the world is in trouble, there's a great spiritual need and the world seems to be coming apart at the seams, who can save us? I've got the answer so I hope you'll join us," said Graham in an online video invitation.
Sherman Barnette, Graham Association festival director says the festival is "totally different" from Billy Graham's crusade, but "it has the same message," reports Pittsburgh-based news outlet Tribe Live.
Organizers have been planning the festival for two years and expect attendees to fill the 19,000-seat Consol Energy Center every night beginning Friday when recording artist Kari Jobe and Christian band Tenth Avenue North will kick off the mega event. On Saturday, rapper Lecrae will perform as well as singer-songwriter Lacey Strum and others.
The Pittsburgh Post-Gazette reports that Catholic and Protestant churches have been promoting the free-admission event for months and thousands of volunteers from various denominations are set to serve as ushers and counselors. In addition, representatives of several denominations will have a part in the festival including a Catholic bishop and Presbyterian pastor who are set to lead opening prayers.
Graham's festivals are slated to take place in Canada, Oklahoma, Alabama and Florida between this year and 2015 and although each event includes contemporary worship experiences, their primary objective is to reach unbelievers and connect them to a local church.
That is why festival organizers have been involved in extensive post-event plans with Pittsburg congregations.
"We encourage people to share what they have experienced with their friends and family," Barnette says. "The festival brings the Christian community together around a common goal, presenting a message of love, forgiveness and hope."
In addition to conducting festival, Graham serves as president and CEO of Samaritan's Purse and the Billy Graham Evangelistic Association. Under his leadership, Samaritan's Purse has met the needs of poor, sick, and suffering people in more than 100 countries. He conducted his first evangelistic event in 1989 and has preached to over 8 million people worldwide since then.
For more information on Graham's Pittsburg Festival, visit threerivershope.org.