Franklin Graham Urges Christians to Pray for Each Supreme Court Justice by Name on Gay Marriage Decision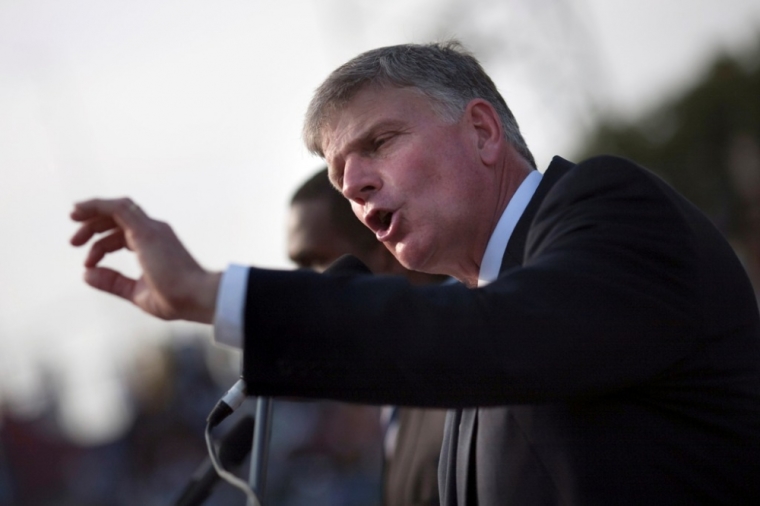 As the U.S. Supreme Court continues its deliberation on the upcoming decision regarding gay marriage, Franklin Graham is using social media this week to plea for Christians to pray for the nine justices of the high court by name.
The Washington Post is reporting that Graham will post prayers individually for each Supreme Court justice.
"Last year Supreme Court Justice Elena Kagan officiated at a same-sex wedding for her former law clerk," Graham declared on Facebook. "In 2013, Kagan—who was appointed in 2010 by President Obama—voted to strike down the federal Defense of Marriage Act which stated that marriage is between one man and one woman.
"There seems to be no doubt about how she is leaning as the nation awaits the Supreme Court's decision on the constitutionality of same-sex marriage. Today please pray that she will see the danger of deciding to go against God's law and standards."
On Twitter yesterday, Graham declared, "Justice Sotomayor seems misguided about same-sex marriage. Pray she will know our society can't stand if we reject God's standards."
The Christian Post previously reported that Graham believes legalizing same sex marriage may pave the way for greater "persecution of believers."
Graham highlighted what he believed to be an important question on same-sex marriage by Justice Samuel Alito, calling it "pointed." Justice Alito asked the plaintiff, "Suppose we rule in your favor in this case and then after that, a group consisting of 2 men and 2 women apply for a marriage license. Would there be any ground for denying them that license?"
"Justice Alito seems to understand that ruling in favor of same-sex marriage would have far reaching implications," declared Graham. "Today join me in praying that Justice Alito will have wisdom and stand strong for what we know is God's unchanging truth – Marriage is between 1 man and 1 woman."
Graham prayed that Justice Anthony Kennedy "will see the folly in making same-sex marriage the law of the land. He may be the swing vote."
Many experts believe that Justice Anthony Kennedy could prove to be the decisive swing vote on the upcoming ruling, a popular opinion that Graham alluded to on his Facebook page.
Graham prayed that Justice Ruth Bader Ginsburg "would see the truth of Scripture and not be deceived by arguments for a "new morality."
The two questions addressed by the court include, whether the Fourteenth Amendment requires a state to license a marriage between two people of the same sex, and whether the Fourteenth Amendment requires an individual state to recognize a marriage between two people of the same sex that was licensed and performed in another state? A court decision is expected by late June.
Former Arkansas Governor and current Presidential Candidate Mike Huckabee declared that it is his "biblical duty" to pray for the Supreme Court as they prepare their ruling.
Currently the religious makeup of the U.S. Supreme Court is without Protestant representation. Six of the justices identify as Roman Catholic while three of the justices, Elena Kagan, Ruth Bader Ginsburg, and Stephen Breyer, are Jewish. According to the Pew Research Center, almost half of all Ameicans identify as Protestant.