Franklin Graham's Samaritan's Purse Aids Disaster Relief Efforts in Wake of Vanuatu Cyclone Catastrophe That Destroyed 90 Percent of Island's Buildings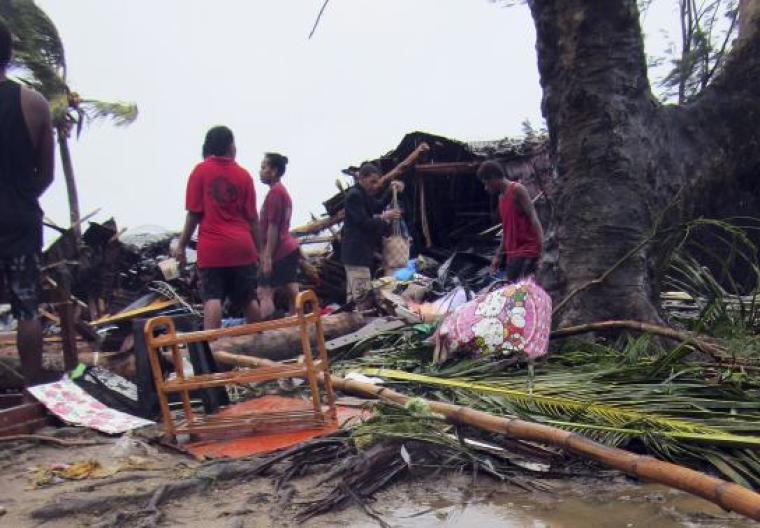 Franklin Graham's Samaritan's Purse nonprofit organization is rushing in to help in the archipelago of Vanuatu, which on Saturday was hit by the 185 mph gusts of cyclone Pam, destroying or damaging 90 percent of the buildings in the capital of Port Vila. Eleven people have been reported dead so far.
"Samaritan's Purse is there with our disaster response team and our chartered cargo flight will arrive soon with supplies, including bottled water, plastic shelter material, and hygiene kits," Graham said in a message on Facebook.
"We are also sending a medical team to set up a mobile clinic for outpatient care for the many injured. Pray for all those affected, that they will know that 'God is our refuge and strength, a very present help in trouble.'"
Reuters revealed that the initial death toll of 24 was revised down to 11, but officials fear it might rise again with the great humanitarian need in the area. A witness said that most of the 29,000 people on the island of Tanna survived by taking refuge in schools, churches, and other buildings.
"People sheltered in school buildings. We were helping one another," said 67-year-old witness Ropate Vuso.
"We are running short of food, water, shelter and electricity. We have no communications, we are still waiting for the people from parliament, the chief and the president, but still nobody is coming."
Australian Foreign Minister Julie Bishop said that an aerial search will seek to asses the widespread damage of the cyclone: "The aerial reconnaissance flights confirmed significant damage in the southern islands, particularly Tanna island, where it appears that more than 80 percent of houses and buildings have been partially or completely destroyed."
Clean-up efforts in Port Vila have already started, with workers having to deal with uprooted trees and flattened homes, but the destruction of the city's main food market and the city's hospital means that the humanitarian need is escalating.
"We have water, but the situation is very bad because people don't have local food," shop owner Colette Calvo said. "All they can eat is food like bananas that they pick up off the ground and they can get sick."
Australia has been providing some of the help, sending eight planes carrying personnel and humanitarian supplies to the hard-hit areas.
BBC News noted that tens of thousands of people are now homeless, while Vanuatu Prime Minister Joe Natuman revealed that Cyclone Pam damaged the outlying areas of the archipelago even more so than the capital.
A challenge for aid groups will be the lack of landing strips and deepwater ports, with teams being forced to land on the outer islands of Tanna and Erromango.
Samaritan's Purse, which often sends help in natural disaster zones, added on its website that its multinational team of disaster response experts come from the U.S., as well as from its offices in Australia, Cambodia, and the Philippines.
"Over 70 tons of supplies are on the way. We will be meeting emergency needs for thousands of storm victims by providing relief items such as shelter materials, clean water supplies, and cooking kits," the group said. "Our teams work in the Name of Jesus, ministering to those who are suffering and reaching out with care and compassion."