FRC warns Trump's Syria withdraw plans will put Christians in 'mortal danger'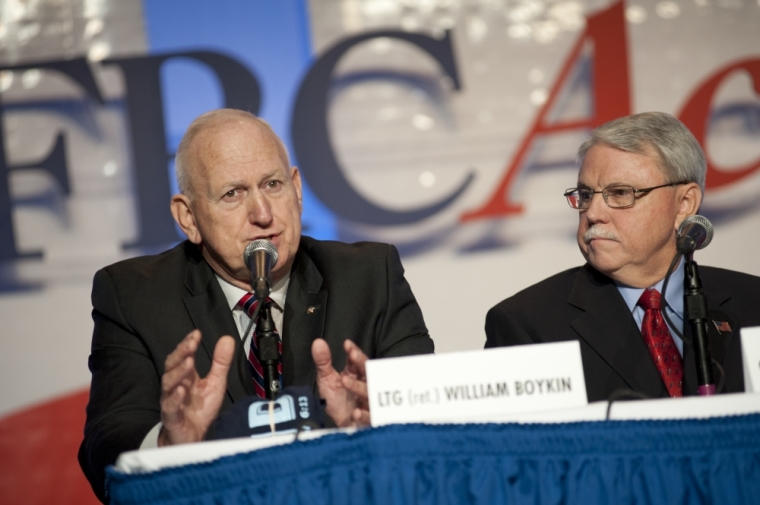 One of the nation's leading Christian conservative advocacy groups that has been supportive of the Trump administration is warning that President Trump's plans for a "full" and "rapid" withdrawal of U.S. troops from Syria will put Christian communities in "mortal danger."
In an op-ed co-written by Lt. Gen. William "Jerry" Boykin, the organization's executive vice president, and Travis Weber, a former Navy pilot and graduate of the U.S. Naval Academy who serves as FRC's vice president for policy, argue that withdrawing troops won't result in Trump's stated campaign promise to defeat the Islamic State.
The terror group, which gained control of large swaths of territory in Syria and Iraq in 2014, has been largely pushed out of its strongholds but many have warned that the deadly extremist group is still not defeated.
"While ISIS has suffered, it is not finished," the men wrote, adding that reports show that the terrorists still control territory with forces capable of mounting another insurgency in the future.
"Indeed, the Department of Defense stated just this past August "that ISIS retains nearly 30,000 fighters across Iraq and Syria and is 'more capable' than al-Qaeda in Iraq — ISIS' predecessor —  at its peak in 2006–2007. Such a force would pose a serious threat to all peace-loving and free areas in Syria, including the Federation of Northern Syria."
The Federation of Northern Syria is a de-facto autonomous region comprised of three smaller self-governing regions.
According to Boykin and Weber, the federation "has emerged as a religious freedom miracle." The region is protected by the Syrian Democratic Forces, which have been part of the coalition's fight to eliminate IS from the region.
"There, people of all faiths live side by side in peace," the op-ed reads. "They are the type of allies the United States should be seeking in the Middle East and around the world. While the deck is typically stacked against religious freedom in this region, within the Federation even 'converts from Islam can build a new church — rather than face the death penalty' as they often do elsewhere. The Federation is a glimmer of hope in a dim part of the world."
However, IS is not the only threat to the federation. NATO member Turkey has threatened to launch another offensive against the Kurds in northern Syria with the help of extremist militias. Many fear that another attack similar to the Turkish offensive in Afrin earlier this year could occur. Over 167,000 Yazidis, Christians and others were displaced by that offensive.
If Turkey leads an offensive in areas under self-governance in Syria, some believe that land will eventually end up under the influence of Iran.
"The Christian communities there fear total destruction by the hands of Turkey, Iran, and even ISIS as that is not fully defeated yet," stated the European Syriac Union in a press release. "We call on European countries to join the U.K. and France in finalizing the fight against ISIS and keeping North-East Syria stable. We and many experts believe that ISIS otherwise will return in strength."
Emanuel Youkhana, a priest of the Assyrian Church of the East, told the Catholic News Agency that he thinks a withdraw with no guarantees "opens up the gates of Hell."
"I expect this decision will force the Christian community to flee, to migrate once again," he said. "They still have fresh in their collective memory the genocide that took place against them by the Ottoman Turks in 1915.
The priest warned that the withdraw will "lead to more fears, concerns and a bleeding of the Christian population to leave Syria."
According to the Christian Broadcasting Network, a Kurdish pastor wrote a letter to President Trump telling him that his decision for a withdraw caused some people in his community to cry.
"Our sisters and brothers cooperated and fought alongside your sons and daughters to defeat ISIS," the pastor wrote.
"Their precious blood was shed on the same ground for the sake of freedom and humanity. This means we're much more than just friends but brothers who share an inheritance. Surely your support prevented them from a certain genocide either by terrorists or their supporters. Briefly; you restored their hope and the righteousness of their cause. You made them believe that God still loves the Kurds, still cares about them, still considers them as He does your great nation."
The European Syriac Union has called on European allies to consider "what will happen if there is no replacement of U.S. forces."
"Even at this moment, it is clear that forces of Assad are planning to invade Idlib. The Turkish proxies that committed already many crimes will wage war against the SDF and end the stability of North-East Syria," the ESU statement added. "Simultaneously these forces will clash against Assad's forces who will undoubtedly try to regain control of North-East Syria as well when Turkey and its jihadis attack the SDF."
Through the chaos, the union argues, IS will "rise again" and "regain rapidly its strength."
"All that is needed is that four countries send 250 armed forces to replace the 2,000 U.S. forces," the ESU contends. "This will enable the U.K. and France to continue its operations and presence in North-East Syria. We are convinced that Turkey will not dare to go to war against its NATO allies. Clearly, France and U.K. share that opinion. Europe will be able to avert a disaster for the region and for Europe itself."
Turkey President Tayyip Erdogan claimed Friday that Turkey will take over the fight against IS.
"We have postponed our military operation against the east of the Euphrates river until we see on the ground the result of America's decision to withdraw from Syria," Erdogan said.
Trump took to Twitter to double down on his reported plan.
"Does the USA want to be the Policeman of the Middle East, getting NOTHING but spending precious lives and trillions of dollars protecting others who, in almost all cases, do not appreciate what we are doing? Do we want to be there forever? Time for others to finally fight," Trump wrote.
Although IS is still suffering military defeats, it has continued on with its bloody and brutal methods. It's been reported this week by the Syrian Observatory for Human Rights that IS executed 700 of its prisoners after suffering a loss in Hajin.
Others are not happy about the planned withdraw.
Defense Secretary Jim Mattis is now planning to retire in February after plans were announced for the withdraw in Syria and a troop reduction in Afghanistan.
According to Reuters, France and Germany have warned that withdrawing troops could risk damaging the fight against IS.
Republican Sen. Lindsey Graham of South Carolina called the planned withdraw and "Obama-like mistake."
"When [President Barack] Obama pulled out of Iraq we knew exactly what was going to happen. The military told President Obama, if you leave now, the radicals that are still around are going to regenerate," Graham said. "And all the people who helped us in Iraq, a lot of them died. The same thing is going to happen in Syria,"
In the op-ed, Boykin and Weber note that Trump recently signed bipartisan legislation to provide aid to Christians and other religious minority communities that were attacked by IS.
"Right now, the Federation of Northern Syria is committed to religious freedom for all in its territory, helping ensure that such aid is not needed in the future — and not needed again, and again, in the future — when stability eludes us because religious freedom has not been cultivated in the region," they wrote. "Yet the Federation must be empowered to hold on to its territory in order to ensure this religious freedom for future generations."