Gallup: 'God Gap' Persists; Very Religious Are Mostly Republican; Non-Religious Are Mostly Democrat
The so-called "God Gap" between Republicans and Democrats continues to play an important role in partisan differences, according to a new Gallup poll.
Among very religious Americans, about half, 49 percent, identify as Republican or are likely to vote Republican. Among nonreligious Americans, also about half, 52 percent, identify as Democrats or are likely to vote for Democrats.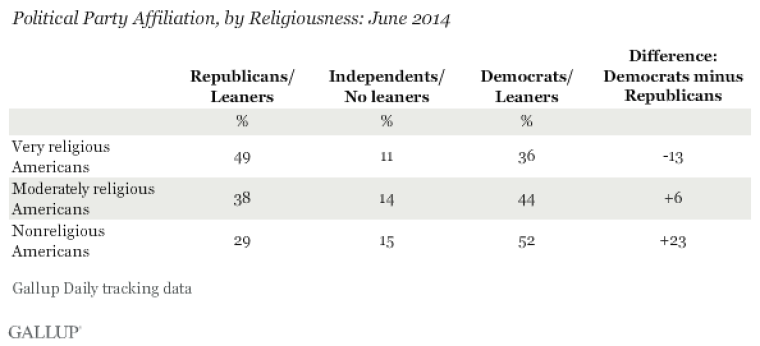 This God gap, sometimes called the "religious participation gap," has characterized party politics in the United States for at least the seven years that Gallup has been measuring it, Frank Newport, editor in chief for Gallup, pointed out in a blog post.
Religiosity was measured using two survey questions. One asked respondents how important religion is in their daily lives. The other asked how often they attend religious services. With the answers, Gallup created a three category classification — very religious, moderately religious and nonreligious.
Among the moderately religious, a plurality, 44 percent, supported the Democrats while 38 percent supported Republicans. Independents comprised a slightly greater proportion of the nonreligious, 15 percent, than the religious, 11 percent.
Looking at race and ethnicity, the God Gap persisted among whites, Latinos and Asians, but not among blacks. Blacks showed strong support for Democrats, about 75 percent, regardless of their level of religiosity.
"From a practical politics standpoint," Newport wrote, "Republicans face the challenge of expanding their party's appeal beyond the minority of Americans who are very religious, and appealing to Hispanics and Asians given that even the most religious of these growing groups tilt Democratic, albeit not as much as others in these groups who are less religious. Democrats face the challenge of attempting to broaden their party's appeal beyond the base of those who are moderately or nonreligious, a tactic that most likely will require effort to frame the party's positions on social justice and equality issues in a way that is compatible with a high degree of religiousness."
The poll of 87,023 American adults was taken from January to June. The margin of error is plus or minus one percentage point.