Gateway Church Pastor Identifies 'First Place' Satan Attacks Christians, How to Battle It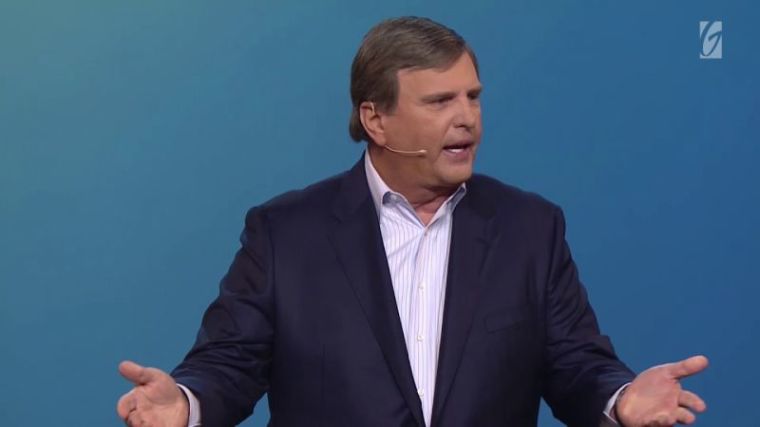 When Satan attacks a Christian, he begins with the mind, instilling fear, doubt, anger, and frustration and convincing them they're unworthy of God's love, Pastor Jimmy Evans, senior pastor of Gateway Church in Southlake, Texas, argued.
"Everything starts with the mind; In the Garden of Eden, when Satan first attacked humans, he did it with thoughts," Evans told The Christian Post. "The same thing with Jesus; when the devil attacked Him in the desert, he attacked His thoughts. Christians are engaged in spiritual warfare, and the weapons of this warfare aren't carnal. That's why Romans 12 tells us to let God transform us into a new person by changing the way we think."
Evans, who with his wife Karen leads the popular ministry Marriage Today, identifies practical steps believers can take to overcome their thoughts of worry, insecurity, fear and failure and live a life of freedom and peace in his book, I Changed My Mind: Journey Toward Spiritual Maturity.
"The Word of God is the source of authority that tell us truth, and it's under attack in society; many people scoff at it and have a liberal view," he said. "The Word of God is inspired and infallible and quick and active; it's alive and powerful. When we allow the Word of God to come into us as inspired by God and authoritative, it can go down to the cellular level in our lives and thinking to help set us free and put truth into us."
"Renewing your mind doesn't mean a slight change, it means a total change, a drastic difference from the world's type of of thinking. The process of changing your mind means allowing the Word of God to have authority over our thoughts and allowing it to transform us from the inside out," he added.
Evans speaks from experience: Despite becoming a Christian at 19, he admitted he didn't have a "right thought" in his mind. It wasn't until he immersed himself in Scripture, he said, that he was able to live in the freedom — and peace — of the truth.
"The world's type of thinking is the way I thought. I was deceived and in bondage concerning everything," he said. "I had a horrible marriage because I had frustrations and problems relating to God and to my wife. As I began to learn the Word of God, it changed me. Now, I've been a Christian for 45 years, and I don't believe there's an area where I think like a worldly person. I think like a believer. The way I relate to my wife, the way I relate to my enemies — everything changed."
Renewing one's mind, Evans said, begins with truly believing Scripture is the ultimate authority on every issue. Then, their views on every aspect of society — from success and money to marriage and caring for the "least of these" — will radically change.
"The world tells us that popularity, wealth, giftedness, and even security is what makes you successful," he said. "But the Bible tells us that what makes a person successful is their relationship with God. In the Bible, Jesus is the ultimate example of success, yet in the world's eye, He had no success at all. If I know God and steward what God has given me and treat people right, I'm a total success. I may not be that educated or powerful, but that's what makes me successful, and that's what made Jesus a success."
Evans contended that in today's divided society, "there has never been a more important time for Christians to be different and demonstrate the power of God's love." But that can't happen, he warned, if we adhere to a worldy concept of loving others.
"The world defines love as an emotion, but love is a choice," he said. "In the world today, there isn't much difference in a believer and nonbeliever in the way we treat each other. There's a meanness, a viciousness in the world today, and you see Christians being just as mean. When Jesus said, 'Love one another as I have loved you,' we take it seriously, and our thinking shapes our value system. It's what sets us apart from the world."
The pastor told CP that God created His children to be warriors in His army — and equips them with the tools necessary to battle the Prince of Darkness and live a life of freedom, victory, and peace.
"My encouragement to people is have a serious, committed relationship with God as the most authoritative source in your life to tell you what truth is," he said. "To combat Satan's lies, the Word of God must be the standard on how we choose our thoughts."
To learn more about I Changed My Mind: Journey Toward Spiritual Maturity, click here.