Francis Chan Identifies Tactics Satan 'Loves' to Prevent Believers From Witnessing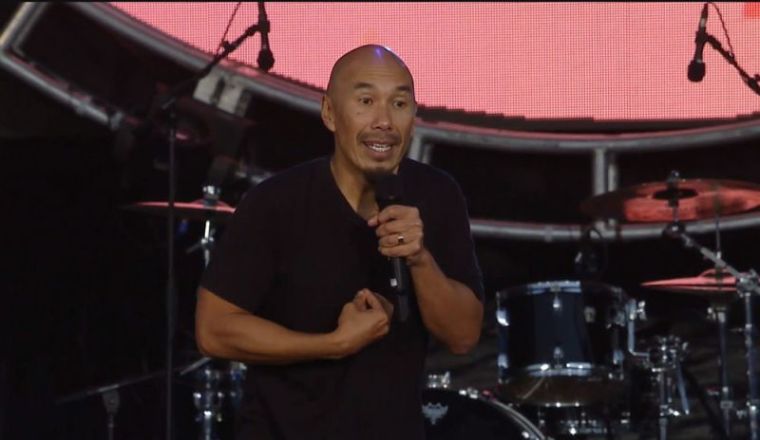 Pastor Francis Chan has warned that, in efforts to stop the Gospel from spreading, Satan is "going to do everything he can" to keep Christians isolated and absorbed in their phones, preventing them from becoming united and realizing the power of the Holy Spirit within them.
Chan, author of Crazy Love and founder of We Are Church, told the tens of thousands gathered at Texas Motor Speedway for Together 2018 that Satan "loves" the fact that over the years, Christianity has become so "dumbed down" that many professing believers rely on external "life jackets" to keep them afloat instead of resting in the power of the Holy Spirit.
"Satan knows if you actually believed in the power within you — that you'll have the power to look another human being in the eyes, your friends, your family, and tell them the greatest thing that's happened to you and of the forgiveness that is found in Jesus Christ," he said.
It's impossible to be witnesses to a watching world, Chan contended, when we're constantly relying on others to do the work for us.
"You keep believing, 'no, I need someone else. I need a life jacket. Give me my John Piper life jacket, give me my Hillsong life jacket, give my Ravi Zacharias life jacket,'" he said. "We're kept afloat by all these other things, and you don't realize you can swim. You can be witnesses."
Satan knows that when the Church becomes united, understands that Jesus is enough, and gets "all the hatred and all this other craziness out," the world's going to believe, Chan argued.
"That's why Satan's going to do everything he can to keep this from happening, to keep everyone just staring at their phones," he said. "Satan wants you isolated. He doesn't want you in close proximity with your brothers and sisters."
"He doesn't want you loving them as much as Jesus loved you, because Satan knows when they do that, the gates of Hell aren't going to stop them, so let me keep them divided. Let me keep them thinking that they can't be witnesses. Let me keep them thinking they need this life jacket because if they figure out they can swim, look out, man," he continued.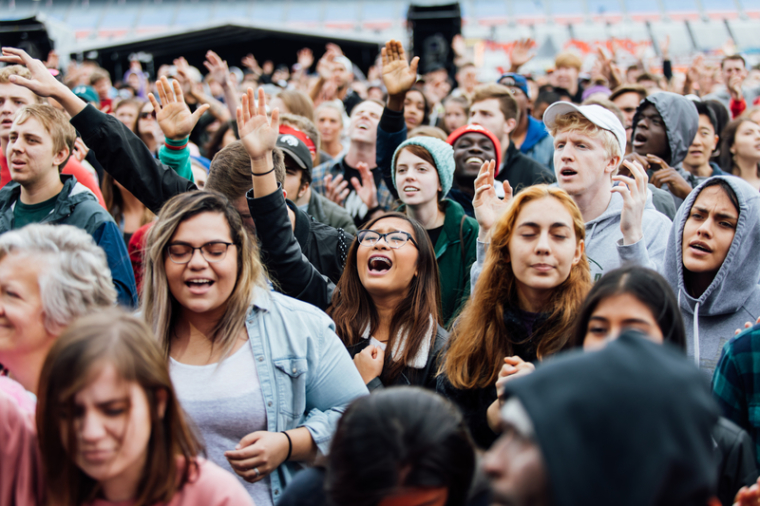 Chan challenged attendees to "take off the life jacket" and cry out to God.
"You can be artificially kept afloat by all the hype and energy around you," he said. "When that life jacket is off and you're by yourself, do you believe you have power to be His witness? To manifest the Holy Spirit to His Church like, do you believe this? Are you longing for Him?"
"Some of you may discover that you can't swim, that you've just been propped up by your Christian family, kept afloat by a Christian school, kept afloat by a Christian church. But when you're alone, you can't swim. The Holy Spirit's not really in you," Chan continued.
"If you discover you cannot swim, it's better to figure that out now and have someone teach you to say, 'I don't want to go back to the life preserver or whatever else has been keeping me afloat. I, from the core of my being, want to cry out to God and experience this power."
Together 2018 was held on Oct. 20–21 in Fort Worth, Texas. The event featured an all-star lineup of speakers, pastors, artists and leaders from various backgrounds, including Matt Chandler, Hillsong Worship, Andy Mineo, Jesus Culture, Lecrae, Priscilla Shirer, Ravi Zacharias, Rich Stearns, Samuel Rodriguez and Tony Evans, among others.
Earlier, PULSE founder Nick Hall told The Christian Post that Together 2018 would focus on promoting unity and lifting up the name of Jesus.
"We're using these words 'move closer,'" Hall said. "The world is so divided, and Jesus is the only One who welcomes everyone. Yes, there is an exclusivity to it, but at the same time, Jesus welcomes both the sinner and saint. We call the gathering 'Together' because it's a generation going after Jesus together. As we draw closer to Jesus, we're brought closer to people who are hurting and broken and having a hard time."
"We need to get over this mentality that, as believers, we can stay out of the brokenness and mess of this world," he continued. "If we're following Jesus, then we find ourselves where He is, and He's always with the least and the lost. ... Our hope is people come away not just with an incredible experience, but to go home with practical tools, so they feel they're better equipped and ready to go out and fulfill the Great Commission."