Gaza Protests, Killings: 6 Things to Know About Israel-Palestine
6. Christians Have Opposing Views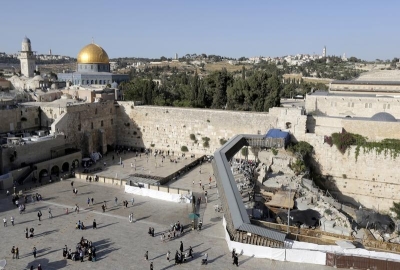 Israeli and Palestinian Christians are also strongly divided on the issue and have opposing views.
Some Christians, such as Evangelical Bishop Munib Younan, have said that Trump's decision to move the embassy to Jerusalem is a mistake.
"Jerusalem is also dear to us Christians. And we think that any change of the status quo will not bring peace to the area. On the contrary, you are touching the nerve of the Palestinian-Israeli conflict," Younan said back in December, according to DW.com.
"Jerusalem must be a place for peace, justice and reconciliation. Secondly, we believe that the historic status quo for the holy places must be maintained and not changed."
Reuters reported that some Palestinian Christians and Muslims have been joining together in prayer against the Jerusalem embassy.
Fredrick Hazo, a member of the Assyrian Catholic church in Jerusalem, said that Trump is "dragging all the world into trouble," and urged him to reverse the decision.
"We are united - Christians, Muslims, we are one," Hazo said. "In this sacred place, God is protecting us all. We are guarded by his angels in Jerusalem."
On the other side of the debate, the Rev. Doctor Petra Heldt from the Ecumenical Theological Research Fraternity in Jerusalem told Premier's News Hour on Monday that people are "overjoyed" with the embassy move.
"In Israel there is great joy in the streets of Jerusalem ... there is dancing, people go to the western wall, they pray there, they thank for this movement, they thank that Israel is finally recognized by the greatest and most important country in the world."
As for the violence, Heldt said that Palestinians had been warned of the consequences of violent protests.
"The Israeli army was ready to defend the borders of Israel and they have handed leaflets, thousands of leaflets to Gaza yesterday and today to warn the population not to follow the terror ideology of the Hamas jihadists and to stay away from the border of Israel," she added.