Georgia Gov. Signs Controversial HB 60 Legislation Allowing Guns in Churches, Bars, Schools and Government Buildings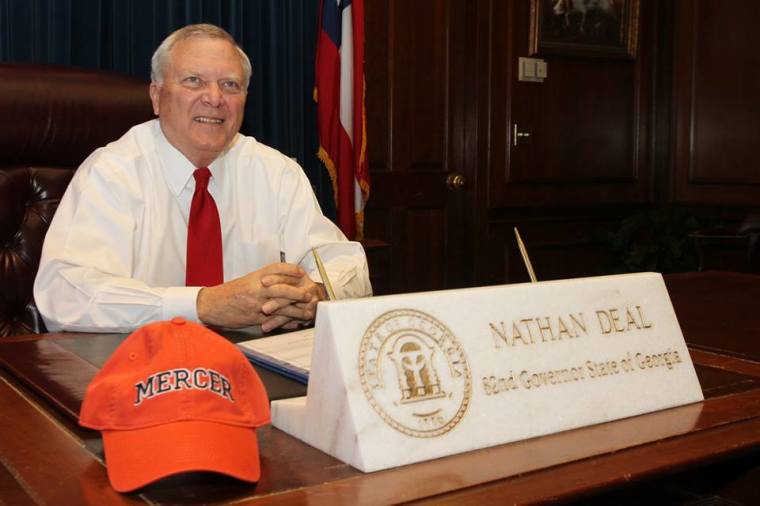 Republican Georgia Gov. Nathan Deal signed into law Wednesday a controversial bill expanding the places where residents can legally carry firearms including churches, bars, schools and government buildings.
The decision has also sparked protests and celebration from both opponents and supporters of the legislation respectively.
"People who follow the rules can protect themselves and their families from people who don't follow the rules," said Deal of the impact of the legislation Wednesday, according to the Atlanta Journal-Constitution. "The Second Amendment should never be an afterthought. It should reside at the forefronts of our minds."
Deal explained in an earlier interview that the bill critics have called the "guns everywhere bill" had gone through a process that resulted in the removal of the controversial sections, such as the "campus carry" provision, which would have allowed guns on campus, and the requirement that churches allow guns unless they were banned by church leaders. Religious leaders can now "opt-in" to allow guns into their congregations.
Deal noted that the bill had bipartisan support despite attempts by critics to use the bill to create political tension.
"There are always opportunities for people to use any piece of legislation as a political tool if they don't like it. But there was bipartisan support for the bill. The main story that should come out of it is the final product is significantly different from earlier versions. And some of the more [pause] interesting parts were removed," he said.
The bill which becomes effective on July 1 also legalizes the use of silencers for hunting, allows school staffers to carry guns in school zones and allows permitted gun owners to carry their weapons in government buildings, including parts of courthouses where there is no security at the entrance.
Bob Barr, a candidate for Georgia's 11th Congressional District congratulated Gov. Deal for signing the bill Wednesday.
"As a Life Member and longtime @NRA Board member, I congratulate @GovernorDeal on signing HB 60 into law," he tweeted.
Karen Peters, an opponent of the bill and member of "Moms after Sandy Hook" said Deal would pay at the polls for his decision.
"@GovernorDeal signed HB-60! OK he gets more guns, but WAY less votes! Just watch! #EverytownForGunSafety #gunsensevoter."