Gingrich Courts Christian Leaders; Viability Still Questioned
Republican Presidential candidate and former Speaker of the House Newt Gingrich met with 63 of the nation's most prominent conservative leaders – most of whom are uncommitted in the presidential election – at an Arlington, Va., hotel on Wednesday to outline his plan for winning the GOP nomination. All listened intently, but some are still expressing concerns over Gingrich's "viability."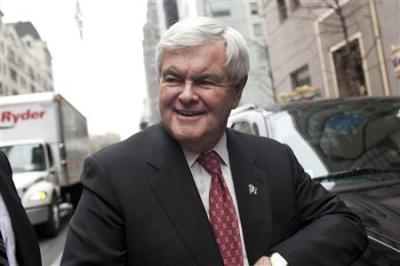 Richard Viguerie of ConservativeHQ.com hosted the meeting. "This will not be a typical meet and greet," the invitation read. From all indications, it wasn't.
"Speaker Gingrich called me over Thanksgiving and suggested we get a good group of conservative leaders in the same room for a frank discussion," Viguerie told The Christian Post. "Over the years I've been disappointed with some conservative leaders because they've caved into the Republican Party's platform as opposed to their own. Now I believe conservatives are willing to stand up for their own issues."
"We had a good, frank discussion of the issues and we talked about a number of issues, both personally and politically. Everyone listened closely to what Newt had to say and he was well received."
The gathering could well prove to be a decisive moment for the former history teacher and Speaker of the House as he hopes to convince evangelicals that his ideas and candidacy are now grounded enough to take on President Obama next November.
In addition to Viguerie, some of those in attendance were former GOP presidential candidate Gary Bauer, publisher Al Regnery, Mike Farris, head of the Home School Legal Defense Fund, Charmaine Yoest, head of Americans United for Life, and Penny Nance of Concerned Women for America.
Gingrich, who requested the meeting, began his remarks by providing a brief commentary on the state of the economy, reminding those in the room that "if Obama is re-elected, America will be a very, very different country from the one we grew up in."
Gingrich Woos Conservative Leaders
Claiming a convincing victory in the Iowa caucuses could send him into New Hampshire with enough momentum to take on former Massachusetts Gov. Mitt Romney in his own backyard prior to heading to the southern primaries.
However, Gingrich also needs to convince grassroots conservatives – especially in Iowa and several southern states – that any prior personal shortcomings should not be a factor as he has expressed sorrow and repentance for those he has hurt, including his two former spouses.
Asked directly if he could handle attacks on his personal life, Gingrich said he expected both his GOP primary opponents and eventually "Obama's attack dogs" to engage in negative campaigning.
Others in the room wanted to know if a Gingrich administration would fight for conservative values. "Mine is going to be a conservative administration … this is very tough work that I will be asking people to undertake," responded Gingrich. "I'm only going to appoint people who are willing to come in to implement our agenda."
How did such a demanding group receive Gingrich?
"I would say that the crowd was extremely interested in what Speaker Gingrich had to say," said one of the attendees who asked not to be identified.
"This is a critical election and it's real important who the Republican nominee will be. I would say one of the overriding issues is those gathered in the room do not want to have mud on their faces in a general election. We want to make sure that whoever takes us to the dance can drive us home safely. A few still had some doubts about his viability."
Interrupted numerous times by applause, Gingrich made a direct appeal to the conservative leaders in the room – most of whom could collectively influence several hundred thousand prized, evangelical primary voters.
So, how did Gingrich fair with the group? "He didn't do himself any harm," another attendee who asked to not be identified stated. "No doubt about it – Newt's smart. Everyone wants to be smart and strategic from this point forward."