Gingrich Eyes Cain Supporters as Romney Gets Bad News
Soon after Herman Cain dropped out of the Republican presidential nomination race Saturday, new frontrunner Newt Gingrich began to court the former Georgia businessman's supporters amid heightened attacks by rival candidate Mitt Romney.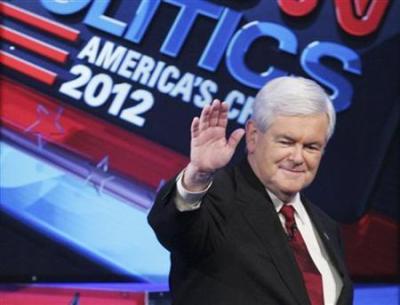 Former House Speaker Gingrich, who now leads the three-candidate race in Iowa, according to a poll released Saturday, praised the former Godfather's Pizza CEO as "a powerful voice in the conservative movement for years to come."
Gingrich, who was at a tea party gathering on New York's Staten Island, also said that Cain deserved credit for the courage to talk about "big ideas" such as his straightforward tax plan to help "elevate" the GOP debate.
In the midst of recent allegations of sexual harassment and an extra-marital affair leading to a drastic dip in his support, Cain announced the decision to suspend his campaign Saturday at an event in Atlanta, Ga. Gingrich's praises came just minutes after the announcement.
As Cain's exit is poised to help Gingrich consolidate the non-Romney vote, it was a day of a double bad news for the former Massachusetts governor; following Cain's announcement came the results of the Des Moines Register's new Iowa Poll, showing Romney's support dropping to 16 percent with Ron Paul at 18 percent and Gingrich at 25 percent.
Gingrich's surge in the Iowa poll was dramatic given that his support stood at just 7 percent in an Iowa Poll conducted Oct. 23-26. The former House Speaker has also surged in national polls in recent weeks due to strong debate performances.
However, Romney hopes that voters will move away from Gingrich as they did with other candidates who posed a threat to him in the past. "I think it's really hard to predict exactly how campaigns are going to go," Romney told Fox News on the sidelines of his New Hampshire stop. "I would have never imagined that we would go from Donald Trump to Michele Bachmann to Rick Perry to Herman Cain, now Newt Gingrich. I've pretty much been in the mix all the way along the line."
Branding Gingrich as just another Washington insider, Romney sought to describe himself as a business leader capable of tackling the troubled economy. "I think America needs a leader right now," he said.
Gingrich remained focused on criticizing President Barack Obama at the Saturday's tea party event. "If he wants a teleprompter, he gets a teleprompter," Gingrich was quoted as saying. "If you had to defend Obamacare, wouldn't you want a teleprompter?"
However, Gingrich recently targeted Romney. "I don't claim to be the perfect candidate, I just claim to be a lot more conservative than Mitt Romney," he told WSC Radio in South Carolina. "We think there has to be a solid conservative alternative to Mitt Romney… I'm the one candidate who can bring together national-security conservatives and economic conservatives and social conservatives in order to make sure we have a conservative nominee."
After announcing his exit, Cain said he would endorse one of the candidates for the GOP nomination. Could it be Gingrich, who recently said the allegations didn't disqualify him as a candidate?
New speculation that Herman Cain could back Newt Gingrich