Global Warming, Commies and Beer: Highlights From CNBC's First Republican Debate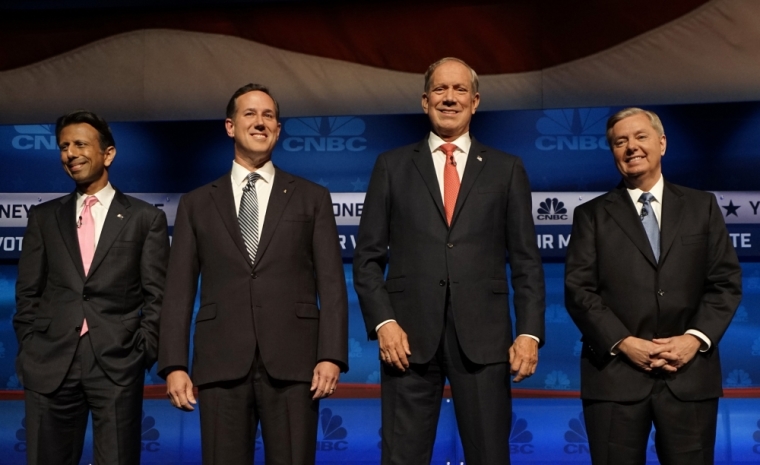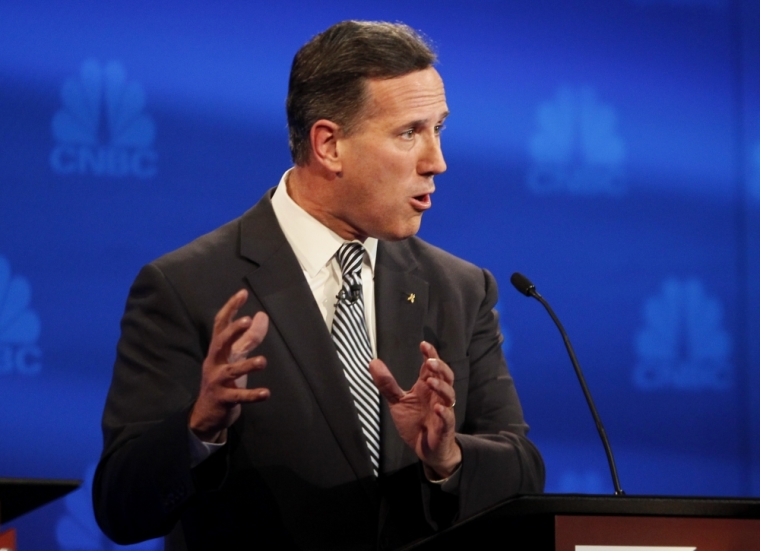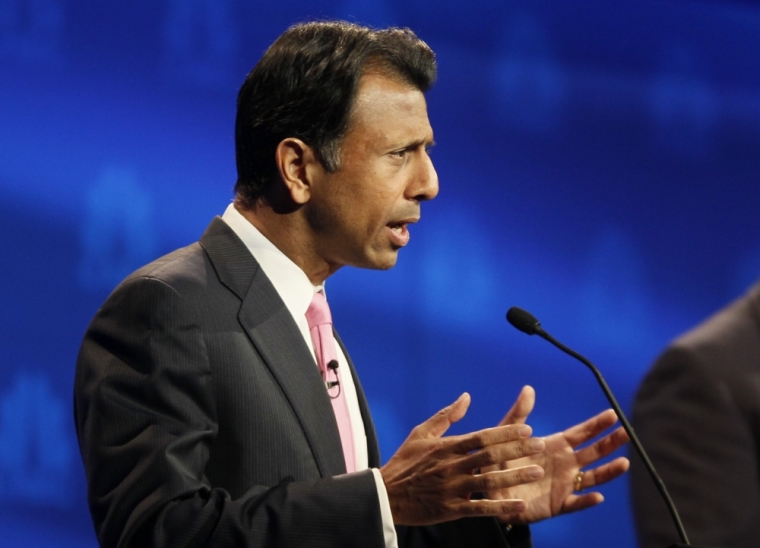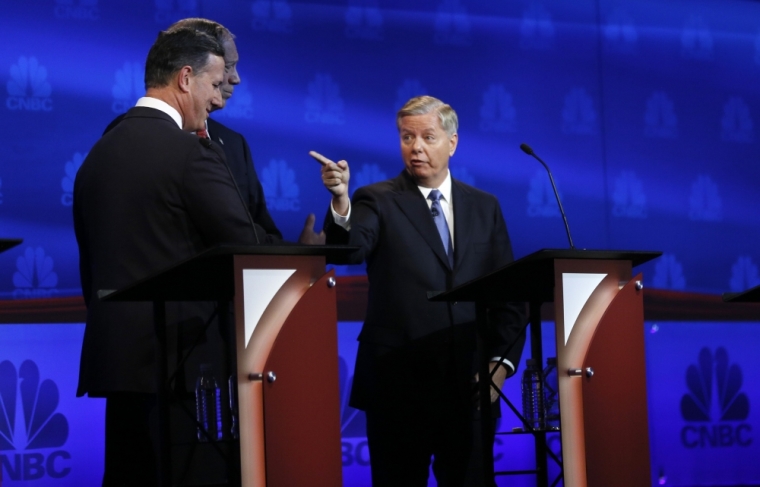 View Photos
In CNBC's undercard presidential debate hosted Wednesday evening in Boulder, Colorado, the four lowest polling Republican presidential candidates discussed "pints and politics," "beer policy," how John F. Kennedy's tax policy wouldn't fit in with today's "socialist" Democratic Party, and whether the GOP should embrace "accepted science" on global warming.
As South Carolina Sen. Lindsey Graham, Louisiana Gov. Bobby Jindal, former Pennsylvania Sen. Rick Santorum and former New York Gov. George Pataki are all averaging one percent or less in national Republican presidential polling, each candidate needed to make a statement in hopes of bolstering their presidential campaigns.
Below are highlights from Wednesday's first debate.
Jindal: the left doesn't trust the American people to make good decisions
Jindal was questioned about his support of for-profit colleges and asked whether for-profit colleges should be responsible for the fact that 44 percent of student loan defaults come from for-profit college students, even though for-profit colleges make up 11 percent of America's college student population.
"They should be accountable to their students through the market. Look, you either trust the American people to make their own choices or you don't," Jindal responded. "I know the Left thinks we need to be protected from ourselves. President Obama is trying to limit competition to the higher education market. As a result, you're going to see tuition prices continue to go up. We've had $1 trillion of student debt and counting. And he wants to exempt certain schools from the same oversight he wants to apply only to the for-profit market."
Santorum, Graham discuss 'pint and politics'
Santorum was asked a whether he believes that it is right for a third of breweries in America to be owned by one company.
"The answer is simple. There are no shortage of breweries around the United States of America," Santorum asserted. "As I travel around the country, I do pints and politics and I go to breweries all over the place and there is almost no town in America that doesn't have a brewery. I don't think we need to worry too much … I am not concerned that Americans are not going to have no choice of beer."
Later in the debate, Graham felt it was appropriate to weigh in with his "beer policy" when asked a question about his stance on Social Security reform.
"Now, if you're looking for good beer policy, I'm your best bet. My dad owned a bar," Graham said. "I know beer. We grew up, my sister and myself, in the back of that bar in one room with my mom, my dad and my sister who's nine years younger. When I was 21, my mom was diagnosed with Hodgkin's disease. Neither parent finished high school. She died within a year. We were wiped out from the medical bills. And if it wasn't for a Social Security survivor benefit check coming into my family, we wouldn't have made it because my dad died 15 months later."
Jindal: imagine if JFK tried to lower tax rates in today's Democratic Party
Early in the debate, Jindal asserted that he would have every working American paying taxes, with the lowest tax bracket paying a two percent income tax. He was questioned by host Becky Quick, who asserted that every working American is already paying taxes when they pay into Social Security and Medicare.
Jindal explained that people need to pay for their Social Security and medicare but wants people to be concerned about how the government is spending taxpayer money, and added that he doesn't want to have one class in America completely dependent upon the government, while the other class continues to fund the government.
"I want to quote to you a president. The president said this, 'The problem is that tax rates are too high and government income revenues are too low.' He said, paradoxically, 'Lowering tax rates now is the best way to produce higher government revenues later,'" Jindal quoted. "That president wasn't president [Ronald] Reagan, as many are probably guessing at home. That was President [John F.] Kennedy. Imagine if he were alive today, if he was at that last Democratic debate. Imagine if he tried to say that in a party that is geared toward socialism. That wouldn't be welcome in today's Democratic Party."
Pataki: GOP needs to stop questioning 'science everyone accepts'
Pataki was asked about his views on global warming and lashed out against fellow Republicans who are not "embracing" the sciences that say human activity is causing greenhouse effect. He urged Republicans to embrace innovation and incentivize forms of alternative energy.
"One of the things that troubles me about the Republican Party is too often, we question science that everyone accepts," Pataki argued. "It's ridiculous that in the 21st Century, we are questioning whether or not vaccines are the appropriate way to go. Of course, they are. Also, it's also not appropriate to think that human activity, putting [carbon dioxide] into the atmosphere, doesn't make the earth warmer … It does. It's uncontroverted.
"I think part of the problem, Republicans think about climate change and say, 'Oh my God, we are going to have higher taxes, more Obama, more big government, the EPA shutting down factories.' That is not the solution that I see."
Earlier in the debate, Graham issued a similar argument.
"I am not a scientist and I got the grades to prove it, but I have talked to the climatologists of the world and 90 percent of them are telling me that greenhouse gas effect is real, that we are heating up the planet," Graham said. "I just want a solution that would be good for the economy that doesn't destroy it."
Jindal: GOP should not become 'cheaper version' of Democratic Party
Jindal was pounded hard during the debate about his dedication to shrinking government and lowering taxes. He attacked moderate Republicans for not doing enough to lower taxes and cut government spending.
"This is a fundamental choice. We mustn't become a cheaper version of the Democratic Party, a second liberal party," Jindal said. "We need to proudly say we're willing to cut taxes, shrink government, grow the American economy. President Kennedy said it to the Democratic Party. Why can't we say it in the Republican Party in 2015, let's cut taxes."
Graham's rant against Clinton, Sanders gets ovation
Arguably the biggest crowd ovation of the debate came when Graham ignored the CNBC's host and went over his allotted time to offer a rant against the Democratic Party's two highest polling candidates — former Sec. of State Hillary Clinton and Vermont Sen. Bernie Sanders.
"At the end of the day folks, I am trying to solve a problem and win an election. I am tired of losing. Good God, look who we are running against," Graham asserted. "The number one candidate on the other side thought she was flat broke after her and her husband were in the White House for eight years. The number two guy went to the Soviet Union on his honeymoon, and I don't think he ever came back. If we don't beat these people, who the Hell are we going to beat?"