'God Loves Uganda' Film Exposes 'Violent' Evangelical Movement Targeting Gays?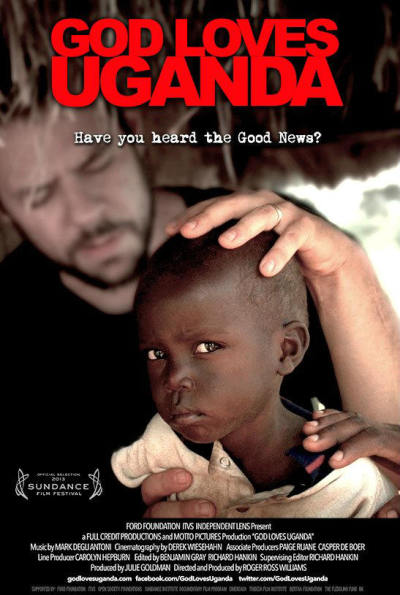 "God Loves Uganda," a controversial new documentary, premiered at the Sundance Film Festival in Utah last week, seeking to expose what the filmmakers say is the dark side of Christian evangelism in African countries.
"The world has never had an up-close look at how anti-gay animus is exported from the United States to places like Uganda," said Andre Banks, executive director and co-founder of All Out, a gay rights advocacy group. "'God Loves Uganda' shows us how the U.S. culture war is being shipped wholesale to Africa, sometimes unknowingly, but always with disastrous consequences. The film should be required viewing."
The film argues that conservative evangelical Christian churches, aware of the declining trend of belief in America, are spreading out into Africa, where they hope to foster an anti-gay fervor among the increasingly religious African population. A growing number of African countries, like Uganda, have been reporting explosive growths in Christianity, according to the film.
Academy Award-winning filmmaker Roger Ross Williams makes it clear, however, that his documentary does not try to portray all or even most Christians in a negative light. A number of the commentators in the film are African pastors who have seen the anti-gay conservative movement spread around the continent, which they say is a danger to human rights.
Williams, who says grew up in the black church but was later rejected when he came out as gay, focuses on a group of evangelical Christians in Uganda and their evangelism efforts.
"The American evangelical movement in Africa does valuable work in helping the poor," Williams says in an op-ed for The New York Times." But as you'll see in this Op-Doc video, some of their efforts and money feed a dangerous ideology that seeks to demonize L.G.B.T. people and intensifies religious rhetoric until it results in violence. It is important for American congregations to hold their churches accountable for what their money does in Africa."
"The film also raises urgent questions for American people of faith who care about justice and human rights," All Out's Banks added, according to The Huffington Post. "The large majority of churches in the U.S. raise money to do good in their communities and abroad. But this film makes clear that we must each be certain that our contributions at the collection plate are not going, directly or indirectly, toward supporting laws that call for the death of gays and lesbians."
Uganda, a largely conservative Christian nation, is currently facing intense international pressure to ensure that an anti-gay bill introduced in parliament does not make homosexuality punishable by death, as a previous version of the bill reportedly stipulated. Mainstream American evangelical Chrisitan Pastor Rick Warren of Saddleback Church in Calif., has spoken out against the law, calling it "unjust, extreme and un-Christian toward homosexuals."
"Masterfully crafted and astonishingly provocative, 'GOD LOVES UGANDA' may be the most terrifying film of the year," David Courier, Senior Programmer at the Sundance Film Festival, commented about the film.
Other reviews of the film, however, have suggested that William's Op-Doc might be very misleading and one-sided in its presentation. Justin Chang, a senior film critic at Variety, wrote that the film is a "scalding appraisal of the Christian missionary movement in Africa," and that it has "a ferocious mission of its own: to portray American evangelicals as arrogant and deluded, yet dangerously effective in their suppression of sexual freedoms."
The reviewer adds: "On its own angry, preaching-to-the-secular-choir terms, Roger Ross Williams' forceful polemic succeeds to a startling degree, rightly decrying the use of the Gospel to incite homophobia, and allowing the most fervent interviewees to damn themselves with their own proselytizing words. It's strong, head-shaking stuff, scarcely the measured treatment its subject calls for, but all the more commercial for it."
Chang gives credit to the film by noting that it "focuses its attack not on Christian belief per se, but rather on the movement's overreaching, sexually repressive agendas."
The Variety critic concludes: "With little interest in attributing any social benefits or genuinely altruistic impulses to the missionary movement, Williams allows local Bishop Christopher Senyonjo to be the reasonable face of Christianity in Uganda, calling for an atmosphere of tolerance and mutual respect. It's an attitude the film outwardly endorses but doesn't entirely embody, as far as evangelicals are concerned."
The movie, produced by Julie Goldman and Motto Pictures, is currently being screened in select theaters across the U.S.
Watch the trailer for "God Loves Uganda":