'God Proved to the World That What Was Being Said Was a Lie;' Fiancée of First US Ebola Victim Blasts Media; Says Quarantine 'Ruined Her Life'
View Photos
Last year, Liberian national Thomas Eric Duncan became the first Ebola victim to die on American soil and six months later his family is still trying to make sense of his untimely death amid unanswered questions. Louise Troh, the 54-year-old former fiancée of Duncan, recently recalled how the deadly virus ruined her life and left her traumatized.
Forty-two-year-old Duncan lived with the former nursing assistant and her five children inside their Dallas apartment for one week after he traveled to the U.S. from Liberia on Sept. 20, but that all changed the moment he was diagnosed with Ebola on Sept. 30.
Troh claims she was completely shunned by the community, mischaracterized in the media and forced into a 21-day quarantine that would leave her traumatized and battling anxiety.
"It's very, very hard because there's no answers. Why was he treated like this?" Troh, who met Duncan 20 years ago at a refugee encampment in the Ivory Coast, told The Christian Post. "He's never coming back, that's very, very frustrating. I've been traumatized.
She continued: "When I was in quarantine, I lost everything I had. It's ruined my whole life; I can't even go back to work after being traumatized like that. I can't even drive with all of the worries and anxieties. People don't know how it feels to be quarantined in America. You can't see your loved ones, people are accusing you, its very difficult. Its hard to recover from that."
Troh and her family lost most of their possessions last year after hazmat teams incinerated nearly everything inside of their contaminated Dallas apartment as a cleansing precaution. She was left homeless with just a few personal documents, photographs, and a single Bible which ironically would get her through the next few weeks.
During her time in quarantine, Troh sought comfort in the Bible and credits Scripture for pulling her through what was understandably one of the most terrifying times in her life.
"Psalm 116," Troh said, when asked what particular Bible verse gave her strength. "I read it from verses 1 through 18."
The Ebola epidemic sparked overwhelming fear and panic across the nation last year when Duncan, who was thought to have contracted the deadly virus, also known as Ebola hemorrhagic fever in Liberia, was first diagnosed.
Many expressed outrage at the personal driver and accused him of knowing that he was a carrier of the deadly virus when he traveled to the U.S. after being in direct contact with a woman who died from Ebola prior to his departure from the West African nation. But Troh, who authored a candid memoir My Spirit Took You In, claims the media got it all wrong.
"I believe that he did not know [he had Ebola]," said Troh. "All the accusations and people talking without thinking twice, it was just painful. They said all kinds of ugly stuff. [Eventually] God proved to the world that what was being said was a lie."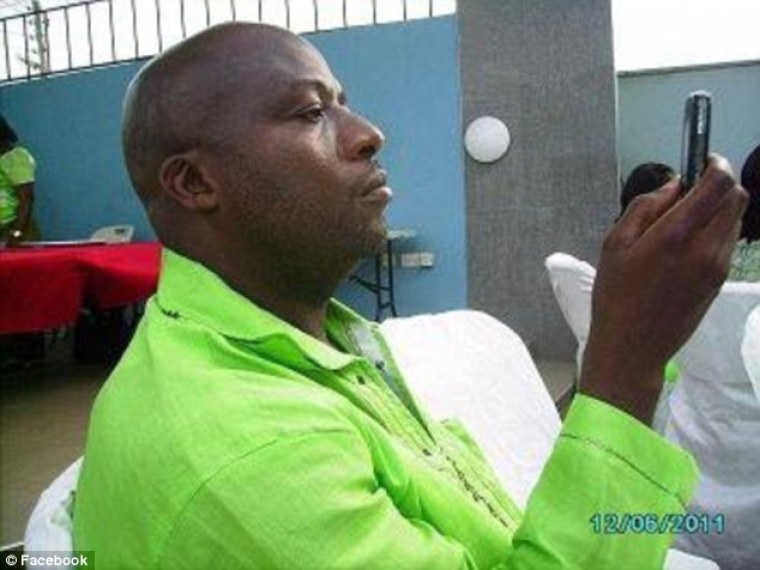 The mother of seven is still grieving the loss of the man that she once called "the love of my life," and said the grieving process has been made more difficult because of the fact that his death could have been avoided.
Troh said she holds Texas Health Presbyterian Hospital responsible for Duncan's death, along with the "decision makers in this country" for treating Duncan like a "criminal."
"They already concluded that they are responsible for his death," she said, referring to an Oct. 19, 2014, full-page ad in which the hospital apologized for "mistakes" it made during what it referred to as a "very difficult challenge."
Duncan was initially sent home from the Dallas hospital on Sept. 24 when he first became ill, despite having a high fever of 103-degrees.
"Actually, I hold the decision makers in this country responsible because this man came here legally," she continued. "If they diagnosed him with Ebola and they have Ebola treatment here, why didn't they treat him? They treated him like a prisoner, like a criminal, and he wasn't a criminal. He was neglected, the hospital [admitted] neglect. The hospital apologized to me [and] to the family, to my son. It's their fault."
Duncan is said to have contracted Ebola in Monrovia while helping care for his landlord's pregnant daughter, who later died of the virus; however, Troh insists that he was not aware he had contracted Ebola.
The day after trying to save the woman's life, the devout Christian traveled to the U.S. where he was diagnosed with the deadly virus and would later lose his life.
"If he had known she had Ebola, he wasn't going to help her," Troh said, referring to the pregnant woman who was suffering a miscarriage. "He saw she was in pain and he helped her but he did not know."
Troh's pastor previously echoed these sentiments during an interview with CP.
"I think it's very important for us to remember that he was not able to tell us about that personally or publicly," Wilshire Baptist Church Senior Pastor George Mason said, adding that the story about him helping the pregnant woman "... is a story of Christian compassion and generosity."
Troh praised Mason and Wilshire Baptist Church, where she was baptized last year, for supporting her throughout her ordeal and for recently helping her find a home to live in.
"My pastor and the whole church were there with me through to this stage. I'm so glad that God brought me in and took me to that church," she said. "I'm very grateful to the Lord."
The Dallas resident said that she often dreams about Duncan and still feels his presence around her.
"Last night I had a dream about him," she said. "He's always with me."
Last year there were 11 reported cases of Ebola in the U.S., including Duncan's.
In November, Martin Salia, a 44-year-old Christian surgeon, became the second person to die from Ebola in the U.S. He died in an Omaha hospital after contracting Ebola in the Sierra Leone capital of Freetown, where he had been working at Kissy United Methodist Hospital.