'God's Not Dead 2' Realistic, But Might Not Be for Skeptics, Says Theologian
A theologian who frequently reviews biblically-themed and Christian films believes that the sequel to the surprise hit "God's Not Dead" is realistic but probably not for skeptics.
Professor Darrell Bock, executive director for Cultural Engagement at DTS' Hendricks Center, is part of a panel discussing current Christian films at Proclaim 16, the NRB International Christian Media Convention.
In comments given to The Christian Post, Bock said that "God's Not Dead 2: He's Surely Alive" deals with "quite real" issues in its plot and is very "direct" in its message.
"I think it resonates with those who have faith and see a rising more hostile culture. My one question is if it is really too direct to really reach a skeptic like I was before I became a believer," said Bock.
"This is the fourth faith based movie I have previewed in the last three weeks. This is by far the most direct presentation. The other films I saw had subtlety and still brought home the message."
Bock also told CP that his involvement with the panels on Christian films came because of his past work on the subject matter.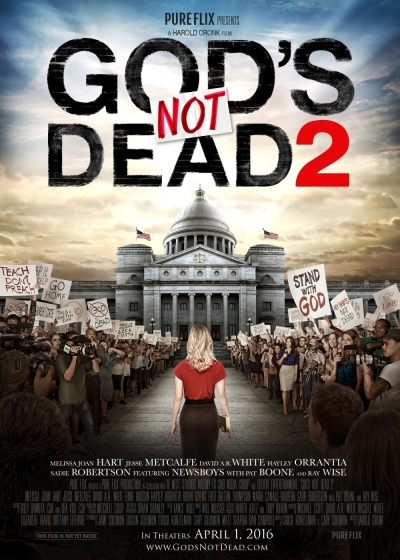 "I am involved in media with the broadcasting of the Table podcast from Dallas Theological Seminary on the Net," explained Bock.
"I am on panels discussing three movies, one movie each night of the conference: 'Miracles from Heaven,' 'God is Not Dead 2,' [and] 'The Young Messiah.'"
Via the Table podcast, Bock has offered insights and reviews of various biblically themed movies as well as films produced by Christian companies.
For example, in April of 2014, Bock reviewed God's Not Dead, calling it "in your face" and clear in its message, even if not always perfect in its portrayal of the typical college setting in America.
"There was a little bit of it that had an aura of, I thought in relationship to the way the University really is, unreality to it and that took away from the value of it to some degree," said Bock on the podcast.
"On the other hand, there were very substantive things said about worldviews in the exchanges that were very much appropriate to the conversation our culture has with itself."
According to its website, the NRB's Proclaim 16 is a multiday convention that "connects, equips, and edifies thousands of Christian communicators – from broadcasters to producers, writers to publishers, managers to pastors, artists to consultants."
"You will hear outstanding internationally known speakers and artists, have the opportunity to attend numerous networking events, and receive helpful industry insights," reads the site.
This is not Bock's first NRB convention, as he has attended the past three years and also a fourth one earlier on. He tells CP that he hopes the multiday event is a place of learning.
"It is a way to see what people are doing and discuss issues in broadcasting and culture. My hope is that we can learn to be more effective in the gospel message we proclaim and are to reflect," said Bock.
Featured speakers for Proclaim 16 will include Media Research Center President Brent Bozell, actress and producer Roma Downey, Hobby Lobby President Steve Green, Answers in Genesis President Ken Ham, Fox News social commentator Judge Jeannie Pirro, and former Iraqi-based Anglican clergyman Canon Andrew White.