Greg Laurie Details White House Dinner With Evangelicals, Trump Breaking Protocol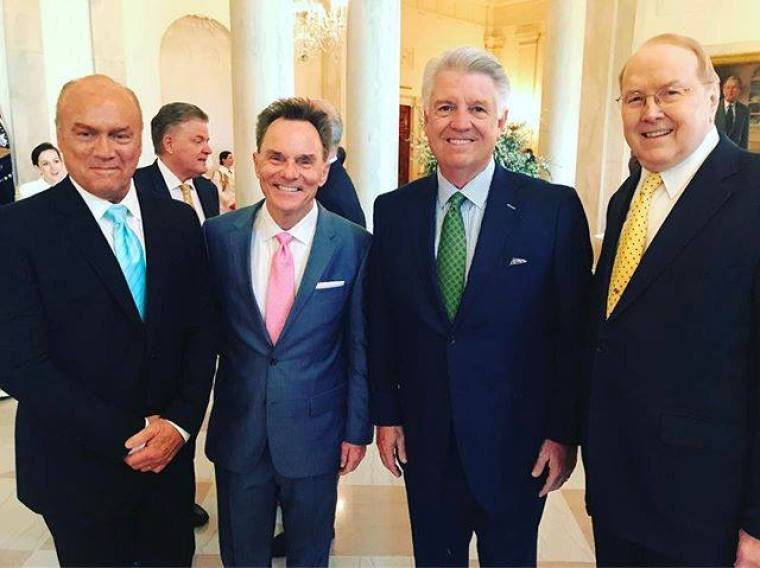 President Donald Trump may have broken protocol by taking a large group of evangelical leaders up to the second floor of the White House for a tour after they gathered for dinner last Wednesday, evangelist Greg Laurie says. The tour took place before the signing of an executive order on religious freedom the next morning.
Laurie, senior pastor at Harvest Christian Fellowship in Riverside, California, was one of dozens of faith leaders invited to a private dinner with the president and his cabinet members at the White House the night before Trump signed last Thursday's executive order promoting free speech and religious liberty and the National Day of Prayer proclamation.
The California pastor joined evangelical leaders like Franklin Graham, James Dobson, Robert Jeffress, Jack Graham, Richard Land and other members of Trump's evangelical advisory board in dining with the president, vice president and his administration officials.
Laurie, who shared his White House experiences with his followers on social media, took time on Sunday to extensively detail his experiences at the White House in a slideshow for his congregation at Harvest Christian Fellowhip.
"Here's what happened. I was asked to be on this [presidential faith advisory] board, right? I told you about this before," Laurie said. "I didn't know what it would entail or when we would meet. Finally, we got a notice and it was not even a week out — 'You're invited to a National Day of Prayer at the White House.'"
"Listen, the National Day of Prayer has not been observed in the White House for eight years. This is important. ... President [Barack] Obama did issue a decree telling Americans to observe it. But there was nothing in the White House. There was before, but there wasn't for eight years," he noted. "Now, it was back in the White House again. So of course, I wanted to go to that. Then, I got another notice right on the heels of it — 'You are invited to have dinner with the President on Wednesday night.'"
Laurie explained that he had to go through various forms of security just to enter the White House complex on Wednesday. But once he was in, he and other faith leaders were led to a small dining room.
According to Laurie, they sat about seven people to a table, with one administration member at each table.
"Now, Jack Graham and Franklin Graham, they got the president. But I didn't do too bad. I sat with the vice president (Mike Pence) and his wife (Karen)," Laurie said.
Laurie also detailed what food was served at the dinner.
"We had a wonderful salad to start — I think it was a shrimp salad — a small, little steak, vegetables. Dessert was some sort of a chocolate mousse thing," Laurie recalled. "I don't know if you care but some people asked me this. It was a great meal."
After a while, Laurie said that Trump addressed the religious leaders, followed by Pence and other members of the administration who spoke. Following the remarks, Laurie said that Christian singer-songwriter Steven Curtis Chapman performed.
"He sang and [I had] the best seat. He literally was right in front of me. So I just turned my seat around and pulled my iPhone out and filmed it," Laurie said, adding that he posted the video on his social media accounts. 
As things began wrapping up at dinner, Laurie said that the faith leaders were told that Trump might have to leave. However, the president didn't end up leaving.
"He ends up hanging out with us for like three hours. It just went on and on. I think he was having a good time," Laurie explained.
Laurie added that after dinner was done, Trump asked if people would like to go see the Lincoln Bedroom on the second floor. According to Laurie, the president led him and about 39 other faith leaders up the stairs and told them about the paintings that were hanging on the wall.
"So I think this is outside of protocol because normally, people are not taken up to the second floor, where the family has their private quarters," he stated.
As the faith leaders happily followed Trump through the halls of the White House, Laurie explained that he and the other faith leaders "were reduced to being like children."
"All of us were excited, of course. We are walking down the hallways and there are portraits of presidents and first ladies. Then, we go into the Lincoln Bedroom and there is this large bed. I am not sure if the president (Lincoln) ever slept there," Laurie said. "And there is a portrait of [Lincoln] on the wall and President Trump said that was President Lincoln's favorite portrait of himself. We are just standing there taking it in and [Trump] says, 'It's cool, huh?' We are all like, 'Yeah, it's totally cool.'"
After going to the Lincoln Bedroom, Trump then took the faith leaders to the Truman Balcony.
According to Laurie, the trip through the second floor of the White House was even exciting for someone like Dobson, who has been to the White House a number of times before.
"He said, 'I have never seen anything like this before,'" Laurie quoted Dobson as telling him. "Even he was amazed. That was just a fantastic night."
After the night ended, Laurie and the other leaders came back to the White House the next morning to not only celebrate the National Day of Prayer but also witness the signing of Trump's executive order in the Rose Garden.
After detailing his experiences at the White House, Laurie then defended his decision to accept Trump's invitation to the White House from those who might tell him, "Greg, stay out of politics."
"If the president of the United States invites you to dinner — I don't care if you voted for them or not — you go to dinner with the president. Besides, it's a free meal, right?" Laurie told the congregation. "I was never invited by President Obama. If Secretary [Hillary] Clinton had won and asked me to be on some faith advisory board, I would have jumped at the chance. Of course, I would do that."
Laurie also told the congregation that Christians should not refrain from getting involved in politics and the public square.
"Christians need to be involved in everything today in our country, including politics. Christians need to register, they need to vote, they need to run for office, they need to be in every place in our society," Laurie asserted. "I was really surprised to find how many members of this administration were overt Christians and many of them meet for Bible study every week. I don't want to say who and what, but I met people and was surprised to find that they were a believer and very encouraged by that as well."