Greg Laurie to Gay Activists: 'I Won't Back Down'
A California megachurch pastor involved in the National Day of Prayer who has recently come under fire for his views on homosexuality has declared that he will not be intimidated.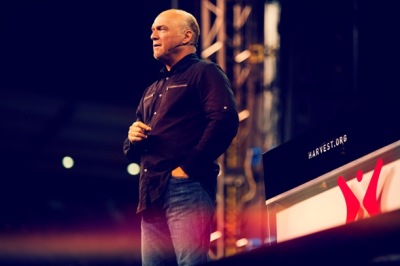 At a prayer event held Wednesday morning at the Washington, D.C., office of the Family Research Council, Pastor Greg Laurie told those gathered, "I won't back down."
"They do not want me to pray. They describe me as 'homophobic' and so forth. How can you deal with such a situation? We're in a time in our country now where I'm attacked because I believe what the Bible teaches," said Laurie, ahead of Thursday's National Day of Prayer.
"If people want to make it all about that I'm not going to back down. In the immortal words of the great theologian Tom Petty, 'I won't back down,' I won't. I'm not going to apologize."
Laurie paralleled the efforts of gay rights activists to that of the palace officials who sought to stop Daniel (in the Old Testament) from praying and passed a law that resulted in him being thrown into the Lion's Den.
"Here is something that we need to learn from that. The Devil does not want us to pray. It's been said that Satan trembles when he sees the weakest saint upon his knees," said Laurie. "I've had people try to stop me from praying this week. And we have these activist homosexual groups who have alerted their people to petition the Pentagon."
The main focus of Laurie's speech was on the subject of prayer, which was in keeping with the theme of the FRC event. Among the points made was that it does not matter where one prays, so long as it was with a sincere heart.
"God did not hear the prayer of the pharisee. Why? Because the Bible says Jesus speaking, 'he prayed thus with himself,'" said Laurie.
"Prayer is the movement of our heart towards God and the main thing is we need to pray because you could pray in any position, anytime, anywhere … it does not matter where you pray, the main thing is just pray."
In recent days, LGBT organizations like the Human Rights Campaign have demanded that government officials bar Laurie from leading National Day of Prayer events in the nation's capital this week.
"Pastor Laurie's message is out of step with what the majority of people of faith across this country believe," said Dr. Sharon Groves, director of HRC's Religion & Faith Program. "In greater numbers than ever before, people of faith are feeling compelled to speak up and organize for equality – because of their faith."
This is not the first time gay activists have attempted to get clergy opposed to homosexuality removed from a major national event. In January, LGBT activists successfully got the Rev. Louie Giglio of Passion City Church in Roswell, Ga., to withdraw from saying the closing prayer at President Barack Obama's second inauguration.
Laurie's remarks came at an event sponsored by FRC titled "The National Day of Prayer Task Force Men's Prayer Meeting."
Other speakers at the event included a couple Christian businessmen, FRC Vice President for Church Ministries Dr. Kenyn Cureton, and John Bornschien, Vice Chairman of the National Day of Prayer Task Force.
Mount of Olives (Greg Laurie)