Ground Zero Mosque and Community Center Scaled Back to 3 Stories Instead of 15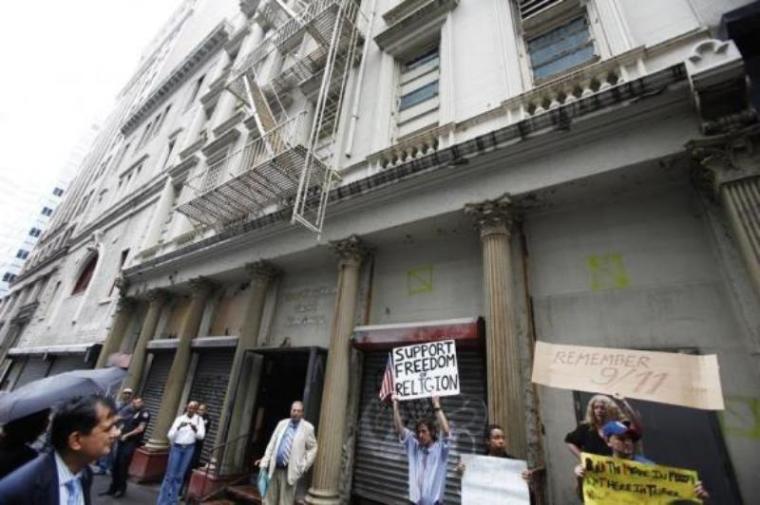 The developer behind a proposed Muslim community center and mosque that would have opened blocks away from the World Trade Center announced his intentions Wednesday to build a three-story museum dedicated to Islam in the same area.
A spokesperson for the developer, Sharif El-Gamal, told The New York Times that he scaled back his plans from a 15-story community center and prayer space and instead opted for a smaller site, which would still include prayer rooms, community space and a public green space.
"This is a more tailored approach, both physically and programmatically," said Hank Sheinkopf, a spokesman for El-Gamal. "It will prove to be an important addition to the neighborhood and to New York City's arts and cultural community."
El-Gamal's initial plan proved intensely divisive, not only within New York City but across the country, as many criticized the American developer (born to Egyptian and Polish parents), for being insensitive to the history of the neighborhood in light of 9/11.
Robert Spencer, who runs the blog Jihad Watch and protested the original plan, reprinted his correspondence from the Times reporter, where he described El-Gamal's proposal as one "dedicated to improving the image of Islam that was so tarnished by the 9/11 attacks."
"The structure as you describe it would be as grotesque as a three story museum dedicated to exploring the faith of Shintoism and emperor-worship, and its arts and culture, with a sanctuary for prayer services and community programs, at Pearl Harbor," Spencer continued. "Pearl Harbor would not be an appropriate place for such a museum, and it would indeed be legitimately seen as a tasteless attempt to exonerate the Japanese civil religion of responsibility for the attack and the war. Likewise this museum, if it is to be built at all, should be anywhere but at Ground Zero."
Spencer called the building "inappropriate and offensive" and said that El-Gamal's building would do little to revamp Islam's image: "only a concerted effort to reform Islam and counter the jihadist narrative within Muslim communities will accomplish that."
According to Sheinkopf, the project's financing will be initially supported by El-Gamal, though he intends to look for future sponsors. The identities of those who might be helping to finance the project has generated an additional point of contention in the Ground Zero mosque debate.
In 2010 El-Gamal told CBS news that the project would not take money from Iran nor Hamas.
"The money is going to be coming from people that want to get involved in the project. And I think it's gonna come from people from all walks of life," he said.
Demolition of existing buildings in the area is slated for the upcoming months.