Guests Reportedly Offered Blood in Ritual at Mandela Funeral; Icon Hailed as 'Fountain of Wisdom, Pillar of Strength'
South Africa's first black president, Nelson Mandela, was laid to rest on Sunday in an eclectic collision of old and new world pomp which left his people in tears as elders from his Xhosa tribe reportedly offered blood from a slaughtered ox to guests in a traditional ritual.
A report from MailOnline noted that the beloved global icon who died at 95 on Dec. 5 was finally buried Sunday after 10 days of mourning and a four-hour state funeral attended by an array of international figures such as the Prince of Wales, Oprah Winfrey, Richard Branson and American civil rights activist Jesse Jackson.
"Yours was truly a long walk to freedom, and now you have achieved the ultimate freedom, in the bosom of your maker," said armed forces Chaplain General Monwabisi Jamangile.
Mandela was buried in a grave in Qunu in Eastern Cape Province located on a plot on his family's estate under the watchful eyes of soldiers. The South African flag that had draped his coffin during the ceremony was removed and given to his widow, Graca Machel, who was comforted by the leader's ex-wife, Winnie Mandela.
Jacob Zuma, South Africa's current president who was among the 5,000 mourners attending the funeral service, hailed Mandela as "a fountain of wisdom, a pillar of strength and a beacon of hope for all those fighting for a just and equitable world order."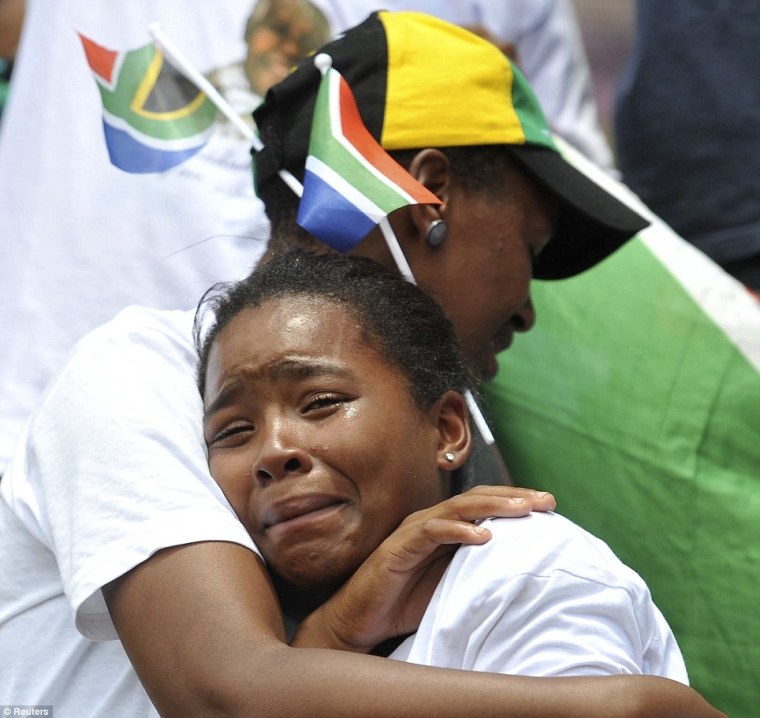 "Today marks the end of [an] extraordinary journey that began 95 years ago, the long walk to freedom has ended. When people see goodness in a person they respond by reflecting goodnesss back at that person and on their fellow man (sic) and women," said Zuma.
"Thank you for being everything we wanted in a leader during a difficult period in our lives. We have to take your legacy forward and in doing so we will continue taking lessons from your very rich and extraordinary life," he added.
Zuma also highlighted a quote from Mandela: "I hate race discrimination most intensely and in all its manifestations. I fought it all through my life. I fight it now and will fight it to the end of my life."
A highlight of Mandela's funeral was the tribute from his Xhosa tribe whose elders are said to traditionally slaughter an ox to accompany the spirit of the dead after burial. Guests are also asked to drink the blood of the ox from a communal bowl, according to MailOnline.
Dignitaries like Prince Charles, however, were expected to have been allowed to skip the blood ritual and offered beef cooked on an open fire instead.
"A great tree has fallen, he is now going home to rest with his forefathers," Chief Ngangomhlaba Matanzima, a representative of Mandela's family, noted in the report.
Nandi Mandela said her grandfather rose from a student who went to school barefoot in Qunu to become a national and international icon.
"It is to each of us to achieve anything you want in life," she said in remembering Mandela as a person "that made all those around him also want to do good."
Acknowledging him in the Xhosa language by his clan name, she said: "Go well, Madiba. Go well to the land of our ancestors, you have run your race."