Hank Hanegraaff Must Step Down After Converting to Eastern Orthodoxy: CRI Founder's Family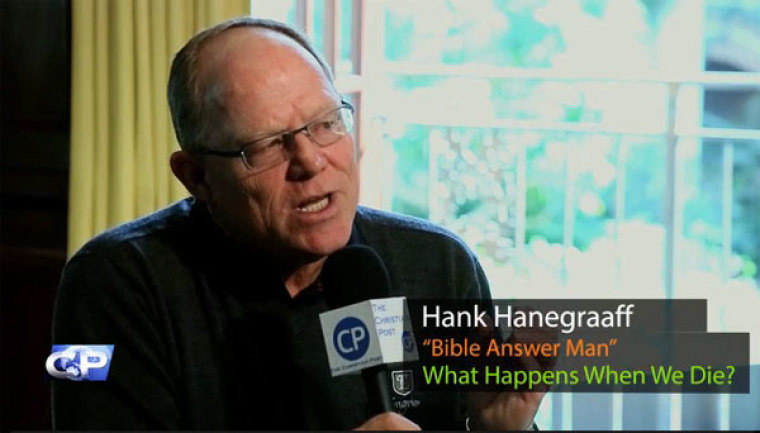 UPDATE 7/17/17 4:50 p.m.: Cindee Martin Morgan, daughter of CRI founder Dr. Walter Martin, issued a video response to this CP story, which you can find here. Comments made by Jill Martin Rische regarding Morgan's statements about their father's beliefs were also clarified in this story.
Family members of Dr. Walter Martin, founder of the Christian Research Institute, are calling on current CRI president Hank Hanegraaff to step down due to his conversion from evangelicalism to Eastern Orthodoxy.
A majority of the family members have signed a statement asking the "Bible Answer Man" to leave his leadership post.
Jill Martin Rische, the eldest daughter of Dr. Martin and who leads Walter Martin Ministries alongside her husband, Kevin Rische, told The Christian Post in a phone interview on Thursday that she and many other evangelical Christians were "shocked an surprised" when Hanegraaff was formally received into the Eastern Orthodox Church back in April.
She argued that Hanegraaff has since been teaching a blend of Eastern Orthodoxy and evangelical Christianity on the "Bible Answer Man" show, which she called "fundamentally dishonest."
Hanegraaff insisted in an interview with NPR's Charlotte affiliate WFAE earlier in July that for the most part, his theological beliefs have not changed.
"So I stand shoulder-to-shoulder with evangelicals, with Roman Catholics, with Orthodoxy around the essentials of the Christian faith — meaning the main and plain things," he said.
But Rische pointed to an article on waltermartin.com that highlights the major differences between Eastern Orthodoxy and evangelical Christianity, and said it would be dishonest to claim there aren't major aspects where the two traditions disagree, such as on Sola Scriptura, or Scripture alone.
"Evangelical Christianity believes that the Bible is the absolute and final authority, and Eastern Orthodoxy does not," she said.
Evangelicals also believe in Salvation by the grace of God as a gift, she added, while Orthodoxy considers salvation to be a progress based on good works.
Rische argued that Hanegraaff has been "trying to take Eastern Orthodox theology and blend it with Protestant theology."
She noted that her father started CRI in 1960 as a Protestant ministry, and said it is problematic that a man who has now joined the Eastern Orthodox Church is running it.
"It is not OK for an Eastern Orthodox believer to run a Protestant ministry," Rische said.
"You have to be one or the other. It is fundamentally dishonest from a theological standpoint for Hank Hanegraaff to be teaching Eastern Orthodoxy on the 'Bible Answer Man' program."
The statement Rische signed calling on Hanegraaff to step down as CRI president also contains the signatures of her husband and other members of Martin's family, including his children — Daniel, Elaine, and Debbie — and his widow, Darlene.
The statement claims that Martin "would be appalled" by Hanegraaff's conversion to the Eastern Orthodox Church.
"CRI was founded on the absolute authority of the Bible and salvation by faith alone, doctrines the Eastern Orthodox church denies. A rejection of that foundation is a rejection of Biblical truth. Historically and theologically, Eastern Orthodoxy and Evangelical Christianity are two distinctly different faiths that cannot be combined," it reads in part.
"In view of this, Mr. Hanegraaff should immediately cease teaching Eastern Orthodox doctrine on the Protestant Bible Answer Man program, and step down from the leadership of Christian Research Institute. To do anything less, from a Biblical perspective, is unethical and profoundly dishonest."
Cindee Martin Morgan, who is also Martin's daughter, did not sign the statemen. In a separate interview with CP in May, she pushed back against critics who have indicated they have a problem with Hanegraaff's conversion.
Morgan told CP at the time that "my father, Dr. Walter Martin, taught that the Catholic Church has the essential 'core' doctrine of Christianity. He didn't agree with some of the teaching added by the Church and warned against it."
She added: "Given the fact that the Eastern Orthodox Church is very similar in ways to the Catholic Church — and holds to the essential core doctrine of Christianity — I believe Dr. Martin would view this Church (Eastern Orthodox) the same way.
"He would never declare that someone had 'left the faith,' in either of these churches, if the person professed faith in Jesus Christ demonstrated by the fruit of their life."
Rische told CP in response that while she does not want to push a sister vs. sister narrative, their father should be allowed to speak for himself. She sent CP transcribed comments from Martin on one of his series on Roman Catholicism, where the late CRI founder said:
"There is a great movement on today in apostate Protestantism to reunite with Rome. The threat of Communism is pushing Eastern Orthodoxy — the Greeks, the Coptics, the Egyptians — and the Roman Catholics together ... I would return to one Universal Church and to one supreme bishop if the theology of that church were consistent with the theology of the Word of God ... We test everything, including the churches, by the authority of Scripture and whatever does not measure to Scripture is not worthy of our allegiance. Our allegiance is to Christ."
Martin added, "And in the words of Martin Luther that I proudly echo though I am a Baptist by persuasion, he was asked, 'What shall we give our people, Father Luther, they are so used to relics, prayers to the saints, and all the things the church has sanctified through the ages. What shall we give them if we accept what you say?' Luther responded, 'Jesus Christ, reverend father. Jesus Christ alone. He is sufficient for the church throughout all ages. Christ only. Here I stand, God help me, I can do no other.'"
Rische clarified that the specific disagreements between evangelicalism and Eastern Orthodoxy need to be talked about, not fought about.
"We are different from the Greek Orthodox Church, and have been for centuries. We cannot allow these differences in terms of theology — how we interpret the Scriptures — we cannot allow these differences to be taken and blended together because Hank Hanegraaff feels he needs to do that," she said.
Still, Rische said that she continues to pray for the CRI president, especially in light of his battle with mantle cell lymphoma, a rare form of cancer he was diagnosed with in May.
"I wouldn't want anyone to go through cancer. I've seen it up close, and it's a terrible thing, extremely painful. I would never want to see anyone suffering that, and I would pray for him and his family, and have," she stated.