Harvest Billboards Showing Evangelist Greg Laurie With Bible Taken Down From Malls After Complaints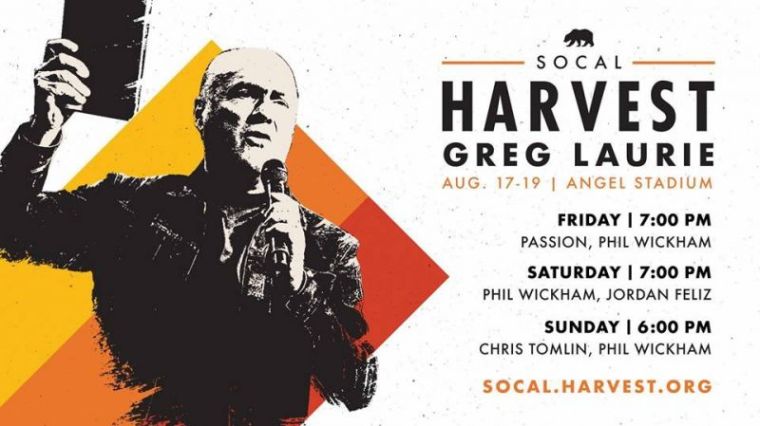 Evangelist Greg Laurie, who leads the multi-campus Harvest Christian Fellowship, was recently forced to remove billboards promoting his annual SoCal Harvest event from two popular malls in Southern California because they featured him holding a nondescript Bible in his hand that some people found offensive.
Even after the evangelist and his team adjusted the artwork for the billboard to use innocuous photos to promote the event, however, the company they contracted to advertise the event nixed their promotion.
"There was nothing overtly religious about it (billboard image)," John Collins, Harvest executive director, said in a CBN News report.
He noted that the Bible depicted in the image on the billboards did not have a cross, religious symbols, or even the word "Bible" on it.
The annual SoCal Harvest is a free, three-night event that will take place at Angel Stadium in Anaheim, California, on Aug. 17–19. Now in its 29th year, the event is expected to feature music from leading Christian artists, as well as a Gospel message by Laurie, who will tackle questions such as "What is the meaning of life?" and "What happens when we die?"
Laurie and his team, according to CBN, contracted Irvine Company, a real estate company in Southern California, to advertise the event and they agreed to post large billboards at Fashion Island, a swanky outdoor mall in Orange County. They were also placed at the Irvine Spectrum Center in Irvine, another Harvest spokesperson told The Christian Post Tuesday.
The company asked that the billboards be revised, however, after they drew several complaints, including a "serious threat" at Fashion Island. Though the image of the Bible was removed, the issue with the billboards was not abated, forcing the company to remove them altogether, according to the terms of the contract they had with Laurie and his team. The contract states: "Management reserves the right to not display any materials that could be construed as vulgar or offensive."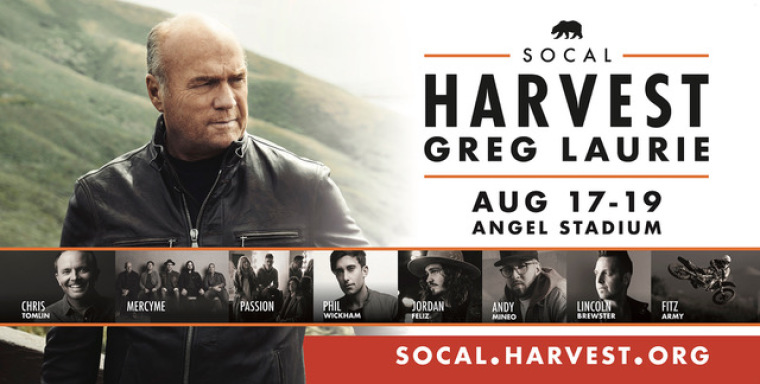 The Christian Post reached out to Irvine Company and no one was immediately available for comment Tuesday.
The Harvest spokesperson told CP the billboards had been running for about two weeks at Fashion Island in Newport Beach and the Irvine Spectrum Center before they were taken down by the company last Friday. The spokesperson said while it was their first time doing business with Irvine Company, it wasn't their first time advertising the event in Orange County. Billboards for the event contracted through other companies are still up in other shopping complexes with no complaints.
Collins told CBN News that Irvine Company refunded their money after the billboards were removed.
"We changed it to a more simplified ad that simply said 'Harvest,' giving the dates and some of the musical artists that are going to be with us. Then they came back and said they just wanted the ads completely removed and they refunded us," Collins said.
He further noted that while he wasn't happy with the removal of the billboards, he did not blame the company.
"We're certainly not upset with The Irvine Company. Obviously, they're catching heat for allowing us to run these ads. We feel it is just unfortunate that people are complaining," he said. "It's sad that our culture is at this degree of intolerance ... There's such intolerance against Christianity that we aren't allowed to state that or to publicly advertise this event. That's amazing."
Harvest events are designed to be opportunities for Christians to invite family members, coworkers, friends, and acquaintances to hear the life-changing message of the Gospel in an environment that is entertaining and non-threatening, according to the program's website.
More than 8.9 million people have participated in Harvest events in person or online since 1990, with 509,897 of them making professions of faith.
Up to 10,000 people are said to make professions of faith annually at each Harvest event.