Hershey marks International Women's Day with ad campaign featuring radical trans activist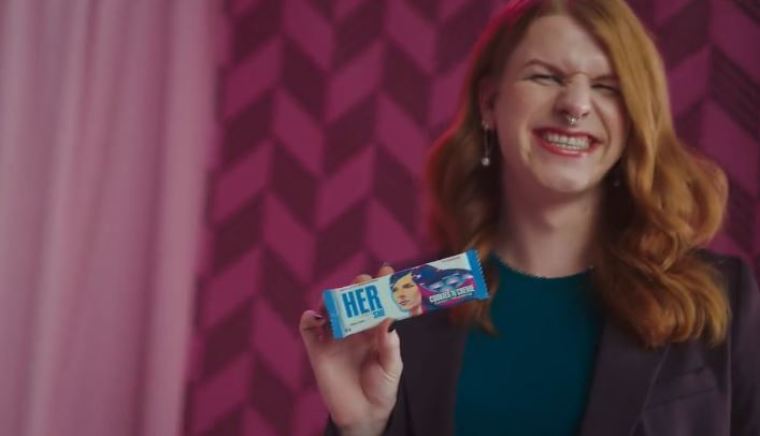 The Hershey's brand is marking International Women's Day in Canada with an ad campaign featuring a trans-identified man.
The Pennsylvania chocolate maker reintroduced the campaign on March 1 as part of its promotion for Hershey's SHE bar, which is aimed at "celebrating the central role women and girls play in our lives."
As part of the campaign, Hershey is releasing limited-edition SHE bars featuring the faces of feminist Gloria Steinem and others.
The campaign's Canadian counterpart is branded as "HERforSHE" and features trans activist Fae Johnstone, a man who identifies as a woman, along with four actual women: Rita Audi, Kélicia Massala, Naila Moloo and Autumn Peltier.
A video for the ad includes Johnstone, who says, "We can create a world where everyone is able to live in public space as their honest and authentic selves."
Johnstone shared the campaign on Twitter along with the caption, "The chocolate's out of the wrapper!'"
The chocolate's out of the wrapper!

Honoured to be featured in this campaign by @Hersheys Canada for #InternationalWomensDay alongside 4 brilliant sisters and change-makers. https://t.co/0s9uh8MvHvpic.twitter.com/jdXNJfcZmo

— Fae Johnstone, MSW (@FaeJohnstone) March 1, 2023
According to Johnstone's website, Johnstone is "a white settler from a middle class family" and has a background in the Ontario child and youth mental health system working to "build the youth engagement capacity of youth mental health organizations."
Johnstone is also the executive director of Wisdom2Action, a consulting firm and social activist group that has laid out a strategy to end so-called "conversion therapy" in Canada, which the organization calls an "insidious" and "horrific practice."
Part of the action plan includes supporting "survivors" and working to "educate faith leaders" and others on how to affirm LGBT lifestyles.
In 2020, the Canadian parliament introduced a bill to ban conversion therapy in Canada, which some Christian activists have warned could result in silencing pastors and Christian counselors who help those seeking counseling for unwanted same-sex attraction or who want to detransition. 
Johnstone has also suggested opponents of transgender ideology are "anti-Semitic" conspiracy theorists and has called for feminists to be "vilified so they don't dare speak their views publicly" if they don't support men's delusion that they are women. 
In January, amid growing opposition to underage drag shows in Canada and elsewhere, Johnstone told Canadian outlet Global News, "I am deeply concerned that one of these days I'll wake up and there'll be a headline about a shooting, or about physical assault, or sexual violence against [LGBT] people in the name of addressing 'grooming.'" 
Hershey's decision to use a man who identified as a woman as part of its women's day celebration was blasted by many on social media, with some critics calling for a boycott of the 130-year-old chocolate company.
The hashtag #BoycottHersheys was the top trending topic on Twitter as of Thursday morning.
In response to criticism over the ad, Johnstone tweeted: "The reaction to my inclusion as a trans woman in Hershey Canada's IWD campaign shows just how far we still have to go in the fight for feminist liberation and trans rights. I'm not going anywhere. I'm not shutting up. I will always stand up for women and girls, cis and trans."