High School Dropout Rate Could Double Under Common Core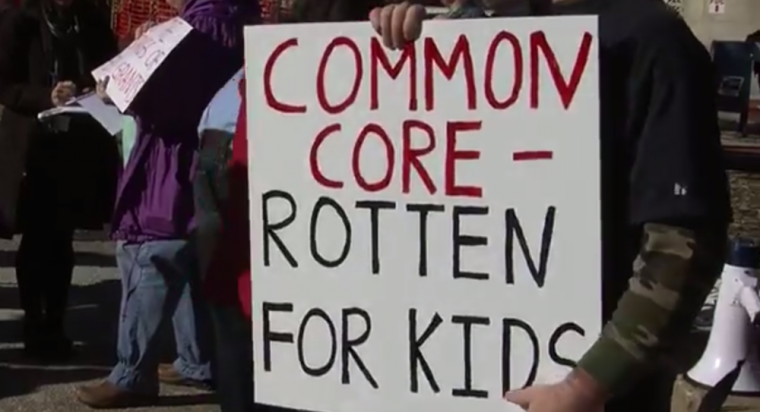 A study released last year by a pro-Common Core group predicted that under Common Core's stricter set of state education standards, six-year high school dropout rates will likely double for states adhering to the federally incentivized nationally-based testing.
The finding was not well publicized and was only recently picked up on by Common Core critics.
The report released by the Carnegie Corporation in collaboration with McKinsey & Company found that teachers will not "meet the demand" of Common Core's expected student achievement levels for those students already behind more than one grade level unless there is broader change in school designs.
The study found that under Common Core's set of state standards the four-year graduation rate would fall from 75 percent to just 53 percent, while the six-year graduation rate would fall from 85 percent down to just 70 percent. The study also predicted that the four-year dropout rate would rise from eight percent to 14 percent, while the six-year dropout rate would climb from 15 percent to 30 percent.
The study stated that it would not be possible to avoid decreases in high school graduation rates by simply using "human capital strategies." Even if every teacher was able to increase sub-proficient children's proficiency by 1.25 grade levels per year for four years, those students who enter high school more than one grade level behind the standard would still be below standard level by the end of four years, the study found.
"McKinsey & Company used available estimates of what can be accomplished by top-quartile teachers (those able to 'move' student performance at the rate of 1.25 grade levels per year … ) to test whether or not it might be possible to avoid large drops in graduation rates using human capital strategies alone," The Carnegie report stated. "The short answer is no: even coordinated, rapid, and highly effective efforts to improve high school teaching would leave millions of students achieving below the level needed for graduation and college success as defined by the Common Core."
The study's findings that 47 percent of students are unlikely to graduate in four years should continue to fuel the national debate on whether the Common Core is the right direction for American education. The proponents of Common Core argue that the raised expected achievement level is necessary to compete with other countries that perform better on international tests because they have a set of national standards. Advocates will also say that it is too easy for graduates to receive their diploma and they are not prepared well enough for college or professional careers.
"Too often, the path to a diploma is not rigorous enough to prepare our graduates for their next steps," former Obama domestic policy advisor Melody Barnes wrote for Politico.
The advocates also claim that the curriculums and testing for English and math are "internationally benchmarked" and "evidenced-based." Frederick Hess, director of education policy studies at the American Enterprise Institute, wrote that Common Core advocates are likely to dismiss skeptics as settling for mediocrity.
Marina Ratner, math professor at the University of California, Berkeley, wrote in an opinion piece last month for the Wall Street Journal that the proponents' claims that Common Core is "internationally benchmarked" is not completely true.
"The most astounding statement I have read is the claim that Common Core standards are 'internationally benchmarked.' They are not," Ratner wrote. "The Common Core fails any comparison with the standards of high-achieving countries. . . . They are lower in the total scope of learned material, in the depth and rigor of the treatment of mathematical subjects, and in the delayed and often inconsistent and incoherent introductions of mathematical concepts and skills."
Hess points out that advocates of Common Core also claim that the standards are based off of scientific evidence proving what children should learn and when they should learn it. However, the scientific research is based off of surveys completed by education professionals asking them what they think high school graduates should have learned.
Hess refers to Vanderbilt professor Lynn Fuchs who said it has not yet been determined whether the Common Core makes sense to implement.
"It is a trajectory of learning that has no empirical basis," Fuchs said. "We don't know yet whether it makes sense to have this particular set of standards. We don't know if it produces something better or even different from what it was before."
While proponents say that Common Core standards are more rigorous, opponents point out that they have taken some of the rigor away by taking away many upper level math courses like calculus and geometry, and have also taken out much American literature and poetry from the English language arts classes.
A study released this week by the nonpartisan Pioneer Institute, a think tank that has been critical of the Common Core, found that Common Core is damaging to history and English instruction.
"Common Core dramatically reduces the amount of classic American literature and poetry students will read in favor of non-fiction or so-called 'informational texts,'" said the report's co-author Sandra Stotsky. "Consequently, the writers of the national standards attempted to shoehorn little bits and pieces of decontextualized U.S. History texts into the English standards. The simultaneous result damages instruction for both English and U.S. History classrooms."