Clinton: GOP Would Reverse Gay Rights, PP Funding, Obamacare if They Win WH
ISIS Using Trump's Inflammatory Speech Videos to Recruit, Clinton Claims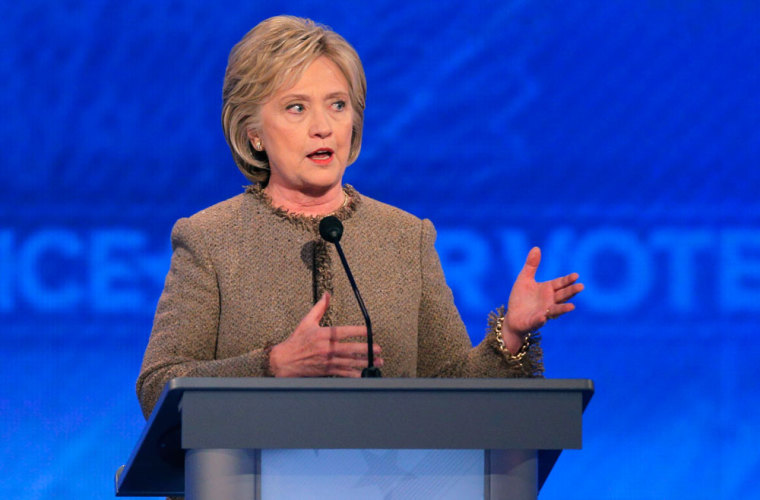 Hillary Clinton, speaking at ABC presidential primary debate in New Hampshire Saturday night, warned that gay rights, funding for Planned Parenthood and "Obamacare" would be reversed if the Republican Party takes the White House. She also attacked GOP frontrunner Donald Trump over his remarks against Muslims.
"This is a watershed election. I know how important it is that we have a Democrat succeed President Obama in the White House," Clinton said in the debate at St. Anselm College, in which Democratic candidates Vermont Sen. Bernie Sanders and former Maryland Gov. Martin O'Malley also participated.
"From my perspective, we have to prevent the Republicans from rolling back the progress that we've made," Clinton added, according to the transcript of the debate published by The Washington Post. "They would repeal the Affordable Care Act, not improve it. They would give more tax breaks to the super-wealthy and corporations, not to the middle class. And they would, despite all their tough talk about terrorism, continue to let people who are on the no-fly list buy guns."
Clinton said she has a strategy to combat and defeat ISIS "without getting us involved in another ground war, and I have plans to raise incomes and deal with a lot of the problems that keep families up at night."
She defended her role in toppling Libyan strongman Muammar Gaddafi, after Sanders said, "I worry too much that Secretary Clinton is too much into regime change and a little bit too aggressive without knowing what the unintended consequences might be."
"We have to continue to do what is necessary when someone like Gaddafi, a despot with American blood on his hands, is overturned," Clinton said. "But I'll tell you what would have happened, if we had not joined with our European partners and our Arab partners to assist the people in Libya, you would be looking at Syria. Now the Libyans are turning their attention to try to dislodge ISIS from its foothold and begin to try to move together to have a unified nation."
She blasted Trump, alleging he "is becoming ISIS's best recruiter." She continued that the Islamic State terror group, also known as ISIS or ISIL, "are going to people showing videos of Donald Trump insulting Islam and Muslims in order to recruit more radical jihadists."
She added, "I worry greatly that the rhetoric coming from the Republicans, particularly Donald Trump, is sending a message to Muslims here in the United States and literally around the world that there is a clash of civilizations, that there is some kind of Western plot or even war against Islam, which then I believe fans the flames of radicalization."
Clinton also said arming more Americans is not a solution to terror attacks, such as the last month's mass shooting in San Bernardino, California, by alleged ISIS supporters. "Guns in and of themselves, in my opinion, will not make Americans safer. We lose 33,000 people a year already to gun violence. Arming more people to do what I think is not the appropriate response to terrorism," she said.
Sanders said he wants a new foreign policy, "one that takes on ISIS, one that destroys ISIS, but one that does not get us involved in perpetual warfare in the quagmire of the Middle East but rather works around a major coalition of wealthy and powerful nations supporting Muslim troops on the ground."
O'Malley said, "I believe that we need to focus on destroying ISIL. That is the clear and present danger. And I believe that we can springboard off of this new U.N. resolution, and we should create, as Secretary Clinton indicated, and I agree with that, that there should be a political process."
But that doesn't mean the U.S. declares that Syria's embattled President Bashar al-Assad must go, O'Malley added. "Where did it ever say in the Constitution, where is it written that it's the job of the United States of America or its secretary of State to determine when dictators have to go? We have a role to play in this world. But it is not the world – the role of traveling the world looking for new monsters to destroy."