Hillary Clinton Honored by Irish American Hall of Fame Ahead of St. Patrick's Day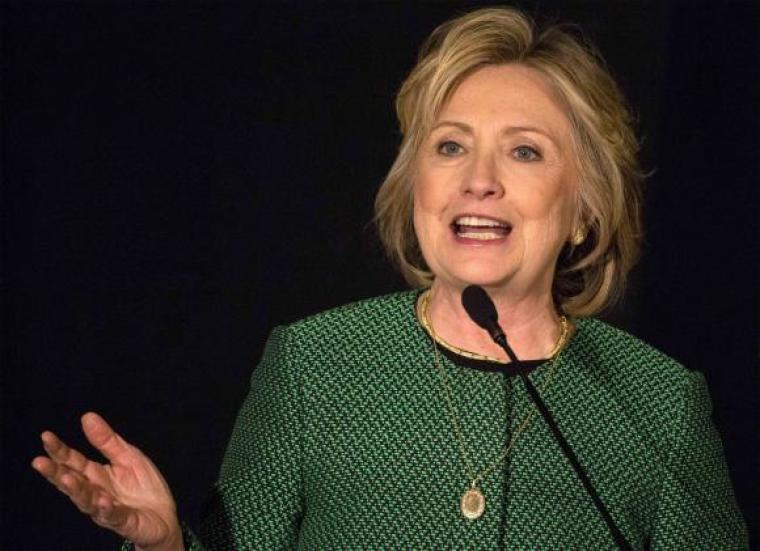 Hillary Rodham Clinton received a high honor from the Irish American Hall of Fame for her work on the Irish peace process just one day ahead of St. Patrick's Day this year.
Although the former Secretary of State is part English, Welsh, and Scottish, the likely Democratic presidential contender was inducted into the Irish American Hall of Fame during a ceremony in Manhattan on Monday where she gave a brief speech about improved relations with Ireland. Citing that her husband granted Irish nationalist Gerry Adams a visa in 1994, Clinton also noted that the former president made the controversial decision to allow Adams to speak at a conference in New York.
"Absent that first step, that first risk, we might not have had the momentum to move forward and get to the Good Friday accords and all that has followed," she said, according to Time magazine.
In addition to recalling President Clinton's Good Friday Agreement of 1998, Clinton referred to her own involvement in the peace process in Ireland, including her outreach to women in Belfast. However, Clinton said that the Good Friday accord still leaves room for more improvement.
"You cannot bring peace to people just by signing an agreement," the former Secretary of State explained, according to The New York Times. "In fact, most peace agreements don't last. There's been some very important work done in recent years that – where women are involved, and therefore where the work pf peace permeates down to the kitchen table, to the backyard, to the neighborhood, around cups of tea – there's a much better chance the agreement will hold."
"As dysfunctional as government can be anywhere in the world, it's better to have people arguing about that than walking away and thinking that conflict may be the only answer," she said.
Despite her previously known ancestry, Clinton said some of her heritage may lie in the Emerald Isle.
"I may have to do one of those DNA tests to find out for sure," she said.
Clinton's speech at the Irish American Hall of Fame will be followed by a paid speaking event in Atlantic City, New Jersey, on Thursday, but they are believed to the be the final appearances she makes before officially announcing her bid for the presidency in April.
Meanwhile, St. Patrick's Day, celebrated annually on March 17, is said to have become the most global national holiday celebrated today. Evidence of the holiday's popularity is apparent on social media today, with Happy St. Patrick's Day and #MakeACelebrityIrish both trending topics on Twitter.