Hillary Clinton's Teen Years Subject of Next Dinesh D'Souza Movie
Hillary Clinton's teenage years will be explored in Dinesh D'Souza's new film which is slated for July 2 release.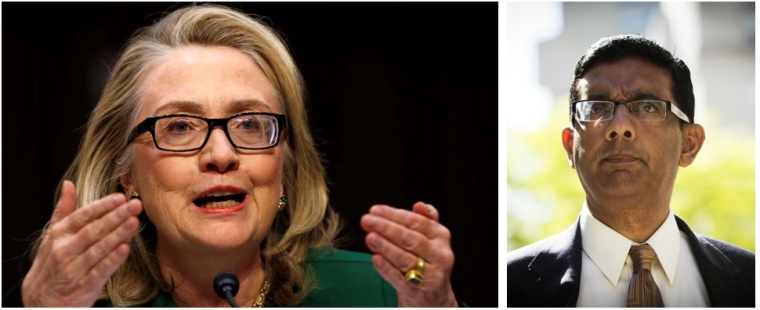 The conservative author and filmmaker, who was recently convicted of violating campaign finance laws, directed the recent documentary "2016: Obama's America." The 2012 film investigated the impact that anarchist Saul Alinsky had on the life and work of the current president, a theme which "America: Imagine a World Without Her", will also explore.
"In 2016 I focused on the mis-education of Obama. Here we explore the mis-education of Hillary Clinton," D'Souza told The Hollywood Reporter."Is Hillary more like Bill Clinton or is she more like Obama? This is the question we answer in the film."
Clinton, a likely 2016 Democratic presidential contender, wrote her senior honors thesis on Alinksy, who is often considered the founder of community organizing and who famously penned "Rules for Radicals."
According to The Hollywood Reporter, in his recently released book, which bears the same name as the film, D'Souza argued that Alinsky taught "that the task of the radical is to turn middle class people against themselves, to make them instruments of their own destruction."
The movie recreates Clinton's, played by Jennifer Pearson, first personal encounter with Alinsky as a 14-year-old and later as a college student.
Alinksy's instructions for those who adopted his ideology, D'Souza writes, were to be covert "revolutionaries."
"You can be revolutionaries, but you should not look or act or smell like revolutionaries. Take baths. Use deodorant. Cut your hair. Put on ties and dresses if you have to. Don't use obscenities. Don't call the police 'pigs' and U.S. soldiers 'fascists.' Feign an interest in middle-class tastes; in other words, pretend to be like the people you hate," D'Souza summarized Alinsky's instructions.
In 2013, due to political pressure on both sides of the aisle, both NBC and CBS jettisoned plans to cover the recent secretary of State.
The film's producer, Gerald Molen, said that D'Souza had originally hoped to have Clinton personally speak about her experiences with Alinsky.
"We didn't know of any footage that exists of Hillary Clinton at that age," he said. "We had hoped to have her in the film to talk about her life, including that period of it. When she didn't agree to an interview, we decided we had to do the next best thing: re-create what actually happened."
D'Souza, the former president of The King's College in New York City, admitted to exceeding donor limits in 2012 by arranging for others to give to the New York Senate campaign of Wendy Long.
In regards to the decision to help Long in the way he did, he told The Christian Post last month: "I literally did it with five minutes of thinking. In other words it was not something I dwelled on. Things were crazy. I see my friend, she was struggling in her campaign, and I wanted to help her. So, it was a short cut I should not have taken. It was an error of judgment, but it was not an error of judgment motivated by anything other than a desire to help her. In my haste and chaos of life I chose the wrong way."
A clip of the film can be seen below.