'I don't see myself as wealthy': Hobby Lobby founder David Green talks stewardship, trusting God (Part 1)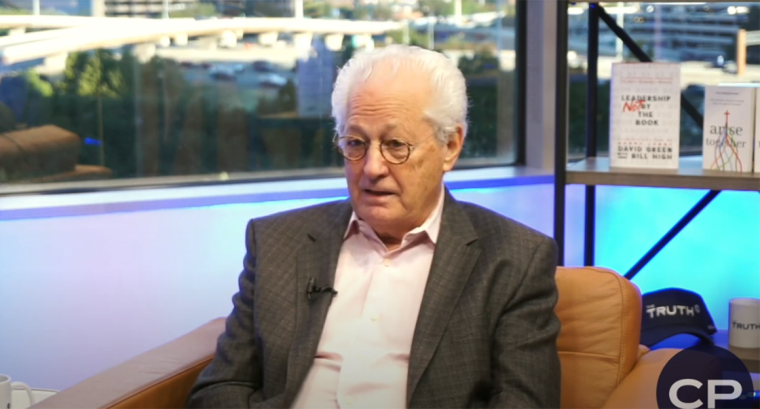 In faith or business, David Greene has always known Who's truly the boss. 
The 80-year-old founder and CEO of Hobby Lobby, the world's largest privately owned arts and crafts retailer, is as unassuming as he is successful: in just a few short decades, he's seen his company grow from a $600 startup to an $8 billion behemoth, drawing not from "get-rich-quick" self-help books, but from the pages of Scripture. 
His new book, Leadership Not by the Book: 12 Unconventional Principles to Drive Incredible Results, co-written with longtime collaborator Bill High, shares a dozen core ideas that drive Green and the divinely inspired mission of Hobby Lobby, which gives away over half of its annual profit to fund Gospel initiatives all over the world. 
In an interview with The Christian Post, Greene said for all his success, he sees himself not as some high-powered CEO, but "as a merchant who God has given … that gift to be a merchant."
Growing up as the son of a pastor in Altus, Oklahoma, Green said there was a point early in his life when he wondered why God hadn't called him into ministry like his five siblings, who are all either pastors or pastors' wives.
"But in time, the Lord just worked with me, that I know for a fact that I have been gifted to be anointed even in what God has gifted me to do," he said. "I enjoy being a merchant and I know that's where God would have me be."
It might be tempting to see the success of Hobby Lobby as preordained, but Green isn't shy about sharing some early headwinds he and his wife, Barbara, faced in the chain's early days.
He recalled the mid-1980s in Oklahoma — during an oil bust that Green described as a "very, very difficult time" — where he nearly lost the business.
"I was not where God wanted me in terms of my pride," he said. 
In Leadership by the Book, Green recalled how, during that time, he overextended Hobby Lobby when he bought inventory on credit "assuming the money would keep rolling in."
When the economy finally tanked, Green said he had nowhere to go — but God.
"I found myself literally, physically under my desk, day in and day out, just asking God for forgiveness and for direction to go into the future," he said. "I know that God used that time just to bring us to a point where we know that anything we do that's successful is because of Him."
Ultimately, Hobby Lobby's fortunes turned around, but Green said God used that hardship to teach him an unforgettable lesson.
"God brought us through that, and I'm thankful for that and I always want to remember that we can't without the Lord, and so, I want to walk with him," he said. 
It wouldn't be the last time, Green said, that God answered prayer. 
In the early days of the COVID-19 pandemic, when, not unlike most other businesses throughout the world, Hobby Lobby closed its doors, Green said he wondered how the company could cover its roughly $40 million in monthly rent.
"Where are we gonna get it, 'cause there's nothing coming in," Green recalled, adding he and Barbara would get on their knees and ask God to "help us to survive."
And once again, God was faithful: Green said 2021 actually proved to be the biggest year ever for Hobby Lobby, with gains that Green said would typically take three years.
"God brought us through that, and so we thank Him for that," he said. "But we also believe prayer had a lot to do with that."
Decades later, Hobby Lobby has grown to nearly 1,000 stores with over 43,000 employees operating in 47 states.
And stewardship is still top of mind for Green, who, through various foundations he supports, has helped the distribution of over 1.5 billion copies of Gospel literature in over 100 countries across Africa and Asia. 
"We want to be as successful as we can to do as much as we can in terms of the giving that we are able to do, so that's very very important to us," he said. "We really don't apologize for making a profit that's done with integrity. But at what point is there not enough profit? At what point is there not enough ministry?
"There's an awful lot that we can do that just doesn't matter a hundred years from now. So we think in those terms, and we want to make sure what we're doing is going to matter for eternity."
That includes projects like the Museum of the Bible in Washington, D.C., a $500 million, 430,000-square-foot museum dedicated to the history and impact of the Scriptures that has also been the source of some controversy for the Green family. 
Green acknowledged he and his son, Steve Green, the chairman of the board of Museum of the Bible, "made some mistakes" in acquiring ancient manuscripts and approximately 45,000 other antiquities.
"We didn't know in advance we were going to have a project of that size, we were just buying antiquities," he said. 
Despite such setbacks, Green has never been shy about prioritizing stewardship both at Hobby Lobby and in the Green family.
With an estimated net worth of about $13 billion, Green said it really is about having a biblical perspective on money. 
"Even sometimes Christian businessmen will say God owns it, but then if you follow what they're doing with it, it doesn't look that way, because maybe they've got a fourth home, a fifth home, and just on and on and on, buying more and more stuff," he said.
"I think it means that when we decide that it's not ours, we're not wealthy. So I don't see myself as wealthy because I have nothing that belongs to me … I see it that this is what God has given us to steward."
For Green, one of the key moments for him came when he asked himself, "What are we going to do with this wealth and how are we going to not mess our kids up?"
In order to help guide him through that process, Green asked other Christians to come alongside and help his family with practical things like saving on taxes and passing his wealth down to his children.
With 17 great-grandchildren and two more on the way, Green didn't ever want them to have to sort through what it means to live with generational wealth.
"To be honest with you, I was making my great-grandkids millionaires before they were born, so I really didn't want to affect my family with wealth. Because in wealth, it's a curse. 
"Wealth is a curse if it's yours, but if it's God's, it can be of great benefit."
Last week, Green announced in a Fox News piece that 100% of Hobby Lobby's voting stock has been moved to a trust, bucking advice from attorneys and accountants to pass down ownership to his children and grandchildren. 
"It didn't seem fair to me that I might change or even ruin the future of grandchildren who had not even been born yet," wrote Green.