'We need help': Homeless encampment outside Seattle church impacting worship over safety fears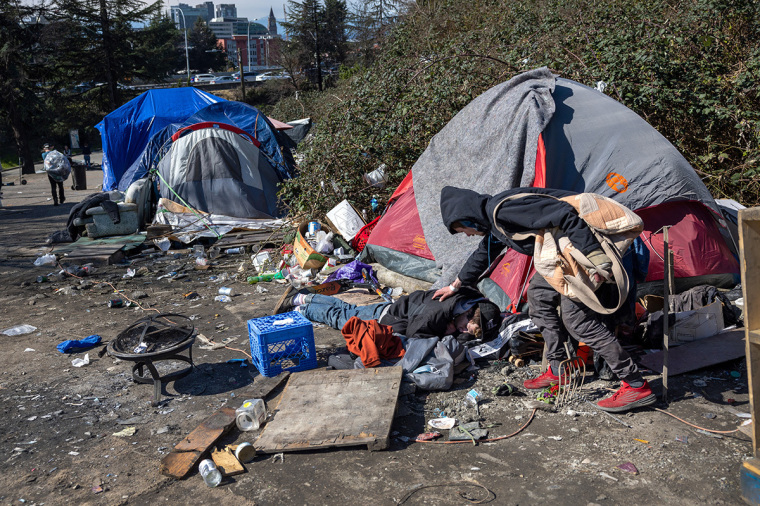 Updated Jan. 8 at 8 a.m. ET
The head of a Greek Orthodox church in Seattle where a homeless encampment has grown outside the building says the city is ignoring the church's complaints.
Penny Peppes, president of the Greek Orthodox Church of the Assumption, told local ABC affiliate KOMO-TV that members of the church are "fearful" of attending services due to the encampment, which reportedly includes several tents and a mattress.
"We want them to get help, we want them to get off the streets. We don't have the infrastructure as a small church to do that ourselves. We need help," Peppes reportedly told KOMO.
The Church of the Assumption is located in Seattle's Capitol Hill neighborhood, about a block away from another large homeless encampment at the intersection of 13th and Howell Streets, according to KOMO.
Peppes said the lack of response is directly impacting the church's worship services.
"Our parishioners who come from all over are very worried about their safety," she said. "They are afraid to come. It's beyond frustrating because it's impacting our ability to come to church to worship."
Perhaps the most brazen part of the encampment is that people living in the encampment are using the church's address to receive Amazon packages, according to Peppes.
"One of the homeless folks knocked on our door and asked, 'did you get my package,' so they are using our church as their mailing address," she told the TV station.
The Church of the Assumption has volunteered to provide food to a pair of homeless shelters in the community twice a month, according to Peppes.
Anne Martens, spokeswoman for the Regional Homelessness Authority, said the agency — which she clarified is separate and independent from the King County government — is "aware of this encampment and recognizes the challenges it creates for both housed and unhoused neighbors … and we share the urgency felt by the community." 
"As we continue to adjust and improve our homeless response system, we hold weekly coordinating calls with contracted outreach providers to assess encampments across the City and County and organize responses," Martens said in an emailed statement to The Christian Post.  
"The need for housing and outreach is greater than current capacity, and outreach teams are working outside all day, every day to assess needs, build trust, and connect people with services."
The Regional Homelessness Authority is working on a five-year plan for "dramatically reducing unsheltered homelessness across King County," added Martens.
Homelessness continues to plague Seattle after an annual assessment from the U.S. Department of Housing and Urban Development (HUD) found Seattle had the third-largest homeless population behind only New York City and metro Los Angeles last year.
The number of homeless people in Seattle and King County jumped about 14% during the COVID-19 pandemic from 2020 through 2022.
The HUD assessment also found Washington state was second only to California in homeless populations.
Last July, Matthew Meinecke, known as The Seattle Preacher on Twitter, was surrounded by Seattle police officers as he was reading his Bible.
Meinecke, who was subsequently arrested and fingerprinted at a police station before being released, later contrasted his arrest with the city's response to rampant crime and homelessness.
"We've got a city full of crime. We've got needles all over the place. Lawless homeless camps everywhere. We've got assaults. We've got broken glass. We've got Antifa running the place," said Meinecke in a video shared on social media.
"But they've got time to send in 10 police officers to arrest a street preacher reading his Bible in a park."