'Hotel Rwanda' hero to be released from prison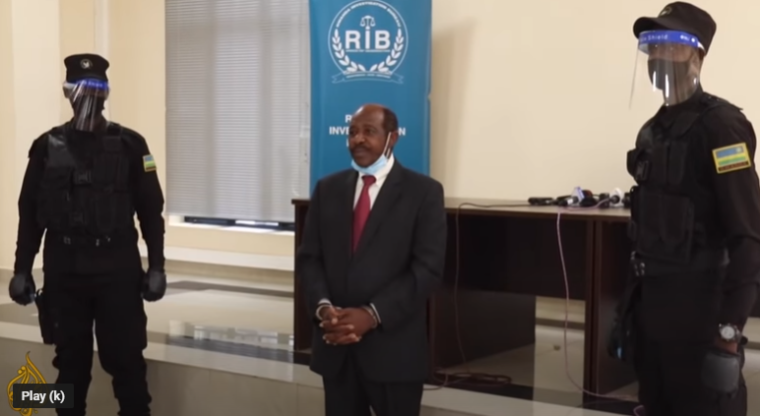 Paul Rusesabagina, the real-life hero of the movie "Hotel Rwanda," which told the story of a man who saved the lives of 1,200 people during the 1994 Rwandan genocide, has been released after the Rwandan government commuted his sentence of 25 years on terrorism charges.
Rusesabagina, a U.S. resident who was sentenced in Rwanda in 2021, has been released from prison in the capital of Kigali. U.S. Embassy officials moved him to the residence of Qatar's ambassador, NPR reported Friday, citing sources in the Biden administration.
The 68-year-old Belgian citizen is expected to soon return to his family in Texas. 
Rusesabagina is a critic of Rwandan President Paul Kagame, who has led the nation since 2000. He was charged in 2020 with several criminal offenses, including financing terrorism, arson, kidnapping and murder.
"Rusesabagina is suspected of being a founder or a leader or sponsor or member of violent armed extremist terror outfits ... operating out of various places in the region and abroad," Rwanda's Investigation Bureau spokesman Thierry Murangira told reporters at the time.
In 2020, after boarding a plane in Dubai for Burundi, Rusesabagina's family claims he was kidnapped and taken to Rwanda instead. Subsequently, he was arrested and put on trial for his affiliation with the Rwanda Movement for Democratic Change, a group that opposes the rule of Kagame.
Rusesabagina acknowledges his leadership role within the organization but denies any connections to the armed wing, the Forces for National Liberation.
This case has caused tension in the relationship between Rwanda and the United States, with Secretary of State Antony Blinken discussing the matter with Kagame during his visit last year.
According to Kagame's spokesperson, Stephanie Nyombayire, the resolution of the case was a product of the shared desire to improve relations between the U.S. and Rwanda, NPR said, adding that the government of Qatar also played a role in negotiating his release and commuting the sentences of 18 other prisoners who were convicted alongside him.
Rusesabagina's actions during the genocide brought him international fame and numerous human rights accolades. He has not lived in Rwanda since 1996 after surviving an assassination attempt. In 2005, then-President George W. Bush awarded Rusesabagina the highest civilian award, the Civilian Medal of Freedom.
Actor Don Cheadle portrayed the Rwandan hotel manager in the 2004 Oscar-nominated film, "Hotel Rwanda." The movie recounts how Rusesabagina, a Hutu man married to a Tutsi woman, influenced and bribed military officials to help approximately 1,200 people who sought refuge at Mille Collines Hotel in Kigali, Rwanda's capital city, escape the violence. 
About 800,000 Tutsis and moderate Hutus were killed in the 1994 genocide, many hacked to death with machetes, which began in April of that year and lasted for over three months.
Under the auspices of international organizations and agreements, Rwanda, a small landlocked country in central Africa, was ruled by Belgium between 1922 and 1962. Known as Ruanda-Urundi at the time, the nation was granted independence in 1962 as two separate nation-states, Rwanda and Burundi.