Houston Astros Lifted Up by Prayer to Win World Series, Fans Say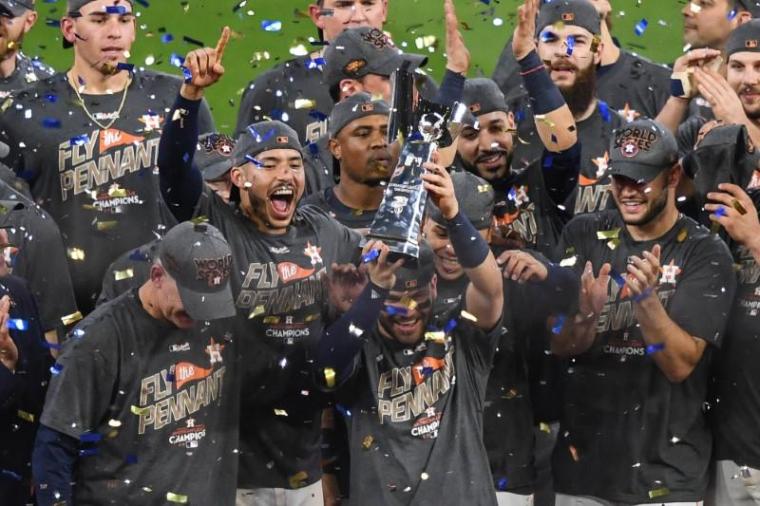 The Houston Astros defeated the Los Angeles Dodgers Wednesday night to win their first-ever World Series championship and many fans believe their prayers helped cement the team's victory.
The Annunciation Church in Houston, Texas, a Catholic parish, is a 3-minute walk from the Astros' stadium, Minute Maid Park. The parishioners there have been selling rosary beads with the Astros' colors to encourage others in prayer, the Los Angeles Times reports.
While the sale of rosary beads, bracelets and necklaces was initially started to raise funds for the church, some members noticed that on the days they sold out of rosaries the Astros won their games.
"Church volunteers sold Astro-colored rosaries at times during the summer and, after looking at sales figures, the church found that on days when it sold out its stock, the team won," the LA Times reported last week. "When a local TV station reported that correlation on the air, Astros fans overwhelmed the tiny church during the American League playoffs."
While some believe that the Astros-colored prayer beads benefited the team, the churchmembers also made rosaries with the Los Angeles Dodgers colors. Even though the Dodgers-colored rosaries didn't sell out, a member of the congregation named Greg Womack explained that getting the rosaries to people was part of a bigger picture.
"What it amounts to is we're getting rosaries in the hands of individuals. That's the key," he told the LA Times. "And if they pray at the game, it's even better. If they're blue, we don't think it matters."
Aside from fans, Astros' chaplain, Pastor Juan Jesus Alaniz from Houston's First Baptist Church, prayed all year for the team to win the World Series.
Alaniz spoke to Christianity Today about motivating the players with scripture, saying, "The other day I shared Colossians 3: 23–24 and just said that everything we do, we do to honor Him."
While the MLB team is bringing Houston a victory, the city has been trying to rebuild after Hurricane Harvey devastated the area last August. Alaniz told CT that multiple members on the Astros team have been aiding in relief efforts.
"It's a real spiritual experience, not just playing baseball, but when this whole thing happened with Harvey, the players became really involved in giving," he said. "They served and gave and helped out in that process of cleanup and everything else."