Houston Pastor Plays Piano in Flooded Texas Home (Video)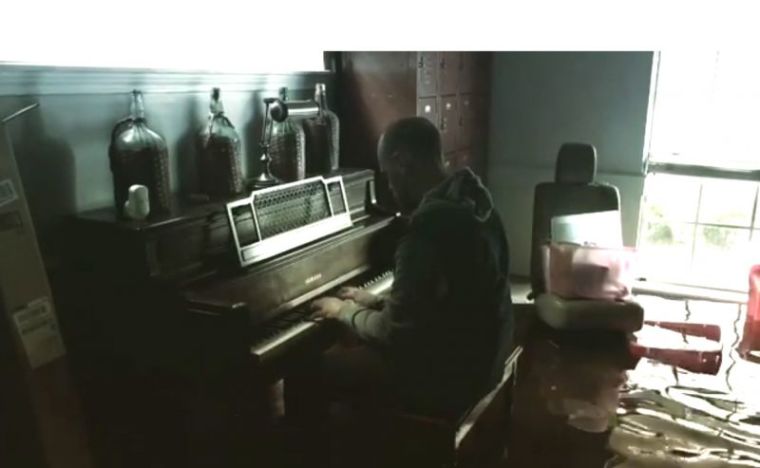 When a pastor in Houston, Texas, went back to his flooded home to get his children's toys, he sat down at his piano to play a beautiful song in knee-deep water.
"I went back to our street today because as you guys have probably seen the water has come back with a vengeance. I hope this was its high point," writes Aric Harding, who describes himself as a husband, father, singer, writer and pastor, on Instagram.
Accompanying the text in the post is a video, apparently shot on his mobilephone, which shows him playing the piano in a flooded room in his house.
At least 44 people have died in incidents related to Hurricane Harvey, while 32,000 people have been forced into shelters, according to officials.
"I grabbed the kids' favorite stuffed animals that we had left behind and a couple of games to keep the kids occupied. … I think it's all finally sinking in a little. What we used to have going as a city is gone," Harding adds.
He continues, "I really think God is going to do something completely new here. I am excited to see the new beauty in the suffering."
He also quotes Romans 8 verse 18 onwards.
"For I consider that the sufferings of this present time are not worth comparing with the glory that is to be revealed to us. For the creation waits with eager longing for the revealing of the sons of God. For the creation was subjected to futility, not willingly, but because of him who subjected it, in hope that the creation itself will be set free from its bondage to corruption and obtain the freedom of the glory of the children of God."
"The whole town is buzzing with people helping each other," he says.
Harding is a Baylor graduate, according to the Fort Worth Star-Telegram.
His post has received numerous responses.
"What a beautiful and heartbreaking moment," reads one comment. "This video brought tears to my eyes, thanks for sharing. I'll be praying for your family as well as all the other individuals suffering because of this tragedy."
Pastor Joel Osteen's Lakewood Church in Houston has provided shelter and aid to over 400 victims who were directed to the church after a nearby American Red Cross shelter reached its capacity.
Lakewood Church, which is housed in the 16,000-seat former home of the NBA's Houston Rockets basketball team when it was known as the Compaq Center, is now operating as not only a shelter for those displaced by catastrophic Hurricane Harvey that turned into a tropical storm over the region, but also a donation center for in-demand supplies that other shelters are beginning to run low on.
In Rockport, Vice President Mike Pence, his wife, Karen, and Texas Gov. Greg Abbott joined the Rev. Franklin Graham Thursday to help Samaritan's Purse staff and volunteers as they carried out relief work.
"After difficult days, the president sent us here, to say the American people are with you. We will be here every day until this region rebuilds bigger and better than ever before," Pence told Samaritan's Purse volunteers.