Houston Sermon Subpoena Controversy Is 'Far From Over,' Say Conservatives Who Support the 'Houston Five' Pastors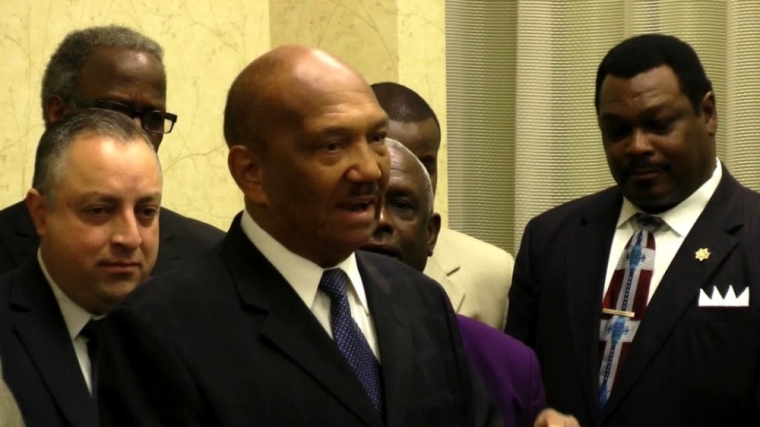 Conservative groups believe there's still much to be done in Houston after Mayor Annise Parker dropped her controversial subpoenas against five pastors who had spoken against homosexuality and the city's Equal Rights Ordinance.
"Mayor Parker claims she withdrew the subpoenas not because she was wrong to issue them in the first place, but because they were not 'serving Houston,'" said the conservative American Family Association, which noted that while Parker's decision was a success, the matter "was far from over."
"In reality, what they were not serving is the foundation of our nation: religious liberty and the right of conscience."
Earlier this year, Houston's city government passed an LGBT ordinance that critics said would, among other things, allow men who identify as female to use women's bathrooms, and women to identify as male to use men's bathrooms.
Conservative groups and pastors were able to get tens of thousands of signatures to put the ordinance, known as the Houston Equal Rights Ordinance, on the November ballot.
However, the city refused to recognize the petition and so they were taken to court. Under this context, Houston issued subpoenas for five pastors demanding they turn over their sermons or speeches that dealt with homosexuality, Parker, or HERO.
As with AFA, the Family Research Council has also argued that the situation is not over, claiming that the climate of political intimidation remains.
"While we are encouraged by this evidence that the mayor is responding to pressure and withdrawing her unconstitutional subpoenas, this is about far more than subpoenas," said FRC President Tony Perkins.
"As we have stated since the beginning of this intrusion into the private affairs of Houston churches; this is not about subpoenas, this is not about sermons, it is not even about biblical teaching on sexual immorality, it is about political intimidation and the bullying by Mayor Parker that continues."
Upon news breaking of the subpoenas, Houston garnered much criticism from both liberal and conservative groups.
This included a press conference held by the group Coalition of African American Pastors in Houston on Wednesday.
Prior to the mayor's Wednesday announcement that she had decided to drop the subpoenas against the five Houston pastors, The Rev. Bill Owens, president of CAAP, told The Christian Post that Parker's actions were "intruding on our civil rights."
"We have a right to speak what we feel to be true in the public square and it's wrong for them to try to silence us. Its unheard of," said Owens.
In a statement shared with CP Thursday, Owens added: "We are happy to see that Mayor Parker has been made aware of the injustice being perpetrated against freedom of religion and withdrawn the subpoenas. Today, we have seen proof that when the people rise up against unjust government retaliation, great things can be accomplished. The combined voices of thousands of ordinary citizens around the country have shown that activism works."
He continued, "Free expression of faith and the ability to speak on such matters without fear of government action is the essence of our democracy. Preserving these liberties will be the basis of a new civil rights movement as CAAP, the churches, and people everywhere come together to defend our values and our right to voice them."
Initially, in response to the concerns, Parker scaled back the subpoenas so that only "speeches" rather than "sermons" were to be the focus of the legal order.
Parker announced at a press conference Wednesday that she was dropping the subpoenas altogether against the pastors who came to be known as the "Houston five."
"After much contemplation and discussion, I am directing the city legal department to withdraw the subpoenas issued to the five Houston pastors who delivered the petitions, the anti-HERO petitions, to the city of Houston and who indicated that they were responsible for the overall petition effort," stated Parker.
"It is extremely important to me to protect our equal rights ordinance from repeal, and it is extremely important to me to make sure that every Houstonian knows that their lives are valid and protected and acknowledged," she added.
Among the efforts launched in response to the news of subpoena, the group Faith Driven Consumer had a social media petition known as #HoustonWeHaveAProblem.
In a statement, FDC founder Chris Stone said that the Twitter petition had over 12,000 participants and that the mayor's removal of the subpoenas was "a victory for people of conscience around the nation."
"We are thrilled for those pastors, who can now focus on doing what they do best, serving their community," said Stone.