How a missionary imprisoned in Sudan brought prisoners to Christ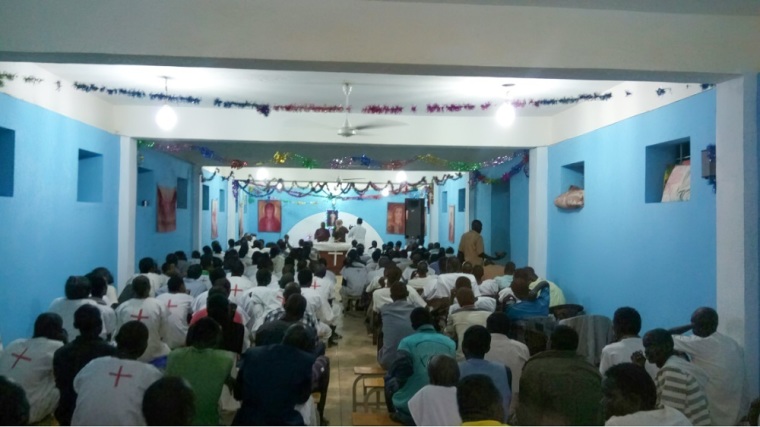 'The Lord allowed me to go five months without the Bible'
After spending four months in the first prison with ISIS members, Jasek was transferred to another prison and given access to the Bible. 
"It was an amazing moment and I could only read when there was enough light into the cell. I had to stand at the window and lean on the bars to read the Bible," he described. "I finished reading from Genesis to Revelation within three weeks. I kept reading it all over again. I was so amazed at how the Lord was opening the Word for me that I was secretly making some notes of these wonderful discoveries from the Bible."
After the three months in solitary confinement, Jasek was transferred to a different prison that had a 10,000-prisoner capacity. He was placed into a single cell with 100 other prisoners. 
"I was shocked by that but this prison was unique in one sense. There were many mosques for the Muslim prisoners. But for the non-Muslim prisoners, the prison authority had turned these cells into a small temple," he said. 
"I was amazed when they invited us on the first day to this chapel. For six months, I could preach once a week and sometimes twice a week to absolutely hopeless and desperate people who were responding to the Gospel in an amazing way."
Jasek and two other Sudanese pastors were in the prison preaching in the makeshift chapel. 
For the six months he was there, he and the others would preach to prisoners of different theological stripes. Some of them were Muslim, while others were Christian or of animist traditions. 
"The number of attendees of the chapel grew up in these six months when the other two Sudanese pastors were alternating and preaching," he said. "They grew up 10 times from something like 20 to 200 for the Christians when we were there in Christmas 2016. I can honestly say that."
Jasek said that the six months in the chapel were the best six months of his prison life as he was able to gain back 20 pounds. He even found himself "rejoicing" in the mornings since he had the ability to go "straight to the chapel" where he could "meet with people and share the Gospel with them."
"If you think about it, the Lord allowed me to go five months without the Bible. The first two months, my faith was tested and my prayer life was deepened. Then I got the Bible in three months of solitary confinement where I didn't have to do anything else but just read the Bible," he said.
"That was the Lord's purpose — to prepare me for what was supposed to come: the six months of wonderful prison ministry," he said. "That is something that Paul says [in 2 Timothy 2:9], 'even though I am bound as a criminal, the word of God is not bound.'" 
Jasek had never seen so many people coming to Christ through his own preaching before in his life. 
"When we were preaching, sometimes we encouraged people to come forward if they were touched by the Gospel and commit their lives to Christ," he said. "The good thing was that we were not like the preachers that go from town to town and when people make decisions to follow Christ, the preacher disappears."
"We were living with these people. You could see how their lives were transformed through the Gospel. When they gave their lives to Christ, they were cleansed by the blood of Jesus."
After much international outcry, Jasek was released from prison in February 2017 after a pardon from President Omar Al-Bashir. 
No stranger to persecution 
Growing up under communism in Czechoslovakia, Jasek was no stranger to religious persecution.  
He grew up in a pastor's home as his parents led an underground ministry to provide discipleship training to young people. The first Bible he received was in the second grade and was one that was smuggled into the country by a Dutch person. 
When he was in high school, he said that his parents were arrested by the secret police. 
After his father was let out of jail, he gave Jasek the book In God's Underground by Richard Wurmbrand. That is the second most important book he has ever read, next to the Bible, since it gave him the courage to not fear persecution. 
"What Richard experienced in prison with the beatings and torture and brainwashing and being in three years of solitary confinement and still experiencing the Lord's presence there, me as a young believer, I was convinced not to be afraid of persecution," he said. 
The Velvet Revolution brought about the fall of the one-party communist regime in Czechoslovakia in 1989. Once he and other Christians "were set free," he felt it "was only natural" that he desired to help persecuted churches elsewhere in the world. 
In 1992, he co-founded the Czech chapter of Voice of the Martyrs. Through his work with the organization, he has had the privilege to meet and help people who have lost loved ones, homes, cars and even body parts because of their faith in Christ. He considers those people to be "heroes" of the faith. 
"I have learned that they consider persecution as a privilege from the Lord. That is how they understood it. In Philippians 1:29, Paul says that it is a privilege to suffer for His name," he said.
"In Acts 5:41, when the disciples were beaten by the Jewish authorities, they consider that as they were counted worthy to suffer dishonor for Christ. That is what I have learned from them."