How Christian Parents Should Respond to Their Child's Gay Identity Crisis
When a child first comes out to their parents as either being gay or having same-sex attraction, their initial responses are usually the wrong ones, says Chris Doyle, a psychotherapist who specializes in SSA.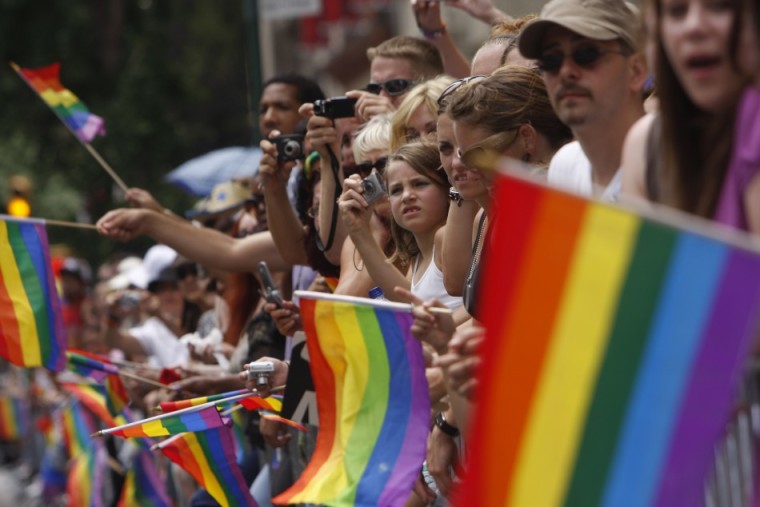 Although the child has probably already told their closest friends and trusted family members about their thoughts and feelings, the parents are often the last ones to know. And in their panicked state, parents sometimes look for someone to blame or even think about how they might change their child.
"What I've discovered is that the first inclination that parents have when their child comes out is typically the exact opposite of what they need to do," Doyle told The Christian Post.
"There's always a lot of shock," he explained. "Parents are, in most cases, panicking. They're trying to figure out, a lot of times, how to change their child. What we do (as counselors) is we encourage them to stop and take the focus away from the child and look at this as a family issue."
"When a child in their late-teens or 20s comes out to parents, they've been processing this issue for seven, eight or even 10 years," added Doyle, who provides counseling services to families through the International Healing Foundation. "And they probably told everybody else in their life, except for their parents. Parents, in our experience, are almost always the last ones to know because they're the most important."
He continued, "Parents have to realize that because they just found out that their child's experiencing this, they're having a hard time. But it's been perhaps 10 years in the making, and their child has integrated this into their own worldview and who they are."
Since homosexuality is becoming more widely accepted in American society, an increasing number of teens who experience SSA are identifying as gay. "Even Christian teenagers are believing this because they've been so indoctrinated by popular culture. They believe that if you experience same-sex attractions, then you're gay," Doyle told CP.
Among the negative responses parents have, according to Doyle, are avoiding the issue by barring their child from talking about SSA or their gay identity; believing that it's a passing phase; or threatening to kick their older teen or 20-something child out of the house. He also emphasized that parents cannot talk their child out of being gay or having SSA.
"We know, in our clinical research over the last 25 years, that family culture, environment and other non-biological factors play a significant role in the development of same-sex attraction," he asserted, adding that parents shouldn't seek therapy as an attempt to change their child.
In the book, Gay Children, Straight Parents: A Plan for Family Healing, written by Richard Cohen, executive director of IHF, Doyle said 12 principles are discussed to help families navigate through SSA and its causes.
"The first three principles of family healing have nothing to do with the teenager who has same-sex attraction, it actually has to do with the parents," he emphasized.
Doyle shared with CP that the first principle deals with personal healing within the family, and to not accuse, blame or shame one parent or the other of doing the wrong thing; and understanding the guilt and grief that can come with learning about a child's SSA.
The second principle, he added, is to challenge parents to lead by example by getting into therapy.
"Many times there may be something going on within the marital relationship that may have hurt the child. The parents may not be divorced, but they may have unresolved conflicts, or unresolved problem within the marriage they need to work out," he said.
"One thing we often see in the case of a male child that's developed same-sex attraction is that the father tends to be a little more passive, and the mother tends to be a little more strong," Doyle explained. "That might be shaking up the family dynamic in the sense that the parents' roles aren't necessarily correct."
Principle No. 3, he shared, includes parents understanding that God loves them and their family, and to stop asking God to change their child or thinking that their child is just being rebellious. "God loves them and their family, and it's not about blame and shame. But they need to stop praying the prayers of: 'God, please change my child; God, please take this away.'"
"The right prayer is: 'God, show us the meaning of our child's same-sex attraction and why this is happening, so that we can really understand how to do family healing.' They really need to ask God to open their eyes and understand what's going on in the family system and in that child's word," Doyle continued.
"So that sort-of leads into the next part of the healing process, which is relational healing. And principle No. 4, which is investigate and discover what the causes are for the child's same-sex attractions."
Doyle explained that there are 10 potential causes of same-sex attraction, which are discussed in the book. And through counseling, parents can help their children resolve some of those issues and heal within the family system.
"Sometimes, it might not even be that their child needs to see a therapist, especially in a case where you have a young teenager who's 12, 13 or 14. If the parents are really doing their work, they can understand, OK, there's a detachment going on between me and my son, and this is one of the contributing factors. I work with the parents and coach the father on how to bond with his son. I work much more with the parents than I would with the child in that sense."
Regarding sleepovers and big life events such as parents' attending a child's same-sex wedding ceremony, Doyle suggested that parents treat their homosexual child the same as they would their heterosexual child.
In the case of sleepovers, parents should maintain the same standards for every child and not allow their gay identified or SSA child to have somone they're attracted to spend the night with them.
"The same rules should apply to heterosexual couples and homosexual couples," he said.
But when it comes down to attending a child's gay wedding ceremony, Doyle suggested that attending the ceremony doesn't necessarily reflect that the parents agree with same-sex marriage, their presence merely shows their love for their child.
"You can go to a same-sex ceremony as an act of love and not agreement," he explained, adding that there are no hard and fast rules, and that parents should "go to God with some of the issues."