Burger King Introduces 'Gay Pride Whopper' in San Francisco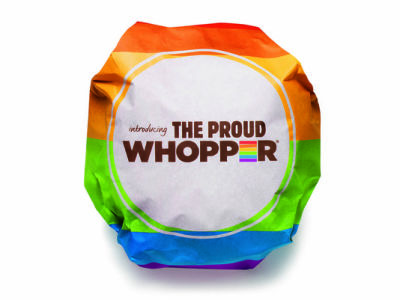 Burger King has introduced the new "Gay Pride Whopper" in San Francisco with a message inside the rainbow-colored wrapper reading "we are all the same inside."
"It showcases who we are as a brand," said Fernando Machado, senior vice president of global brand management at Burger King, according to USA Today. "It shows how we, as a brand, believe in self-expression."
The fast-food chain also said it would post a video online on Wednesday showing scenes from San Francisco where the "Proud Whopper" is being sold.
Despite the packaging, the burger is the same as the regular Whopper that Burger King sells.
The Associated Press noted that the marketing effort is part of the company's aim to connect with customers "in a more meaningful way."
San Francisco's downtown Burger King sold "Proud Whoppers" during the annual gay pride parade last weekend, and also handed out close to 50,000 rainbow Burger King crowns, which were worn by parade participants and spectators.
Machedo added that all sales from the Proud Whopper will be donated to the Burger King McLamore Foundation for scholarships benefiting LGBT high school seniors.
Gay rights groups have praised the promotion, saying that such support for gay people "makes a difference."
"But when it's done right—when it's done with a campaign that shows the company understands diversity and really believes in the profound acceptance of other people—that sort of marketing can change minds and hearts at the deepest level," said Jordan Bach, a consultant to corporations on gay rights issues and a GLAAD media partner.
The Proud Whopper comes years after tens of thousands of people supported Chick-fil-A after its president expressed support for traditional marriage.
In 2012, Chic-fil-A CFO Dan Cathy said that he opposes same-sex marriage, which sparked LGBT protests and boycotts of the company. Conservatives rallied to support the fast-food chain. The company itself chose to stay out of the political debate, saying that they "plan to leave the policy debate over same-sex marriage to the political arena." It also affirmed that it treats "every person with honor, dignity and respect – regardless of their belief, race, creed, sexual orientation or gender."
In April, Cathy said that while he still supports the traditional definition of marriage between one man and one woman, he has found a "wiser way" to express his views.
"All of us become more wise as time goes by. We sincerely care about all people," Cathy said in an interview with USA Today.
"I'm going to leave it (discussion of gay marriage) to politicians and others to discuss social issues."