How Incurable Cancer Transformed This Christian Professor's Faith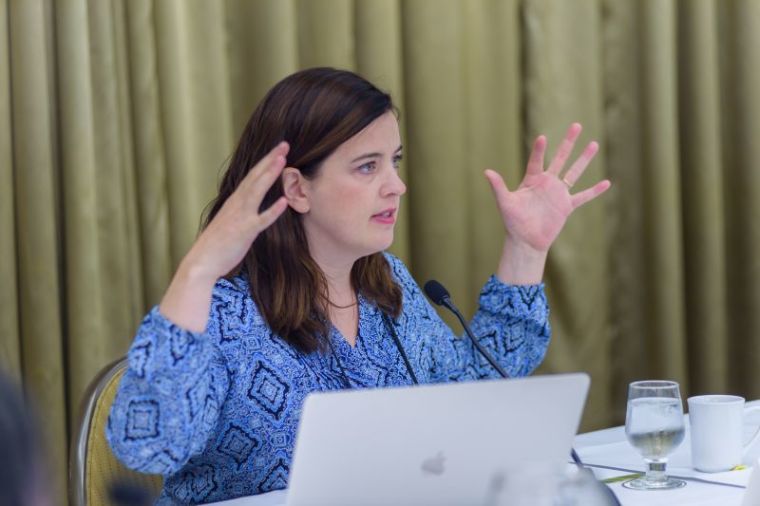 Kate Bowler was an accomplished college professor, mother and wife when she was diagnosed in 2015 with incurable, stage four colon cancer — a earth-shattering reality that left the then 35-year-old totally stunned.
Bowler, who continues to fight her illness, has chosen optimism in light of her plight, recently releasing a memoir titled, Everything Happens for a Reason: And Other Lies I've Loved.
Read Also: 38 Powerful Bible Verses For Overcoming Life's Struggles
Bowler, assistant professor of the History of Christianity in North America at Duke Divinity School in Durham, N.C., recently told "The Billy Hallowell Podcast" about her health battle and how it has transformed her faith and perspective.
"There's no cancer in my family so when I started having stomach pain, it wasn't even on my radar," Bowler explained. "I started going to doctors ... I didn't think it would be anything life- changing."
Unfortunately, she was told she had an incurable diagnoses — one that would uproot her life and send her future into total uncertainty.
"It was unbelievable. It was like I was an actor in somebody else's movie all of the sudden. I couldn't wrap my head around it," Bowler said. "Your brain stops when you get news like that. The only thought I could come up with was, 'But I have a son ... I have a family. I have people who need me ... this can't end.'"
Listen to Bowler share her touching story below:
Three years later and Bowler has come to grips with her new reality, inspiring scores of people along the way. In addition to continuing to teach, she penned her memoir, "Everything Happens for a Reason: And Other Lies I've Loved," which was released in February.
Reflecting upon her journey on "The Billy Hallowell Podcast," the professor and author said that she has learned a lot about her life and faith as she has grapples with the pains and problems that accompany cancer. Right away, her perspective on worldly ambition changed.
"During the walk from that phone call [giving me the diagnosis] over to the hospital ... it's like I lost the appetite for ambition," she said. "I just didn't care about shiny things anymore."
Bowler also shared some of the ways that her Christian faith was shaken after her diagnosis, revealing the "heresies" she had come to love — and is now working to reject.
"I thought somewhere in there that being a really good Christian might give me other outcomes than other people — 'Maybe I'm the exception to the rule that bad things can happen to anybody,'" Bowler said.
She continued, "It was frankly pretty embarrassing to say that the prosperity gospel that I had studied and been an expert in was not so different from what I saw myself thinking the second I got diagnosed."
While Bowler quipped that she is "pro-miracle" and would love to experience one, she said that she now rejects the notion that "faith yields certainty" that things will always definitively work out the way Christians want. Still, she's relying on God to carry her through the storm.
"The great joy of being this sick and feeling the presence of God is that God's love and presence does not rely on my effort," she said. "I've tried to relax into God's love ... in the worst moments, God will be there."
Read Also:Feeling Hopeless? Pastor Tony Evans Has a Solution
Bowler is determined not to let cancer take the joys of her life away, as she continues to work, teach and live her life as normally as possible.
"What I realized almost right away is that cancer wants everything. It wants all your money, it wants all your time, it wants all your hope," she said. "It threatens to make your life incredibly small and lonely."
Bowler continued, "I just decided that I was going to make cancer as small as I possibly could."
She's hoping that "Everything Happens for a Reason" helps people like her in a world in which those who are unafflicted don't always understand what to say or how to react. Love, she said, is the most important thing to give to those suffering.
If you're looking for other uplifting stories about people like Bowler, watch "Cancer Stories" and "Laugh Your Fears Away." Also be sure to get some inspiration with "Reflections On The Beatitudes For People With Cancer."
This article was originally published on Pure Flix Insider. Visit Pure Flix for access to thousands of faith and family friendly movies and TV shows. You can get a free, one-month trial here.