Humans First Arrived in North America During the Ice Age 24,000 Years Ago
New research suggests that humans first arrived in North America 24,000 years ago, 10,000 years earlier than previously believed.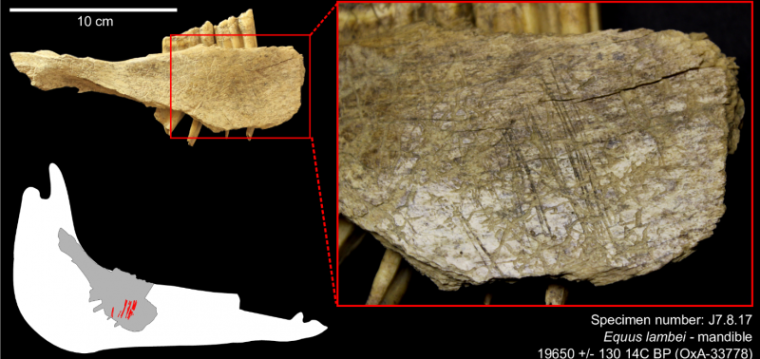 The first humans to land in North America are believed to have been settlers from Russia who crossed the Bering Strait to reach the west-lying land. Previous hypotheses suggested that this took place 14,000 years ago.
Dr. Jacques Cinq-Mars, a researcher from the Archaeological Survey of Canada, was the first to make a claim against this common belief. Based on radiocarbon dating of animal bones -- which he and his team excavated in the Bluefish Caves from 1977 to 1987 -- Dr. Cinq-Mars proposed that humans first settled in the region 30,000 years ago. A highly controversial claim that never was accepted in the scientific community, the hypothesis put forward by Dr. Cinq-Mars now appears to have been quite accurate.
"The earliest settlement date of North America, until now estimated at 14,000 years before present, is now estimated at 24,000 years before present," said lead author of the recent study Lauriane Bourgeon, a doctoral student in the Department of Anthropology at the University of Montreal.
The team of researchers analyzed the ancient animal bones excavated by Dr. Cinq-Mars and his team from the Bluefish Caves in Yukon, Canada. The caves, located on the banks of the Bluefish River in northern Yukon, are one of the oldest archaeological sites in North America.
Out of the 36,000 mammal bone fragments recovered from the site, the researchers discovered irrefutable traces of human activity in 15 bones while 20 other pieces displayed similar traces of activity.
"Series of straight, V-shaped lines on the surface of the bones were made by stone tools used to skin animals. These are indisputable cut-marks created by humans," Ariane Burke, a University of Montreal Professor and co-author on the study, said in a statement. "Our discovery confirms previous analyses and demonstrates that this is the earliest known site of human settlement in Canada. It shows that Eastern Beringia was inhabited during the last ice age," she added.
Beringia is a large land and maritime area that stretches from the Lena River in Russia to the Mackenzie River in Canada. It encompasses the Chukchi Sea, the Bering Sea, the Bering Strait, the Chukchi and Kamchatka Peninsulas in Russia as well as Alaska in the United States.
It is believed that during the Last Glacial Maximum (peak of the Ice Age) Beringian residents were isolated from the rest of North America by glaciers and steppes too inhospitable for human occupation -- known in archaeological circles as the Beringian Standstill Hypothesis.
This new study, which was published in the journal PLoS ONE, confirms the theory that the genetically and geographically isolated people in the Beringia region "colonized the entire continent along the coast to South America, at the end of the last Ice Age."