Husband asks public to 'forgive' wife after she allegedly kills their 3 children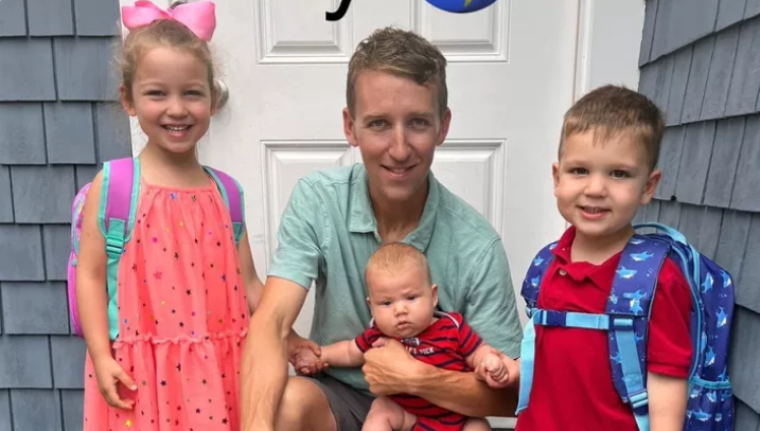 A grieving Massachusetts father has asked the public to "forgive" his wife days after she allegedly killed their three young children and attempted to take her own life in their family home as experts suggest she might have been suffering from postpartum psychosis.
Police received a 911 call from the father, Patrick Clancy, around 6:10 p.m. on Jan. 24, reporting that his wife, Lindsay Clancy, 32, a labor and delivery nurse at Massachusetts General Hospital, had jumped out of a window at their home in Duxbury in a suicide attempt. Lindsay Clancy tried to take her life after strangling her three children: Cora, 5; Dawson, 3; and 8-month-old Callan who died in a local hospital on Friday.
The murders have triggered significant reactions from neighbors and well-wishers, including hundreds that gathered for a prayer vigil at the Holy Family Church. 
While his wife is facing at least two counts of murder along with other charges, Patrick Clancy urged the public to "forgive" her in a statement shared on a GoFundMe campaign that has raised nearly $1 million to help him and his family.
"I want to ask all of you that you find it deep within yourselves to forgive Lindsay, as I have. The real Lindsay was generously loving and caring towards everyone — me, our kids, family, friends, and her patients. The very fibers of her soul are loving. All I wish for her now is that she can somehow find peace," Patrick Clancy wrote.
"She's recently been portrayed largely by people who have never met her and never knew who the real Lindsay was. Our marriage was wonderful and diametrically grew stronger as her condition rapidly worsened. I took as much pride in being her husband as I did in being a father and felt persistently lucky to have her in my life," he explained. "She loved being a nurse, but nothing matched her intense love for our kids and dedication to being a mother. It was all she ever wanted. Her passion taught me how to be a better father."
The distraught father also took the time to share warm words about each of his children individually.
"A lot of people have said they can't imagine and they're right, there's absolutely nothing that can prepare you. The shock and pain is excruciating and relentless. I'm constantly reminded of them and with the little sleep I get, I dream about them on repeat. Any parent knows, it's impossible to understand how much you will love your kids until you have them," he wrote.
"The same goes for understanding the devastation of losing them. Cora, Dawson, and Callan were the essence of my life and I'm completely lost without them," Clancy added. "My family was the best thing that ever happened to me. I took so much pride in being Lindsay's husband and a dad to Cora, Dawson, and Callan. I always reminded myself that each day with them was a new gift."
According to local radio host John DePetro, Lindsay Clancy was getting treatment for postpartum depression in an intense, five-day-a-week program.
"I was told Lindsay Clancy was in a very intensive five-day-a-week program for PPD, trying to get help. Curious to hear a statement from the individuals treating her and what was missed. Sounds like she was in a desperate situation," he noted on Twitter.
Friends also told DePetro that to help his wife, Patrick had been working from home and had allegedly stepped out for 25 minutes to get take out when the murders happened.
"Friend of Lindsay Clancy told me tonight: ' her husband was working from home instead of going in to work to be able to try and support her daily while she went to a program five days a week for PPD. And in the 25 minutes it took him to pick up take out, the unthinkable happened,'" DePetro said.
Duxbury Chief of Police Michael Carbone told the New Haven Register that while he doesn't know Lindsay Clancy's mental state, she has been improving daily since the murders.
"I don't have her current condition," he said. "She is, however, improving daily and has spoken to family and friends."