Husband of Deceased New York Judge Sheila Abdus-Salaam Says Wife Didn't Kill Herself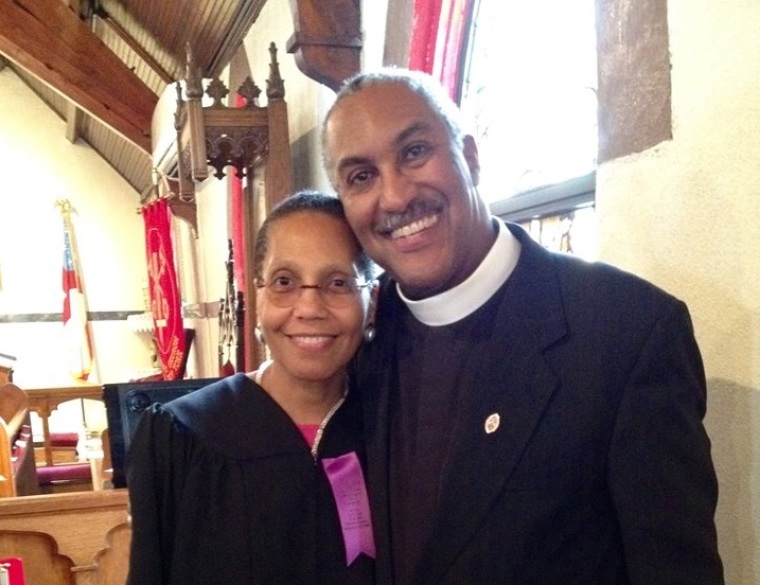 Gregory A. Jacobs, canon to the Ordinary and chief-of-staff at The Episcopal Diocese of Newark, shot down suggestions that his late wife, Sheila Abdus-Salaam, the first African-American woman to sit as an associate judge on the bench of New York State's highest court, committed suicide.
In his first public comments since her corpse was found floating in the Hudson River in New York City last Wednesday, Jacobs pushed back strongly against reports that Abdus-Salaam "was the victim of a 'probable suicide.'"
"These reports have frequently included unsubstantiated comments concerning my wife's possible mental and emotional state of mind at the time of her death," Jacobs said in a statement cited by NBC News. "Those of us who loved Sheila and knew her well do not believe that these unfounded conclusions have any basis in reality."
Officers with the New York Police Department's Harbor Unit reportedly discovered Abdus-Salaam's body after they responded to a 1:45 p.m. report of a person floating by the shore near West 132nd Street in Upper Manhattan on April 12. The judge was pronounced dead by paramedics shortly after 2 p.m. that day.
Police are uncertain how Abdus-Salaam ended up in the river and it was unclear how long the judge who lived nearby where she was found in Harlem had been missing.
Unnamed sources had told the New York Post that her death appeared to be a suicide.
The Rev. Jacobs said his wife "loved Harlem and its people and lived there for nearly all of her adult life."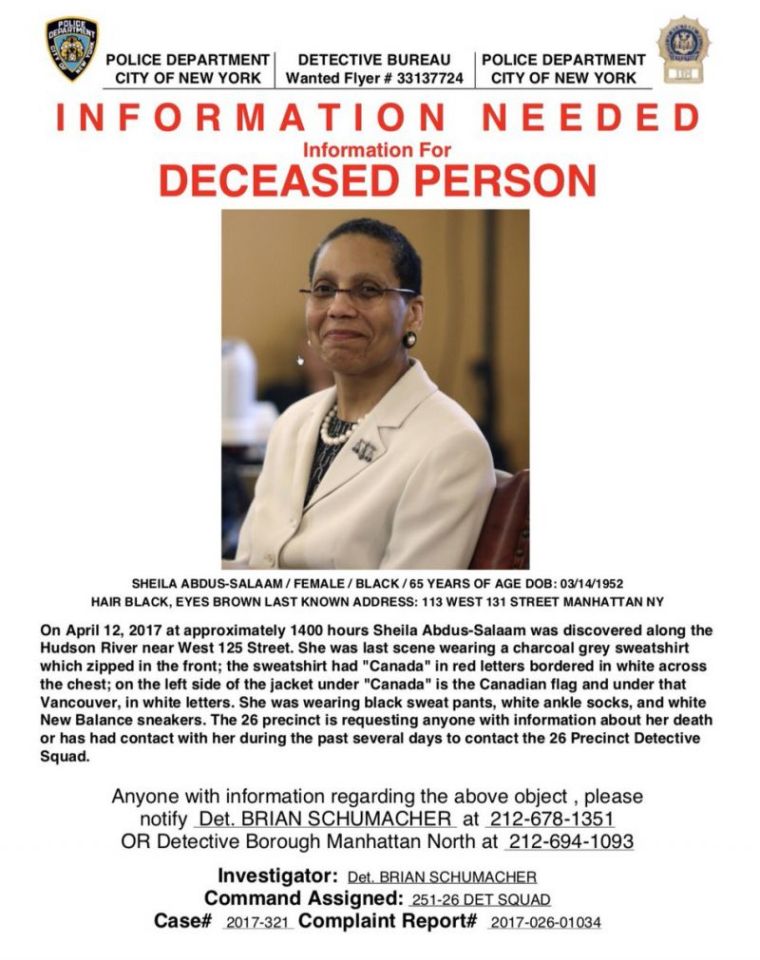 "I now join with the NYPD in asking anyone in the neighborhood to step forward with any information that might help us determine what may have happened during those hours before her death," the priest pleaded in his statement.
The NYPD issued a flyer Tuesday asking anyone with information about Abdus-Salaam's death to come forward. Officials say the 65-year-old judge was dressed in sweats, had a MetroCard in her pocket, and showed no obvious signs of trauma on her body when she was found. Investigators have billed the circumstances surrounding her death "suspicious in nature." But neither the police nor Medical Examiner has established how she died.
Abdus-Salaam and the Rev. Jacobs got married last June at the Greater Newark Conservancy, according to a marriage announcement.
Neighbor and friend Deborah Audate told the New York Daily News that the couple maintained separate residences, but spent time together on weekends.
The family of Abdus-Salaam, who was born Sheila Turner and who was widely heralded as the nation's first female Muslim judge, said she had not been practicing that faith for 20 years.
"Sheila has not been a practicing Muslim for the past 20 years," said the Turner Family in their statement also cited by NBC News. "She continued to use her first husband's surname professionally. We will forever remember witnessing her happiness as she united in marriage to an Episcopal priest last year."