'I'm not Atheist,' Bernie Sanders Says After Leaked Email Shows DNC Sought to Target His Beliefs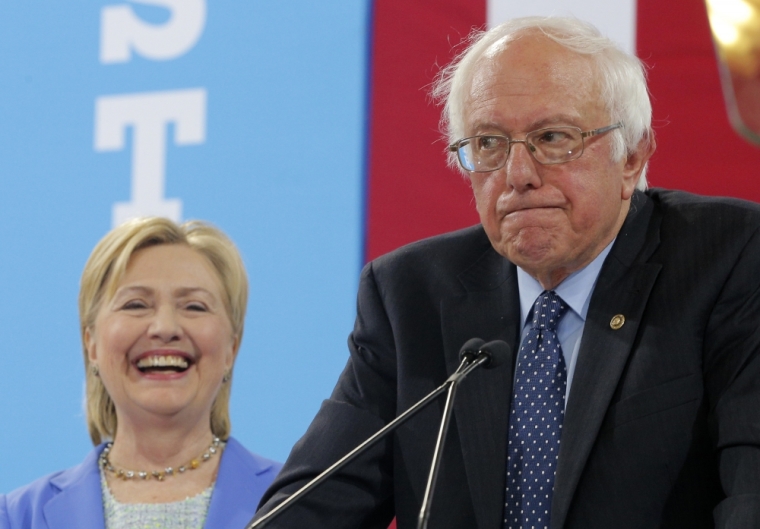 A leaked email shows that Democratic National Committee CFO Brad Marshall told DNC's Communications Director Luis Miranda and others in May that the party should "get someone to ask" about Bernie Sanders' religious beliefs to undermine his presidential campaign. Sanders has responded by stating he's "not an atheist."
"First of all, I am not an atheist," Sanders said on CNN's "State of the Union" on Sunday, responding to Marshall's leaked email released by Wikileaks Friday.
"… Can we get someone to ask his belief. Does he believe in a God," reads the email, according to The Intercept. "He had skated on saying he has a Jewish heritage. I think I read he is an atheist. This could make several points difference with my peeps. My Southern Baptist peeps would draw a big difference between a Jew and an atheist," added the email.
"AMEN," responded DNC CEO Amy Dacey, according to Al Jazeera.
Sanders, who was running against Hillary Clinton for the presidential nomination and the only Jewish presidential candidate, continued, "I mean, it is an outrage and sad that you would have people in important positions in the DNC trying to undermine my campaign. It goes without saying the function of the DNC is to represent all of the candidates, to be fair and even-minded."
However, Sanders added, that he will go forward "to make sure that Donald Trump, perhaps the worst Republican candidate in the modern history of this country, somebody by temperament, somebody by ideology must not become president of the United States."
"I'm going to do everything I can to defeat him, to elect Hillary Clinton, and to keep focusing, keep focusing on the real issues facing the American people," he said.
Marshall pleaded ignorance about his email when contacted by the Interceptor. "I do not recall this. I can say it would not have been Sanders. It would probably be about a surrogate," he said.
Rep. Debbie Wasserman Schultz has said she is stepping down as the DNC chairwoman, according to The New York Times.
"Debbie Wasserman Schultz has made the right decision for the future of the Democratic Party," Sanders said in a statement. "While she deserves thanks for her years of service, the party now needs new leadership that will open the doors of the party and welcome in working people and young people. The party leadership must also always remain impartial in the presidential nominating process, something which did not occur in the 2016 race."