Indian Christians Form 12-Mile Human Chain to Protest State-Sponsored Harassment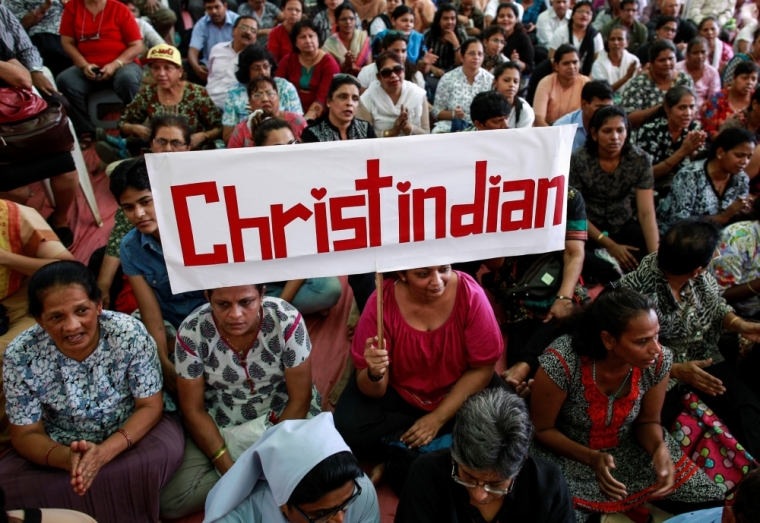 Thousands of Christians formed a 12-mile long human chain in India's Jharkhand state following church services on Sunday to protest what they say is state-sponsored harassment against the Christian community, according to a report. 
UCANews reports that about 10,000 tribal Christians gathered for demonstrations held in Ranchi, Gumla, Simdega, Bokaro, Jamshedpur and Kkunty to protest arrests of local Christian leaders that they say are designed to tarnish their reputations and policies that they believe could lead to them being stripped of their benefits, rights and land.
"Catholic nuns, priests, pastors are attacked and jailed. Their institutions are searched. They are accused of every wrong that takes place in the state," event organizer Prabhakar Tirkey, who serves as president of ecumenical Christian forum Rashtriya Isai Mahasangh, told the Asia-based Catholic news outlet.
One of the cases that the tribal Christians were upset about involves a nun from the Mother Teresa-founded Missionaries of Charity women's shelter in Ranchi. The nun was arrested on child trafficking charges this month after it emerged that four children had been sold from the shelter. The government is now seeking to freeze the organization's bank accounts and inspect all Missionaries of Charity child care facilities.
Another case involves Jesuit Father Alphonse Aind, a principal of a school in a remote village. The priest was arrested on June 22 on charges of aiding and abetting the abduction and gang rape of five social activists. However, church officials have claimed that the charges against the priest are fabricated.
While a nun has reportedly confessed to selling the four babies from the shelter, the Catholic Bishops' Conference of India General Secretary Theodore Mascarenhas claims that the nun told the charity's lawyer on July 11 that she was not involved in the baby selling and that her statement came "under pressure" of police, according to Press Trust of India. 
The Missionaries of Charity has also denied that babies were sold.
Tirkey and other Christian leaders believe that the arrests of the leaders are part of some government-sponsored campaign to discredit Christian leaders and missionaries.
"It is part of an organized to plan to keep ordinary people away from Christian institutions and missionaries," Tirkey told UCA News.
Ankita Kujur, who participated in the protest, told the outlet that the government has been working to divide the tribal community in Jharkhand between Christians and non-Christians in an attempt to weaken support for tribal rights.
The demonstration comes as the state government had previously tried to remove clauses protecting the land rights of indigenous people from two laws. Many fear tribal lands could be used for industrial development and mining.
Bishop Joseph D'Souza, president of the All India Christian Council, told The Christian Post that while he doesn't know the full details of the cases against the religious leaders who were arrested, he explained that targeted attacks against the tribal Christians in Jharkhand are "real."
"In Jharkhand, it is a tribal state and there are a lot of tribal Christians who have access to land," he told CP in a phone interview. "Ever since [the state] has gone into right-wing hands, the targeting of tribal Christians is real."
"Tribal Christians are being attacked and harassed and targeted in the states of Gujarat, Rajasthan and Jharkhand," he added. "This is terror tactic so that the tribals don't know how to live without practicing their faith."
India currently ranks as the 11th worst nation in the world when it comes to Christian persecution, according to Open Doors USA's 2018 World Watch List. Most of the persecution, according to Open Doors, comes at the hands of right-wing Hindu activists.
Thousands of Christian protesters in Jharkhand also marched last fall in opposition to the arrest of six Christians accused of offering money to tribal people to become Christians. The Christians were charged with upsetting religious feelings and not charged under a law banning forcible conversions.
Earlier this month, 16 were reportedly arrested in the state for trying to convert tribal people to Christianity after a group of about 25 missionaries were rescued from "angry tribal villagers."