Indonesia: 34 Children Die in Church During Bible Study; Earthquake, Tsunami Death Toll Now Over 1,300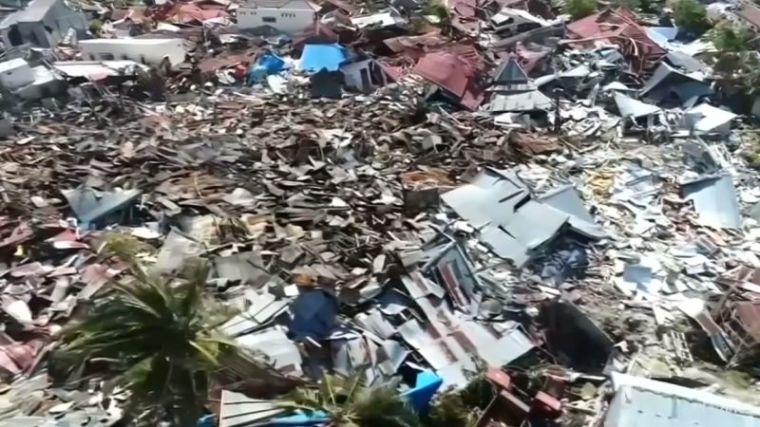 At least 34 children died during a Bible study held inside a church in the Indonesian island of Sulawesi following Friday's earthquake and tsunami, a relief group has said.
The Indonesian Red Cross, which has been assisting with rescue operations amid the tragedy, said the bodies of the 34 children have been discovered buried inside the church.
They had been attending a Christian Bible camp when they died, and fears are that more bodies from the church are expected to be recovered, ABC News reported.
Over 1,300 people have been reported dead so far as a result of magnitude-7.4 earthquake and tsunami, which reached 20 feet in height.
Red Cross spokeswoman Aulia Arriani explained that with no heavy machinery operating in Sigi, there is no way to lift the concrete church rubble and search for more survivors and casualties.
Arriani separately told AFP that "the most challenging problem is walking in the mud for an hour-and-a-half while carrying the bodies to an ambulance."
Reuters added that Indonesia faces a race against time to save survivors in the Sulawesi island devastation, with most of the confirmed dead reported in the city of Palu, which is 930 miles northeast of Jakarta.
Smartphone videos recorded the tsunami waves smashing into Palu's beachfront, causing hotels and shopping malls to collapse. Close to 1,700 houses were swallowed by ground liquefaction in one neighborhood alone, with hundreds of people believed to have died there.
Devastated survivors have been sharing their emotional stories of losing loved ones in the surging waters. One man by the name of Adi said that he hugged his wife when the waters struck the beach at Palu, but she slipped out of his hands.
"When the wave came, I lost her," the man said.
"I was carried about 50 meters. I couldn't hold anything. The water was spinning me around," he said.
"This morning I went back to the beach, I found my motorbike and my wife's wallet," he added.
Over 60,000 have been displaced by the tragedy and are in need of emergency help, authorities said.
Rescue volunteers said that there is a desperate need for aid, with looting and lawlessness spreading.
"There was a fear of the crowd mobbing the plane; people are so desperate for aid," one anonymous aid worker said.
He added that stores have been "cleaned out" of supplies, with gas stations also being looted.
U.N. aid coordinating agency, OCHA, said that humanitarian agencies are in contact with the government and ready to help.
"There is an immediate need for food, clean water, shelter, medical care and psycho-social support," said spokesman Jens Laerke,
Christian relief agencies, including World Vision, have also been assisting in emergency efforts by sending in supplies.
World Help has separately set up a drive for people wishing to offer financial assistance to the victims who are in need of food, water, and medicine, warning that the death toll continues to rise.