Indonesian church service disrupted again by local Muslims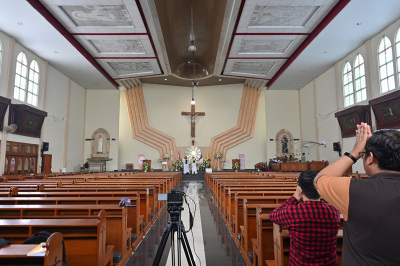 Indonesia — As police looked on, a group of Muslims in North Sumatra Province, Indonesia, on July 2 asked why a church should be present in a Muslim-majority area as they broke up its worship service, a video shows.
The disruption was the second in two months suffered by the Mawar Sharon Church (Gereja Mawar Sharon, GMS) congregation as it met in a café in Setia village, Binjai Kota Sub-District, Binjai, near the provincial capital, Medan.
After demonstrations against the church, a hijab-clad Muslim woman led the disruption of the service, a video on social media shows. Standing next to a police officer, she is seen loudly refusing to allow Christians to worship.
In the video uploaded by permadiaktivis2 on Instagram on July 6 and quoted by Kilat.com., she asks why, in a Muslim-majority area, there must be Christian worship services that she and her Muslim colleagues have the responsibility of continuing to disrupt.
"You the minorities should not always ask to be respected. We must respect each other as the government has regulated it," she says. "What's the point of setting the rules, if the rules have to be violated again? We have mediated back and forth, but they were never met – provided, facilitated but not implemented."
In the commentary section of the post, religious rights activist Permadi Arya, known as Abu Janda, objected to the disruption.
"Suddenly they come screaming in protest, 'Why are they worshiping in Muslim-majority areas?'" Arya wrote. "Since when are non-Muslim not allowed to worship in a Muslim area?"
Indonesia's Joint Ministerial Decree of 2006 requires a permit only for worship venues used on a permanent basis, "excluding family places of worship," Arya wrote, adding that the requirement does not apply to a café or home.
"According to The Joint Decree of the Two Ministers, Chapter 1, Article 3, what needs a permit is the construction of a church," he wrote. "Holding worship at home, shop-houses and cafes needs no permission."
Such homes, cafés and shop-houses can be equated with Muslim traditional prayer-rooms (musholla), and since Muslims need no permission for those, Christians should receive equal treatment, he said.
The church's worship was previously disrupted on May 19, when at least 40 Muslims stopped the midday service at the café.
Indonesia ranked 33rd on the Christian support organization Open Doors' 2023 World Watch List of the 50 countries where it is most difficult to be a Christian. Indonesian society has adopted a more conservative Islamic character, and churches involved in evangelistic outreach are at risk of being targeted by Islamic extremist groups, according to Open Doors' WWL report.
"If a church is seen to be preaching and spreading the gospel, they soon run into opposition from Islamic extremist groups, especially in rural areas," the report noted. "In some regions of Indonesia, non-traditional churches struggle to get permission for church buildings, with the authorities often ignoring their paperwork."
Morning Star News is the only independent news service focusing exclusively on the persecution of Christians. The nonprofit's mission is to provide complete, reliable, even-handed news in order to empower those in the free world to help persecuted Christians, and to encourage persecuted Christians by informing them that they are not alone in their suffering.